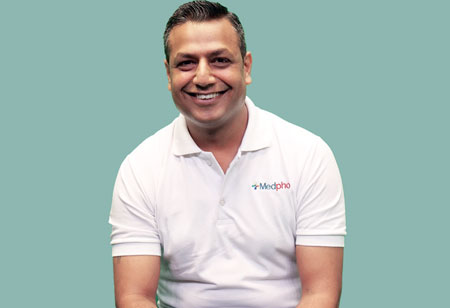 Shashank Saini, Founder & CEO, Medpho, 0
An excellent business professional with topnotch skills in team management, management, and customer relationship management.
The Indian healthcare sector has seen several changes over the past couple of years. While stringent policy interventions and price caps made it difficult for private players to maintain the cost and profitability segment, the Covid era threw upon newer challenges and mind boggling obligations.
Fortunately, the healthcare industry is moving towards a more stable state, with health economists predicting a promising future and a reach of $372 billion by 2022. Adding to this are the MoHFW's enhanced healthcare budget by 2025 and the government's SDG targets to be achieved by the year 2030. These Sustainable Development Goals are aligned with the UN's to promote health and wellness by cutting down on malnutrition and providing universal access to sanitation, drinking water and hygiene.
Besides this, healthcare analysts expect a jump in investments in the sector, contributing to a surge in the already rising adoption of digital techno logies and automation. Through all of this and the expected growth that we keep witnessing, it is essential to discuss and understand the needs of the Indian healthcare system around this revolutionary decade.
At present, India has about 1.8 billion registered medical graduates, achieving WHO's recommended doctor patient ratio of 1:1000. However, look more closely, and you'd be able to see the disparity between the country's urban and rural segments. While 80 percent of the registered doctors cater to the urban population of 35 percent, the rural community that consists of 65 percent of the country's total population gets the attention of only 20 percent of the total doctor's population. This evident data drives the fact that one of the critical needs for the Indian healthcare system is to become decentralised. For efficient decentra lisation to take place, it is essential to amp up both human and technical resources across the industry. This can be done by resorting to effective technological advancements, creating job opportuni ties by way of promoting infrastructural develop ments in rural and remote areas, and building a flexible and citizen friendly public healthcare surveillance system.
Further, the onset of the Covid-19 pandemic has given a major jolt not just to the healthcare community at large but has also affected the community at an individual
level. While some of the rural population has become sufficiently educated and moved away from quacks to better healthcare providers, a major chunk of the population remains in utopia. The awareness that needs to be brought to these people has to be rapid, with more attention being given to preventive healthcare measures instead of sick care evaluations.
Throughout the transformations that persist, it is time to reinvent, relearn, and listen more closely to the end user's needs while creating a better, accessible, and affordable healthcare system in india
This also brings us to the discussion about the need for a dedicated family physician. While such medical professionals might not always be available physically, they can provide consultations and keep track of the family's medical records via telehealth channels like online medical consultations, electronic medical records, etc. A noteworthy dialogue point is the adoption of family medicine across the western world, while the same has zero emphases in the Indian context. The concept of family medicine can become an effective bridge between moving into hospitals and healthcare infrastructures for sick care and preventing illness through precautionary care. For this concept to become robust, it is necessary to introduce the subject theoretically in educational institutions and specialization courses in medical colleges. Reviving the family physician's role will lead to generating more job opportunities and changing the consumer's attitude towards preventive care.
A significant aspect, and a fastgrowing one, is the use of online tools in medical care. Whether using telehealth services for swift doctor consultations or the need to resort to remote monitoring for patient care, India lacks too many existing and upcoming healthcare facilities when put up against its western counterparts. The year 2022 will be a game changer for healthcare. The country will move towards a more comprehensive and strategised system that'll help cope with emergency medical situations such as the pandemic. 2022 will also lay the foundation stone to how the wheel of the entire healthcare industry moves through the decade and into 2030. All this can be done via efficient data sharing, improvised privacy and confidentiality rules, and healthcare hub development across the country. Furthermore, we should be looking into boosting medical tourism across the country, attracting global patients and investing more in R&D activities. The government, too, can work more towards creating effective healthcare policies and exercising its regulatory power to keep up with the global healthcare standards and amending existing loop holes in the industry.
Throughout the transformations that persist, it is time to reinvent, relearn, and listen more closely to the end user's needs while creating a better, accessible, and affordable healthcare system in India.