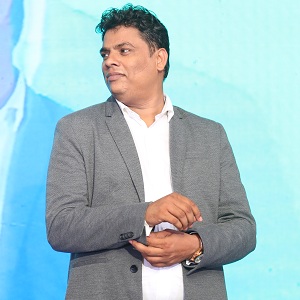 The year 2010 witnessed a major leap in UI design and UX development. While touch became a ubiquitous component of technological connect, voice assistant systems are revitalizing this connect like never before. Today, availability of superior UI/UX brackets user engagement with brand's offerings. However, this usability is directly linked with employee engagement, meaning that developers are core innovators of interactive interface and drives the wheels of higher ROI through cognitive walk throughs. Striking the right balance between good UI/UX design delivery and prized employee performance, Bhopal-based OMSOFTWARE masters the art of designing tech-driven, engaging UX module that simplifies usability, both for end users and in-house workforce.
The brainchild of Raj Kamal (Founder & CEO), OMSOFTWARE outshines as an employee-oriented software development company that follows the methodology of employee appreciation, cooperation and encouragement over internal competition, hence nurturing in-house personnel's core competencies. Pillared on the ethos of integrity and respect, the company instills teaching mechanism within workplace culture, deploying which OMSOFTWARE's technocrats develop innovative technological solutions and spurs business growth with enhanced results. In an exclusive conversation with CEO Insights, Raj explains how OMSOFTWARE is integrating technological advancements within its operational eco-system and delivers results with excellence at par.
How is your vast experience and expertise instrumental in the inception of OMSOFTWARE?
After completing postgraduation, I
commenced my professional career as a web designer and developer. But little did I know that my fascination and depth of knowledge with software and technology would propel me to air my entrepreneurial wings. Executing software knowledge and web-based marketing acumen, both online & offline, in the right place directed me to establish three successful firms (Technology, Internet marketing and Web Hosting), one amongst which is 2008-born OMSOFTWARE. Since then, there is no looking back. Leveraging this vast experience has helped me to span OMSOFTWARE's services globally, and hence is the company's global client base in the Middle East, UK, U.S. and Australia. Alongside, we work with Indian government on key web application developments, which have helped us to grow in leaps and bounds.

"What adds an extra layer of merit is OMSOFTWARE's involvement with newer technologies and operational engagement in IoT, AI and Blockchain projects"

How is OMSOFTWARE creating a niche in the software development industry through its cutting-edge technological services?
Being a one-stop- shop for product and service solutions, we significantly provide services for mobile, web and software development and also exhibit expertise in delivering unmatched solutions for UX/UI development, e-Commerce development, IT consulting and many more. What adds an extra layer of merit is the company's involvement with newer technologies and operational engagement in IoT, AI and Blockchain projects. Right from big data analytics, cloud computing and mobility solutions to CRM services, data mining and research, we leverage latest technologies to develop top-notch applications across all platforms. As a result of our continued success in the business, we are being looked upon as one of the forerunners in the industry that offer comprehensive services and solutions for mobile apps.

To alleviate clients' predicament of delayed service delivery, in-house technocrats strategically plan project delivery and communication to develop transparency and long-term relationship with customers. We follow agile methodology and SCRUM meetings for project completion and delivers prime end projects for absolute client
satisfaction. While the client is involved during development process by sharing weekly reports and updates, the company undertakes an interactive session to promote clientele feedbacks actively.

What are your strategies to sustain OMSOFTWARE's growth in the future prospects while simultaneously instilling innovation?
Since corporate carve-outs are on the rise, we are realigning and embracing new models and capabilities and implementing modern modus operandi over traditional approach. Involvement of operational team in official matters and working together as one team is the mantra for driving collaborative conclusions. This articulates a clear direction, sets guiding principles in place and supports the project with strong carve-out capabilities and governance.

Besides executing plans for cross-platform and cross-device development, OMSOFTWARE acts as a helping hand for startups to grow and emerge in today's technological arena. Determining the rising trends of digitization, we are also investing in quality resources for mobile app development and enterprise app development along with giving exposure to our workforce on Machine Learning, Blockchain technology and IoT projects. Effectuating such blueprints, we have secured position in the A-list and envision becoming one of the leading software companies in the future prospects.

Key Management:
Raj Kamal, Founder & CEO
An experienced IT professional, Raj amalgamates his skills, IT expertise and vast business acumen to devise strategic business solutions for OMSOFTWARE's growth and drive company's presence globally.

Offices:
Bhopal (HQ), Middle East, UK, U.S. & Australia

Offerings:
Mobile App Development, Web App Development, UI/UX Development, e-Commerce Development, QA & Audit Service, Content & Publishing, and IT Consulting