'Modi in US': Prime Minister's Meet with Entrepreneurs Boost Global Economy through Digital Transitions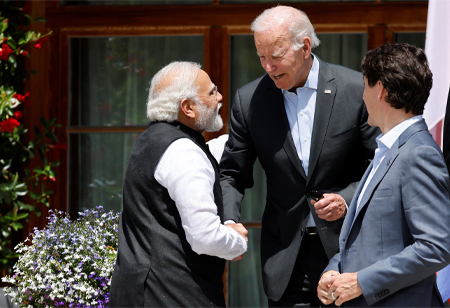 In the global arena, India is closely brought up in more conversations than before. There are many expectations of India, not just from within the nation but also in terms of the growth and development of the entire world. In our country, it has become customary to evaluate a budget based on what it has given or provided for particular groups of people and sectors; specialists from those groups would then analyze the budget based on what each group receives. However, rather than focusing just on who got what, it is now time to consider the macro picture of how we can advance our nation and what it will do to contribute to global growth.
Atul Keshap, president of the US-India Business Council (USIBC), stated that the US as a whole is enthusiastic about Prime Minister Narendra Modi's visit and that both New Delhi and Washington, DC, can be arsenals of democracy in the Eastern and Western hemispheres, ensuring deterrence of any potential conflict.
In New York, the US, Prime Minister Narendra Modi met with a group of top US specialists from the economics, industry, entrepreneurial world, and health sector. He spoke with health professionals about a range of topics related to health, such as the use of digital technologies for high-quality healthcare, more emphasis on integrative medicine, and improved healthcare readiness. Dr. Peter Hotez, founding dean of the National School of Tropical Medicine in Texas, Dr. Sunil A. David, CEO of ViroVax in Texas, Dr. Stephen Klasko, advisor to General Catalyst, Dr. Lawton R. Burns, professor of healthcare management at the Wharton School, and a few others were among the health professionals who spoke with PM Modi.
Highlights of the PM's Meet with the Entrepreneurs
Elon Musk, a pioneer in technology, entrepreneur, CEO of Tesla Inc. and SpaceX owner, CTO and chairman of Twitter, founder of the Boring Company and X-corp, and co-founder of Neuralink and OpenAI, also met with PM Modi. PM Modi commended Musk for his efforts to make technology available and affordable across a range of industries. He extended an invitation to Musk to investigate potential business prospects in India's fast-developing commercial space industry.
In the process, Narendra Modi met American economist and policy entrepreneur Prof. Paul Romer, a Nobel laureate. Both parties discussed India's digital development, including using Aadhar and cutting-edge tools like Digilocker. They also talked about the different urban development efforts India is pursuing. A group of distinguished US academics from a variety of disciplines, including engineering, marketing, health, science, and technology, were also met by PM Modi. They addressed how India's New Education Policy may improve academic exchanges and research partnerships.
Academics shared their perspectives and experiences from their respective areas of expertise with PM Modi. The academics who met PM Modi are Chandrika Tandon, Chair of the Board, NYU Tandon School of Engineering, Dr. Neeli Bendapudi, President of Pennsylvania State University, Dr. Pradeep Khosla, Chancellor, University of California, San Diego, Dr. Satish Tripathi, President of the University at Buffalo, Professor Jagmohan Raju, Professor of Marketing, Wharton School of Business, University of Pennsylvania, Dr. Madhav V. Rajan, Dean, Booth School of Business, University of Chicago, Professor Rattan Lal, Distinguished University Professor of Soil Science, Director, CFAES Rattan Lal Centre for Carbon Management and Sequestration, Ohio State University and Dr. Anurag Mairal.
Thoughts on the Utilization of Digital Technologies
Just after reaching the USA, PM Modi also met experts from several leading US think tanks and discussed a range of developmental and geo-political issues. He invited them to enhance their presence in India as it embarks on its transformation during the Amrit Kaal. The various think-tank experts who met PM include Michael Froman, President-designate and Distinguished Fellow at the Council on Foreign Relations (CFR), New York, Daniel Russel, Vice President for International Security and Diplomacy at the Asia Society Policy Institute, New York, Dr. Max Abrahms, Associate Professor of Political Science at Northeastern University, Boston, Jeff M. Smith, Director, Asian Studies Center, The Heritage Foundation, DC, Elbridge Colby, Co-founder of 'The Marathon Initiative,' based in Washington DC, Guru Sowle, Founder-member, Director (Indo-US Affairs), Indus International Research Foundation, Texas.
The utilization of digital technologies for high-quality healthcare, a stronger emphasis on integrative medicine, and improved healthcare readiness were just a few of the topics the Prime Minister and the experts covered.
PM says, "Had an informative discussion with a group of healthcare experts. They shared their rich perspectives on ways to augment healthcare capacities in India. I told them about the work we have done in integrating the latest technology in the sector and our efforts like TB elimination."
"In New York City, they held an extensive interaction with a group of academics. They shared their views on how to further strengthen the education sector in India with a focus on skills and innovation. I talked about the transformative potential of our National Education Policy," PM ads.
India is evaluating proposals from American and French firms for its Made in India aircraft, including the LCA Mark 2 and the Advanced Medium Combat Aircraft. The evaluation of the proposals from both sides is going on.
How does it Boost the Indian Economy?
The effectiveness of our government over the past five years has demonstrated the scope, pace, and direction of our efforts. This has provided the nation with a new yardstick by which to measure the effectiveness of the government. Our government has demonstrated its fiscal responsibility by tightly controlling inflation. All of the big economic powers get along well with it.