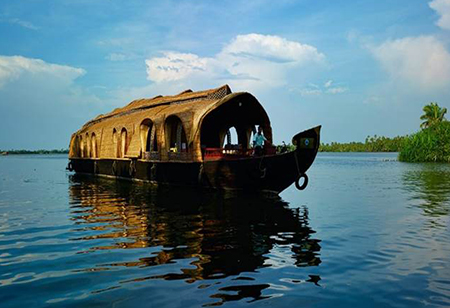 The economy of India depends heavily on tourism, which is expanding quickly. The World Travel and Tourism Council estimated tourism would support 32.1 million jobs and produce Rs. 13.2 lakh crore, or 5.8 percent of India's GDP. Despite these figures being lower than before the pandemic, the nation's economy experienced notable growth in 2021 following the severe contraction in 2020. By 2031, the sector is expected to grow 7.8 percent annually to reach Rs. 33.8 lakh crore, which is 7.2 percent of GDP.
The government has planned adventure tourism as a means of attaining the Sustainable Development Goals. The event was hosted by the Ministry of Tourism as part of the 2nd Tourism Working Group Meeting under the G20. Shri G.K. Reddy, Union Minister for Culture, Tourism, and DoNERat Bagdogra Airport, folk artists gave the delegates performance as part of a warm, vibrant, and traditional welcome.
Sustainable Tourism
Representatives from the UK, Mexico, Canada, Germany, Japan, Brazil, the ATTA (Adventure Travel Trade Association), the ATOAI (Adventure Tour Operators Association of India), and the Vik-run charity participated in the panel discussion. The conversation included participants from the Uttarakhand government in India. India offers a wide range of adventure tourism opportunities that span the four elements of land, water, sky, and air. It was emphasized that India is home to 70 percent of the Great Himalayas, more than 7,000 kilometers of coastline, 70,000 square miles of sand desert, including tiger reserves, a white salt desert in Kutch, and a cold desert in Ladakh.
According to the government, both domestic and foreign visitors are becoming increasingly enamored with adventure tourism in India. People of all ages are actively enjoying diverse adventure-based tourist activities. According to Shri G. Kishan Reddy, India's geography is ideal for a range of adventurous pursuits, including hiking, camping, water rafting, mountaineering, bungee jumping, skiing, scuba diving, snorkeling, and wildlife safaris. He said that the government is making concerted efforts at the policy and strategic levels to realize the potential of adventure tourism in the nation fully.
India's Commitment Towards the Sustainable Lifestyle for the Environment
India is committed to completing Mission-LIFE, a sustainable lifestyle for the environment. It is said that young Tourism Clubs have been established in all educational institutions nationwide to raise targeted awareness among the country's young. Youth and children will become interested in, aware of, and responsible for our nation's natural, cultural, and spiritual heritage thanks to these clubs. These groups will be utilized to promote adventure tourism because young people have a natural love for it. According to Shri G.Kishan Reddy, minister of tourism, the areas that would be prioritized include building infrastructure for adventure tourism, providing funding to adventure tourism destinations, training skilled workers, identifying threats, establishing safety standards, engaging in research and development activities, and building a name for oneself.
A national strategy for adventure tourism has also been developed, focusing on projects like State Ranking Criteria for Adventure Tourism Sites, Model Adventure Tourism Law, Mega Trails, Adventure Activity Guidelines, Adventure Tourism Rescue Centers, and the creation of Websites and social media pages specifically for Adventure Tourism. According to the minister, India would soon rank among the world's top destinations for adventure tourism.
It is anticipated that the visits of G20 delegates to various regions of our nation will familiarize them with the tourist potential of each of these locations. The Prime Minister has emphasized the importance of tourism, trade, and technology as the 3Ts for driving India's development. India is a continent-sized nation with enormous tourist potential due to its many climatic regions, which range from the tropical and temperate to the alpine and desert.
The region of India is perfect for hiking and other mountain and adventure sports, as well as for spiritual renewal, with its undulating mountain slopes, lush green woods, well-known tea estates, and charming temples and monasteries. The G20 presidency's slogan is One Earth, One Family, and One Future.
The Ministry of Tourism has worked extremely hard to acquaint each Delegate with indigenous Siliguri and Darjeeling art and craft. The West Bengal MSME & Tourism Department has organized art and craft stalls and Do-It-Yourself activities to give delegates a hands-on introduction to regional arts. During the meeting, the Himalayan Mountaineering Institute, Darjeeling, displayed its gear on Mall Road. By giving delegates souvenirs from the ODOP list of goods, such as a Wooden Owl set from Burdwan District, Dokra GI Hook fish from Bankura District, Banglshree Silk Pocket Square from Malda District, and Chitpore Attar from Kalimpong District, the Ministry of Tourism is also promoting regional products in West Bengal. Making the G20 genuinely the People's G20 and bringing it closer to the public is crucial to India's G20 presidency.
All G20 Members, Invitee Countries, and International Organizations endorsed the five priority areas (Green Tourism, Digitalization, Skills, Tourism MSMEs, and Destination Management) during the first meeting of the Tourism Working Group held at the Rann of Kutch in Gujarat. Adventure tourism helps Goa Roadmap and Action Plan for Achieving SDGs, the Outcome Document of the Tourism Working Group.
The Indian government is organizing more than 200 meetings nationwide in more than 59 places as part of India's G20 Presidency. These locations have been chosen to highlight India's rich cultural legacy and geographical diversity.