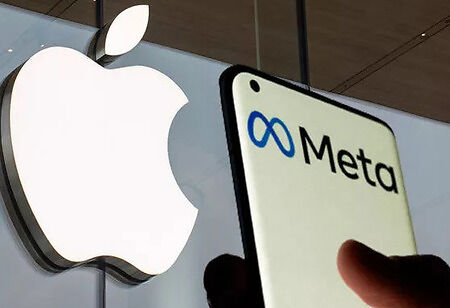 For starters, most people recognize augmented reality (AR) and virtual reality (VR) as technologies implanted in the latest headsets for gaming or social media. Some are not even aware that they are using or experiencing these technologies. Like the latest technologies, the infinite potential of AR and VR is only so minimally explored that, for the moment, there are only a few innovative devices that people are currently aware of.
As is, the big tech companies are not only competing to create smarter products and services but are also working to build the next major computing platforms for themselves.
Social media giant Meta Platforms Inc (formerly known as Facebook) has already hosted its flag with Oculus Quest headsets and AR glasses. But now, Apple is preparing its own higher-end VR headset, and probably other products could also make a debut.
Will Apple finish the race to AR and VR or Meta? Who is getting closer to that finish line?
Meta Made the First Bet in VR
When Facebook spent $ 3 billion on Oculus in 2014, it was betting big on the future of virtual reality as a technology. The company also saw the potential to build a tech ecosystem for itself. Facebook relies on firms like Apple and its iOS operating system to reach users on mobile devices, putting it at the mercy of the operating system and store creator. If Facebook manufactures its own devices, it has complete control over its own destiny.
Although the Oculus Rift was a step forward for Oculus and VR, it wasn't until the company unveiled the standalone Oculus Quest headset in 2019 that Facebook indeed demonstrated what it sees as the future of VR. The latest Oculus Quest 2 costs $ 300 and comes with its own app store, putting Facebook in the mass market of technology gadgets and giving it complete control over the customer-developer relationship.
Coming to AR, Meta's Project Nazare, or, as many would put it, Facebook's AR glasses, will essentially show their wearers holograms blended with the real world, which is essentially what AR means.
Whether users will be interacting with floating YouTube videos while cooking a meal in their kitchen, watching a sporting event as a hologram, or meeting pals half across the globe in a hologram—everything falls under the banner of AR.
Meta's AR project intends to give smartphone functionality in a new way, akin to what Apple's AR glasses will do.
AR eyewear and ongoing enhancements to VR headsets are among the future ambitions. But, for now, it appears that Meta is headstrong with its headset battles.
Meta may be the first to take a ride with this technology, but Apple has already let many people experience the technology through its products.
But Apple's in the Lead?
Apple may not appear to be investing heavily in VR and AR, yet it is already the world leader in this field. Apple announced ARkit in 2017, and cellphones as old as the iPhone 6 will be able to use it. Even the fifth-generation iPad supports AR.
Apple hasn't made AR a priority in recent years. Still, it has gotten the technology into the hands of hundreds of millions of consumers and allowed Apple to innovate on its own devices. The iPhone 12 Pro and iPad Pro, for example, include lidar, which allows for significantly better tracking when placing AR devices in the actual world. This is most likely a prelude to tracking on virtual reality or augmented reality headsets. Apple has demonstrated the necessary store and app infrastructure to launch VR and AR content quickly.
Apple is planning to introduce a virtual reality headset in 2022, targeting a higher-end client than Facebook, with a price tag that could exceed $1,000. This is comparable to high-end VR headsets, while broad market acceptance may require a lower price point.
The Oculus 2 now requires a Facebook login, which has enraged some users who don't want to link their VR experience to their Facebook accounts. It's also made it more difficult for companies to enter the VR market, with the Oculus for Business headgear costing $ 800 and only working with unique content, excluding the Oculus Store.
Apple has a long history of getting gadget usability right, and it has the infrastructure to do so in virtual reality and augmented reality. Although an Apple account is required for iOS devices, it is not tied to a social network like Facebook's headgear is. Some people may find this appealing, especially if the technology is comparable to Facebook's device.
"I'm already seeing AR take off in some of these areas with use of the phone. And I think the promise is even greater in the future," said Tim Cook, CEO, Apple.
Could Privacy Issues Slow Down the Race?
The primary factors restraining the growth of the AR and VR Market during the forecast period are an increase in privacy and security issues related to augmented reality, as well as the reconfiguration of apps for multiple platforms. In the coming years, a limited field of view and overcoming social hurdles to increase AR and VR adoption rates are projected to stymie market growth.
The same privacy concerns that Apple and Facebook are already grappling with will almost certainly resurface in VR and AR. It's natural to be concerned about Facebook tracking people in VR and using that data elsewhere since Oculus devices require a Facebook login.
At the end of the day, it's possible that no single company will win the entire market. It's likely that Apple is constructing a luxury ecosystem of products while Meta is developing a lower-cost mass-market counterpart. Investors in tech stocks will be interested to see if the upcoming years' improvements allow either company to achieve any form of scale in VR or AR.
How are the Investments Looking for AR?
By 2028, the global AR and VR market is estimated to have grown by 35.7 percent to around $ 105,676.7 million, according to GlobeNewswire. Due to the training and infotainment markets, the global AR & VR market is booming. The rising need for AR devices in the healthcare sector, retail, and e-commerce, are expected to drive market expansion throughout the forecast period. The increased acceptance of HMDs (Head Mounted Devices) in various industries, growing digitization, technological advancements, and significant investments in the virtual reality industry are projected to boost the virtual reality market growth over the forecast period.
Furthermore, throughout the forecast period, expansion in the mobile gaming industry, increased internet connectivity, and increased use of consumer electronic devices are expected to be the primary drivers driving the Augmented Reality and Virtual Reality Market.