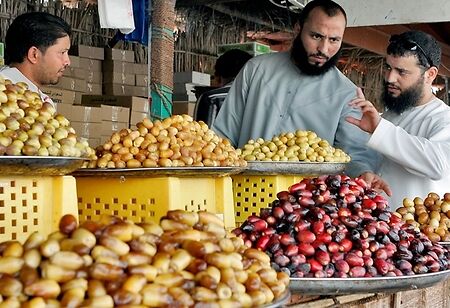 "We want to promote healthy food for UAE people and to help poor women of our region who are manufacturing these food items. We are choosing dry products. We also aim to keep Karnataka's young generation in touch with North Karnataka food". These are the words of Gouri Talikoti and Ramya Halbhavi, both of whom have been promoting North Karnataka food with cheers from Indian customers across Dubai, Sharjah, Abu Dhabi, Azman, and other cities in the UAE.
What started as a pastime soon took off to installing stalls at exhibitions, introducing Karnataka food like Jolad Rotti, Shiggavi chutney, chilli powder, millets, Belagavi Kunda, and Karadantu to global customers. Their effort has provided a marketing platform for rural poor women in Haveri who manufacture food at Gaurishankar Food Industries, a Shiggaon-based woman-owned business.
The taste of homemade and traditional style products attracted Indians residing in other states of UAE, said Suma Anil Pujar, Shantala Gujjar, and Meghana. "We had exhibited the products in the recently held Basava Jayanti program in Dubai. We are receiving orders for the products. We plan to sell the products in various exhibitions in the UAE. Our products include jolad, bajra and millets rottis, different chutneys, millet turmeric energy drinks, ready-to-cook millets, spices, and North Karnataka sweets such as laddu, karadantu, and kunda," they said.
"Their initiative has been helpful for our women-entrepreneur MSME, where we have appointed a dozens of rural women, some of whom are widows," said Shilpa Mantagani, the proprietor of Gaurishankar Food Industries (GFI), Shiggaon.
Channayya Yemmetti Hiremath, the CEO of GFI, recognizes the UAE women's initiative as a model for all non-resident Kannadiga women to help their counterparts back home. "If all women residing across the world think in this way, then indigenous products of Karnataka will be scaled up in the business and spread the indigenous culture," he said.
This shows the numerous opportunities individuals pursue to draw their entrepreneurial route in the United Arab Emirates. It is quite the thriving place to get one's business started, considering the zero taxes, free trade zones, a strong economy, ideal location, least import duty, and excellent infrastructure to look out for.
From culinary ventures to high-tech startups, the UAE offers a spectrum of options for enterprising minds. But before you embark on this entrepreneurial journey, for Indian entrepreneurs, looking to make their mark in the UAE, obtaining Dubai tourist visa for Indians is crucial. It opens the doors for you to visit this bustling city, network with potential partners, and turn your entrepreneurial dreams into reality.
Here are several small company opportunities in the UAE that you can invest in as a foreigner, from Abu Dhabi to Sharjah to Ras Al-Khaimah to Ajman to Dubai:
Restaurants
The UAE is a country awash in cash, and its residents enjoy some of the world's highest living standards. As a result, they can afford to frequent cafes, restaurants, and diners. You can open a small restaurant if you have experience in catering and cooking delicious meals. Concentrate solely on quality, excellence, and first-rate service.
Childcare
The majority of couples in the United Arab Emirates are too preoccupied to devote appropriate time to their children's requirements. Since both the father and mother work full-time, they rely on nannies and daycare facilities to look after their children. If you have suitable expertise and talents in dealing with children, you can use this niche to test your entrepreneurial ability.
Floral Decorator Service
When it comes to large-scale festivities, few countries can beat the United Arab Emirates. There is always something to celebrate in this lovely Gulf country. Besides, flowers are required for each of these occasions or holidays. This is a business that you may start and run online as an online floral business. To entice even more customers, you might include other goods like gifts, sweets, and even jewelry.
Apparel and Jewelry
Tourists flock to Dubai for its fashion, and garment firms are taking note. They frequently employ fabrics from this region to appeal to a global clientele. The largest retail sector in the area is apparel and footwear. Dubai also boasts a large supply of precious stones and is one of the most sought-after jewelry markets.
Electronic Device Repair Service
Repair of commonly used electronic devices such as smartphones, tablets, and laptops should be heavily considered while considering business setup in UAE. As a technology-driven country, it's understandable that millions of UAE residents use the latest electronic equipment, which must be maintained and fixed on a regular basis. You can easily start a firm that specializes in the repair and maintenance of various electronic gadgets. Make sure you do an amazing job for your consumers at all times if you want them to love you and even refer you to others.
Recruitment Service
You can also join the expanding recruiting agency company in the UAE with a tiny office. Thousands of competent professionals are required in the United Arab Emirates, which is why recruitment agencies are springing up everywhere. Many qualified employees from India, Pakistan, Bangladesh, Russia, Ukraine, Nigeria, and other parts of the world want to work in the UAE, and recruitment organizations are always processing them. Finally, if you are considering forming a firm in the UAE, here are some modest business prospects for foreigners.
Business Consultancy Service
Business consulting services are one of the most attractive business prospects in the UAE. Because there are so many entrepreneurs and new startups flooding the area, if you are an expert at worldwide expansion, you may be able to assist other firms in the area. Before you start operating, make sure you have all of the essential licenses.
Financial Service
With so many business opportunities in the UAE, financial services such as bookkeeping, accounting, and auditing are in great demand. If you are competent in this field, you may be able to capture a portion of the market, particularly if you target small enterprises and startups rather than competing with the region's huge international accounting firms.
E-Commerce Service
Since the MENA region's e-commerce business is not as developed as that of other industrialized countries, there is plenty of space for expansion. Companies who want to sell their products online can take advantage of this rapid rise, with more sales online than in storefronts in the early part of 2020.
Entrepreneurs who wish to start their business with a laptop and an idea will find this form of business very interesting. Sellers can now start up this type of business in Dubai and run it from wherever they are physically situated while benefiting from Dubai's favorable tax climate thanks to technological advancements.