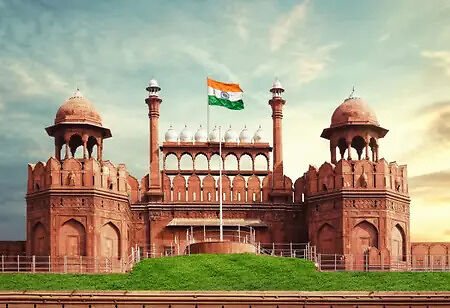 Gandhian nationalism led mass movements until 1942's Bharat Chhodo Andolan, aka Quit India Movement, which became one of the final nails in the coffin of British rule in India. Thanks to the unbridled resolve of the Indian people, India's Constituent Assembly received the necessary authority, and the nation was proclaimed free. August 15 of 1947 saw the independence of India. But the British rule and them being parasites of our resources for hundreds of years set us back decades in the global race to progress. Lend your ears to Albert Einstein, who elucidates what we had as a country before the British rule. He says, "We owe a lot to the ancient Indians, teaching us how to count. Without which most modern scientific discoveries would have been impossible."
However, despite the setback and not joining the progress race for decades after Independence, India now seems to have a newfound urge to progress. The government has a clear vision, especially towards the next tech-ade, and a part of it is corporate sector compatible progress and development. Many technology companies in the country are on board with this vision. Let's see some of the future technology promises shared by tech companies in India.
NetApp India Marketing and Services: New Opportunities Ahead
The company expressed that it is time to bask in the glory of the nation's triumphs and look out to the path that unravels towards the road ahead. Speaking on the Digital India initiative, the company notes that it was unforeseen how digitalization swiftly penetrated the lives of people. Most notable projects such as Unified Payments Interface (UPI), Aadhaar, Ayshuman Bharat, and Cowin have played a major role in helping transform people's experiences. For the next 25 years, the company says that the country will rely on its ability to extract maximum value from data. Additionally, it believes there is ample room for innovation, even if it means mining a portion of data, particularly in a trusted exchange ecosystem between both public and private sectors. Also, it says that the future path will be marked by how the nation approaches the usage of big data. While the country surfs through the waves of innovation, it will eventually open up new opportunities, enhance public services, and likely assume leadership here.
Sophos: Freedom from Cyberattacks
In its survey, ' The future of cybersecurity in Asia and Japan,' Sophos recently researched that 75 percent of Indian organizations believe that it will be challenging to recruit cybersecurity professionals in the next 25 years.
However, the organization stressed that cybersecurity-as-a-service could be an effective weapon to achieve freedom from cybercrime. Why? This will push organizations to constantly evaluate their cybersecurity strategy and make quick corrections that guarantee the protection they need as per their risk profiles.
LogiNext: Saas is the Way to Go
Like most industry leaders, LogiNext also agrees that SaaS has positioned Indian startups in the front row of technological development globally. Likewise, the entire startup club is doing its part in accelerating that growth. As proof, NASSCOM's report shared that Indian Saas revenue was around $4 billion last year, growing at a CAGR of 30 percent. More than 75 percent of these revenues are said to be coming from international markets. It is believed that over 200 Saas companies are generating about 1 million ARR (annual recurring revenue), and the number is still growing. These developments reflect the IT domain being the first to place the Indian talent pool globally. Not to mention, prominent technology educational institutes can also be seen mentoring and molding budding professionals who are setting benchmarks within and outside the nation. LogiNext is therefore positive on Indian Saas companies contributing about $ 15 billion in revenue and also assured that there will be more Saas startups coming in.
Fulcrum Digital: Promising a Vital Role towards Digital Transformation
Fulcrum Digital says that it's time to live the moment as the nation celebrates its 75th Independence Day while also looking forward with gleaming eyes to its future roadmap for the next 25 years. By the time it's the 100th Independence Day, the government will already be engrossed in accelerating the current growth rate while ensuring citizens are quenched with their thirst to draw maximum value from the process. Fulcrum Digital says that it's also in sync with this objective. Since it promises that it will accelerate customers' businesses while empowering lives through its digital platforms. While it's at it, it plans to bolster the Digital India drive by bringing digitally advanced technology products to the market through its integrated platform suite, digital engineering services, and technology consulting. In the next few years, the company promises to play a vital role in this transformation.
Pi Green Innovations: Accessibility to Clean Air
Pi Green Innovations thinks since the future is now being deeply thought about, it's crucial to develop solutions that support it. For this purpose, the company says that the focus must be on upgrading sustainable solutions, investing in automation, and garnering visibility for the country on global platforms.
The company also believes in making clan air accessible to all. Essentially, it has patented filter-less technology that provides cleaner air. It says it is committed to establishing a greener future for the country through sustainable solutions.
Syska: On route to Energy Conservation
Syska reflects on how the country, which was a simple underdeveloped country, grew to be a globally recognizable economy. It says that increasing investments, Make in India, and technology advancement are responsible for revolutionizing the Indian manufacturing sector. While transcending to modern infrastructure, there remains a prominent need to adopt a holistic approach to energy conservation. The company is known for focusing on technology-led, sustainable, and energy-conservative products. Hence, it regards the road hereafter as stepping into a new era of independence since it looks to consistently deliver and contribute to a modern and sustainable tomorrow that compliments the fast pace of the country's development.
RR Global: Strengthening the Manufacturing Sector
The government's initiative to promote nationwide participation and commemorate this momentous occasion, 'Azadi Ka Amrit Mahotsav,' is to be applauded. The manufacturing industry has expanded significantly over the years, and the 'Make in India' campaign will only serve to strengthen it. RR Kabel agrees that India has experienced amazing growth and potential already. It says that it is pleased to be a Make In India firm and hopes to continue its progress for the next 75 years and beyond.
RR Parkon: En Route to Urbanization
It congratulates every citizen of India. Today, the nation's youth are taking the lead and making themselves known in every field. India is one of the top nations for technological advancements and tech-enabled solutions that aim to transform several industries, including the country's parking automation market. Compared to conventional parking systems, the Indian parking business is now more efficient overall, thanks to the integration of ICT solutions and the usage of IOT and data. On this day of independence, it expresses appreciation for the chance of having to serve the country's people and provide them with solutions to one of the largest urbanization problems.