Do you Follow Sustainable Food practices? Here are the Best Five Sustainable Eateries that One Must Visit in Bangalore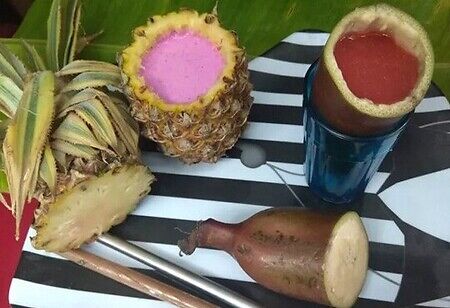 Once ubiquitous, single-use plastic (SUP) is now being cracked down upon under the nationwide ban on items such as plastic sticks on balloons, cutlery, straws, wrapping film on sweet boxes, invitation cards, etc. Even though Swachh Bharat Abhiyan's gesture has effectively brought mainstream waste management, changing a person's lifestyle and disposable habits is challenging. While it is difficult to reduce electronic and plastic waste overnight, food waste is one issue we can address with our conscious effort. Alarmed by the stark facts of the Bangalore garbage catastrophe, some restaurant owners of Bangalore have taken the initiative to go green. Through the go green initiative, they offer sustainable food for the customers.
Here is a list of the must-visit environment-friendly eateries in Bengaluru that are innovating eco-friendly ways to dine out:
Eat Raja
Located in Malleshwaram, the local juice bar is popular for its zero waste policy. Eat Raja is run by former RJ and entrepreneur, RJ Raja. They serve fresh and unsweetened juice in the fruit shells. They don't use plastic containers or straws; instead, they use paper straws, reusable steel straws, and wheat pasted straws. Suppose the customers want to take away the juice; they must bring their own containers. The local cafe also serves south Indian foods. The best part is, to continue this sustainable initiative, this juice bar uses citrus to make natural bio-enzyme cleaners and turns wet waste into eco-friendly compost and fertilizers.
Arogya Ahaara
We don't often come across restaurants that serve the dishes uniquely and sustainably. In 'Arogya Ahaara' in Bangalore, you will find a long queue of people waiting near the counter to order the dishes. Even if there is a separate area for the table serving, there will be more queues near the counter. Why? There is a weighing machine near the counter. The restaurant serves the food in kilos. The solid food is weighed in kilos and the liquid in liters. Customers are encouraged to bring their own containers, bowls, bottles, Tupperware, and dabbas from home for all types of takeaway orders.
The food is prepared fresh in the see-through kitchen, which is kept impeccably clean. Customers can take away anything from crispy dosas, spicy Gobi Manchurian, sweet barfis, hot Sambhar, and fragrant Bisi Bele Bath to even their soft Gulab Jamuns. And if customers don't have their own container, they can purchase biodegradable dabbas at the counter. But the restaurant usually prefers customers to get their own utensils.
Go Native
Go Native provides a gastronomical experience like no other and serves farm-to-table vegetarian meals. Every dish at Go Native is made using organic & farm-fresh produce. They also cater to various consumer food preferences, be it gluten-free, vegan, Jain, keto-friendly, low protein, or high protein. Customers can even shop for organic handicrafts and retail products that reflect sustainability and conscious living. Doing their bit towards Mother Nature, the entire cafe is run on solar power and harvests rainwater on the rooftop.
By keeping the sustainability principles in the center, Go Native was started by Anvitha Prashanth, an alumnus of Singapore University. The restaurant provides pesticide-free food crafted with eco-friendly products and is inspiring scores of Indian consumers to adopt a more sustainable lifestyle.
What started as a trend has snowballed into a full-fledged lifestyle choice, with consumers increasingly turning towards organic food. Consumers today have become more conscious about what's served on their plates and wary of using chemicals, fertilizers, and artificial additives.
The Green Path Organic State
Started by HR Jayaram, a lawyer turned organic farmer, The GreenPath Organic State is located in Malleshwaram. This green space houses an organic restaurant called Forgotten Foods, known for farm-to-table organic food. All the ingredients are grown in Jayaram's organic farm, which runs only on rainwater and uses biogas and solar panels to generate electricity. They also have a detox cafe and an organic store on the same premises. They have sustainable food products such as spices, herbs, condiments, certified organic pulses, cereals, honey, jaggery, papads, multi-grain flour, millet, amla candies, and pickles. Apart from food, the store displayed a range of eco-friendly fashion accessories, organic cotton clothes, and bags. Apart from delighting people with exotic and delicious food, the restaurant also follows other aspects to make it sustainable and eco-friendly. The waste from the restaurant is sent to the biogas plant, while the power is derived from solar PV panels. Interestingly, solar PV panels on the rooftop provide shade to plants in the terrace garden.
Corner House
The corner house was established when Bangalore had only trees and lakes, when bougainvillea and rain trees lined the streets, and everybody knew everybody. They offer high-quality ice cream desserts at affordable prices. Their recipes are not only specially crafted but also monitored and tested at each stage, from the production line at the factory to the sales counter at every Corner House parlor. Their parlors proclaim to serve 100 percent dairy ice creams. This iconic hangout place has also introduced BYOB, the Bring Your Own Bowl initiative, to cut down on plastic and take a conscious step toward sustainable living. They also contribute Rs. 10 to a worthy cause for every disposable container.