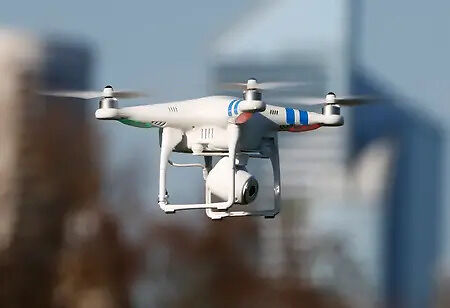 Coles, a leading Australian supermarket giant, signed the papers with Wing, an Alphabet subsidiary, to start delivering small products to customers near the former's supermarket on the Gold coast. In some areas of Canberra and Logan, Queensland, Wing is already in operation. Wing is not the only one on flight here; there is Amazon, Domino's Pizza and Alphabet among others as well. Today, the sight of these unmanned aerial devices has been moved from a possibility to a reality thanks to the progress in technology, safety and public policy changes.
Taking small steps the pilot mode is still on for these unmanned aerial devices with major companies competing against their rivals for lift off in this space. While the commercial regulation is still piled up on the FAA's (Federal Aviation Administration) desk, the US government has allowed drone deliveries to start small, with the approval of UPS Flight Forward program to deliver prescription medicine across rural areas. Although regulations are yet to exercise their regime over the commercial purpose of drone delivery, a few companies have already taken off to serve communities in ways they could. Let's check them out.
Domino's Drone Delivery Pizza Dream is Still Soaring
In November 2016, Domino's began sending out its pizzas through drones with the help of its drone delivery partner, Flirtey. Back then, Domino's said that it would soon fly out these services to Australia, Belgium, France, The Netherlands, Japan and Germany. It's been six years now and Domino's push in drone technology could be seen reaching the peak, with its dream getting closer to becoming a reality. SkyDrop's, the pizza maker's partner in aerial pizza logistics, has helped complete the latter's drone fleet last year and commercial tests are due for New Zealand soon. Even the workflow is frictionless thanks to SkyDrop's operational system for drone delivery which includes two aircraft, one ground infrastructure platform, and one autonomous control station. This makes it efficient to carry orders like three extra-large pizzas, or two large pizzas with one soda and one side dish with dipping sauce of course. Through years of working on its technology SkyDrop has not only increased its payload of up to 3.5 kilograms, but increased the precision delivery altitude to about 60 meters, added with a parachute system for safety as well.
But Amazon's Drones are stuck in the Headwind
The e-commerce giant announced plans to launch its drone delivery services, Prime Air, during its 2019 re:MARS conference. Using autonomous drones navigated by GPS, Amazon promised customer delivery within 30 minutes through Prime Air. Prime Air is also seen as a way out from the last mile delivery's expensive affair and the time consuming part of the shipping process that most e-commerce companies face. But bad luck struck Amazon by making only a hundred deliveries in two locations across California and Texas through Prime Air. Amazon's pace did start off slow but the e-commerce giant admitted to tweaking its delivery goals to stay within the FAA's standards. However, the e-commerce giant's times of convincing the administration till date could be described as lukewarm, barely making progress. That's one, other reasons pertain to its drones being crashing causing fire accidents which the company claims that it didn't happen during any of its actual customer delivery. Again, the e-commerce giant has to prove its drone's safety factor to the administration to loosen those restrictions.
Tailwinds are Certainly Blowing Walmart
Walmart is soon picking the pace in drone delivery, ascending the throne that Amazon created for the e-commerce race. This year, it has teamed up with Wing, an Alphabet owned drone company, to take its drone delivery service to Texas. The retail giant said that it will launch the service in Frisco, Texas along with another supercenter in the Dallas metro this year. Through the collaboration with Wing, Walmart hopes to reach an additional 60,000 homes in the area. The retail giant is positive on delivering last minute items such as over the counter medication, time-sensitive things like ice cream, or something as fragile as eggs. Also, it promises to keep its business open from 10:30 am to 6:30 pm every day except Wednesday. Additionally, it promises half-an-hour delivery to customers in faith of the highly automated drones that travel 65 miles per hour. Now how Walmart is taking the place of the pioneer Amazon here is that it already boasts drone hubs in the aforementioned areas but Wing's deal could allow it to expand its delivery area. Also, it has been flying its drone deliveries in 36 stores across seven states. Besides that, the retail giant has scored more than 6000 drone deliveries last year, including the number of patents taller than those of Amazon's.
Then there's the Fierce Competitor, Wing
Wing is a drone delivery service operated by Google parent Alphabet in collaboration with FedEx and Walgreens. According to the companies, the agreement represents the launch of the first commercial drone delivery service in a significant American metropolis. To test out small-scale drone deliveries in the Virginia town of Christiansburg, Walgreens and Wing launched a pilot in 2019. Tens of thousands of suburban houses in the Cities of Frisco and Little Elm are serviced by Walgreens using Wing's drones. Wing's mobile app allows selected clients in the trial program's specified area to order over-the-counter health and wellness products. The drones drop lines that are hooked to items before being reeled in for delivery. Customers will not be charged for drone delivery as the experimental operation progresses. Drones are currently only used by a small number of healthcare organizations to distribute medications and other supplies, but the pandemic's increased demand for remote care choices and pharmaceutical delivery prompted more parties to sign collaborations.
Drones flying above our homes, workplaces and roads are serious business that could put the safety of people at risk if they were to crash into or tangle up in active electric wires and other hazard prone places.
Small Geographical Market and Regulations
Starting with the Federal Aviation Administration, UPS is the first ever drone service given approval to operate as a commercial airline which allows it to grow its drone fleet beyond the visual line of sight (BVLOS) of pilots. Now, BVLOS is an important matter as it is a natural end goal to every drone delivery service ardently waiting to start their programs. The reason is that BVLOS deems no human eye monitoring over any drones flying between their huns and delivery destinations.
Aware of the industry's growing demand and capabilities, the FAA enlisted rules under the Beyond Visual Line of Sight Committee in 2021 to ensure operations are routine, scalable and economically viable.
In Australia, the Civil Aviation Safety Authority enforced strict regulations to make the drones as safe as possible. While drones do promise environmental benefits like handling small, lightweight packages during figurative 'last-mile' deliveries could reduce energy consumption and greenhouse gas emissions. Yet, they do come at a cost. This is why drone delivery services are carried out in unpopulated land, low-density areas, particularly in the urban fringe.
Social Acceptance
Not a government's matter, but of the people who could alter the success or failure of a widespread new technological uptake. Take Nuclear power for instance, some countries have it and utilize its benefits, while have lost their social license which could change in the future. The reason is that social license is an evolving matter dancing on the merits and drawbacks of technology which is also evolving. Even today, some are not bothered being tracked by their smartphones every day in the belief that the benefits could outweigh the potential negative impacts. For people in dire need of medicine, it can be said that the social license is already solid there.