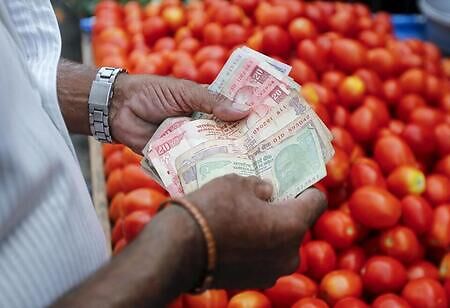 The nation experienced a shock when the government revealed data showing that the Consumer Price Index (CPI) inflation or retail inflation soared at 7.44 percent on the back of high vegetable costs, namely the tomato.
Inflation spiked to a 15-month high and was far higher than the RBI's flexible tolerance range of 2-6 percent. While the increase in the CPI in July 2023 was expected, the increase in retail prices of 7.44 percent was completely unanticipated.
The RBI made the decision to maintain the repo rate pause and the withdrawal of accommodation at the MPC meeting in August. The action was taken to stimulate growth while ensuring that inflation gradually converges with the aim.
Weather Not in Favor of Tomatoes?
The Reserve Bank of India raised concerns about the rise in tomato prices earlier in July and urged increased supply to reduce inflation volatility.
Due to its very perishable nature and brief crop duration, tomato prices showed significant seasonal volatility.
As evidenced by a historical average duration of 2.6 fortnights and prices remaining below Rs 20 for an average duration of 10 fortnights, the RBI considered these episodes of high prices to be normally short.
It is important to note that the increase in tomato prices brought on by crop damage from unfavorable weather and pest attacks in important producing areas attracted much attention both domestically and internationally, placing a burden on household budgets.
Strategies by Big Fast Food Chains to Combat Inflation in India
With nearly 400 branches, the largest burger chain in India has joined many McDonald's and Subway restaurants in removing tomatoes from their menus as food inflation in India this week reached its highest level since January 2020. Even the free cheese slices that were provided by the US sandwich restaurant for years were discontinued. However, two of the fast-food chain's restaurants in India have chosen to make fun of the absence of the ingredient.
On the other side, Domino's is attempting to lower prices with its lowest-priced pizza in the entire world: $0.60. Domino's is not the only company focusing on India's prices, a market with a high sensitivity to price and one that is now experiencing higher inflation than many other markets, including the US. The idea is that affordable deals will entice customers to shops and mobile applications where they might upgrade or acquire more add-ons.
Due to quality issues brought on by supply issues, McDonald's in India stopped serving tomatoes in July.
The same month, Subway in India followed McDonald's lead and removed tomatoes from its menu. Similar to McDonald's, signs outside a few Subway locations in New Delhi explained that tomatoes were unavailable due to quality problems.
Pizza Hut is actively pushing the 79 rupee ($0.96) pizzas it introduced last year, claiming that they are the brand's lowest-priced items worldwide.
But the Circumstance is not that Bleak Yet
Domino's, the industry leader in Indian fast food restaurants with a market share of roughly 12.5 percent percent, as well as other businesses, have had a bad year.
In the three months ending in March, Pizza Hut's Sapphire Foods' pre-tax profit more than halved. Restaurant Brands Asia, the Burger King franchisee in India, saw its net loss increase by nine percent.
There are some bright spots, though. According to Euromonitor International, India's market for quick-service restaurants that provide fast food is only worth about $5 billion, compared to $137 billion and $341 billion in the United States and China, respectively.
The smaller, primarily Western-chain-dominated pizza, burger, and chicken restaurant business in India, which is currently worth $2.1 billion, will expand but more slowly. According to Euromonitor, it will expand at an expected 15 percent annual pace through 2027. Comparatively, growth rates of 21 percent in 2022 and 43 percent in 2021 were primarily attributed to a jump in post-COVID consumption.
Temporary Pain Killers to Curb the Pinch in the Inflation
India has begun importing tomatoes from Nepal to address the supply shortage. With social media pictures displaying lengthy lines, it has organized vans to distribute the staple around the country at lower prices. It has also begun selling the basic vegetable for Rs 50–60 per kilogram.
About five tons of tomatoes from the neighboring country of Nepal are being imported, according to cooperative NCCF (National Cooperative Consumers' Federation of India Ltd), and they will be sold at a discounted price of Rs 50 per kilogram in Uttar Pradesh.
For the benefit of the central government, NCCF procures tomatoes both domestically and through imports, and sells them at a reduced price to consumers who are suffering from the high cost of this kitchen staple.
The Union Consumer Affairs Ministry gave the go-ahead for the retail intervention.
In Uttar Pradesh, both imported and locally sourced tomatoes are offered for sale at specific areas through stationary stores and mobile vans.
Tomatoes from the country's major producing states are being sold in Delhi-NCR and Rajasthan for a subsidised price of Rs 50 per kilogram.
The new tomato crop has begun to arrive in wholesale mandis in Madhya Pradesh and Andhra Pradesh, and prices are also declining.
According to government statistics, the average wholesale price of tomatoes throughout all of India dropped to Rs 88.22 per kg on August 15 from Rs 97.56 per kg a month earlier.
Similar to this, the statistics showed that the average retail price of tomatoes throughout all of India decreased from Rs 118.7 per kg to Rs 107.87 per kg.
Heavy rains in important procuring centers have put pressure on tomato prices.