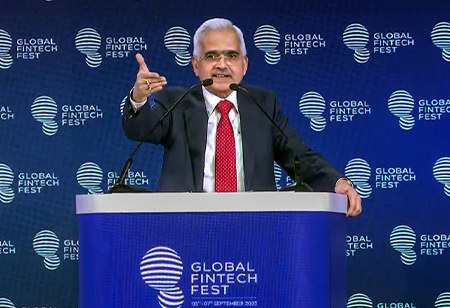 Finance Technology has long become an industry buzzword. The Global Fintech Market earned $194 billion in revenue in the current year and is expected to grow at a CAGR of 18.97 percent till at least 2026. The industry has evolved significantly over the years, resulting in the transformation of enterprises into customer-centric businesses. As a result, finding a spot among a variety of enterprises ranging from startups to tech corporations to established firms all over the world is difficult.
The fourth Global Fintech Fest (GFF 2023) was held from September 5 to 7, 2023, at the Jio World Convention Centre in Mumbai. The Global Fintech Forum (GFF) is one of the largest fintech conferences in the world, sponsored in collaboration between the National Payments Corporation of India (NPCI), the Payments Council of India (PCI), and the Fintech Convergence Council (FCC).
In 2023, the Global Fintech Fest (GFF) has reclaimed its position as the world's largest fintech conference. This year's event promises to be a magnificent showcase of financial innovation and collaboration. Let's take a look at the highlights of GFF 2023.
India's finance minister declared that discussions on a worldwide framework to regulate crypto assets are beginning, noting that cryptocurrencies could not be controlled properly without the collaboration of all countries.
Finance Minister Nirmala Sitharaman says, "India's position is that global collaboration and a framework are required to fight dangers such as cryptocurrency. Unless you go for global cooperation, you will not get a responsible financial ecosystem that can also regulate it. In India, crypto assets are still unregulated."
Embracing Transformation
RBI Governor Shaktikanta Das began his speech by recognizing the extraordinary passion and devotion demonstrated by GFF participants. He stated that this enthusiasm demonstrates that the fintech sector is on the verge of a huge shift. Innovation is the bedrock of the fintech industry, emphasizing the importance of innovation in altering financial services. According to Das, sharing knowledge and experiences among industry players may further stimulate innovation, making GFF the ideal venue for building a robust fintech ecosystem.
Global Fintech Landscape
The RBI governor presented a worldwide perspective on the fintech sector, noting that, although generating a phenomenal $245 billion in yearly sales, the global fintech business accounts for only two percent of global financial services revenue. However, he emphasized that India is positioned to play a major part in this story.
"By 2030, Indian fintech is expected to generate $200 billion in revenue, accounting for 13 percent of global fintech revenue," Das stated.
This growth forecast highlights the potential and relevance of India's fintech industry in the world arena.
The Role of Digital Public Infrastructure (DPI)
Das praised India's creative approach to financial inclusion via DPI's layered approach, which includes the India Stack. He emphasized the significance of programs such as the JAM (Jan Dhan, Aadhar, and Mobile) trinity, which has greatly boosted financial access in India. This accomplishment is proven by the fact that in 2020, 78 percent of Indian adults had access to bank accounts, up from only 35 percent in 2011. Over 50 crore Jan Dhan bank accounts have been established in India, while the Unique Identification Authority of India (UIDAI) has granted 1.3 billion Aadhar identities as of November 30, 2022. Mobile connectivity has improved significantly, with 800 million connections expected by 2022.
Digital transformation and UPI
Das encouraged India's extraordinary rise in digital commerce. The country saw 91 billion digital transactions in 2022—up from 1.2 billion in 2014. The Unified Payments Interface (UPI) has evolved as an international paradigm and success story, demonstrating the value of public-private collaboration.
"UPI has spurred innovation in the fintech space, leading to the growth and innovation of other systems," Das explained.
The interoperability of UPI among banks has resulted in a unified system, with over 10 billion transactions worth Rs 15 lakh crore completed in the previous month alone.
RBI's Commitment Toward Fintech Innovations
The governor highlighted RBI's commitment to encouraging fintech innovation. While the RBI Innovation Hub is self-sufficient, the central bank works closely with it to foster innovation. He emphasized that regulatory actions are critical for the success of any sector and that the RBI's recommendations were developed in collaboration with digital fintech businesses.
The RBI has also established a framework for small-value offline payments in order to extend payments to locations with limited connectivity. Notably, the RBI's pilot program for central bank digital currency (CBDC) has gained traction, with 1.46 million users as of August 31, 2023. The target is to reach one million CBDC transactions per day by December 2023, which will provide significant data for research into use cases and behavioral patterns.
Das also has emphasized the points regarding the success of the Kisan credit card. It allows loans to be granted to borrowers in less than 10 minutes without collateral. This initiative has been expanded to several states, with seven banks taking part.
Customer Trust and Data Privacy
When it comes to customer trust, Das emphasizes that avoiding consumer harassment is critical to gaining and maintaining trust in the long run. He voiced alarm about the growth of illegitimate loan apps, which has created serious concerns about the protection of user data.
Balancing Innovation and Safeguards
Das emphasized the critical importance of ensuring that innovation in the financial sector is backed by proper protections. He stated that fintech companies may demonstrate their commitment to openness and accountability by establishing transparent governance systems.
UPI-Based ATM
As a fascinating tech, a UPI-based ATM was on display at the venue. It manifests the velocity at which India is digitizing financial services and transforming them into consumer-centric rather than corporate-centric offerings. Quoting the video of this ATM, business tycoon Anand Mahindra tweeted, "This UPI ATM was apparently unveiled at the Global Fintech Fest 2023 in Mumbai on September 5. The speed at which India is digitizing financial services & making them consumer-centric as opposed to corporate-centric Alarm bells for credit card companies? And it is simply dazzling. I just have to make SURE I don't misplace my cell phone."