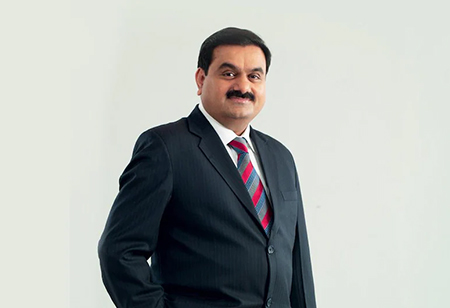 On January 24, the Adani Group, a major Indian conglomerate, was charged with perpetrating the biggest swindle in corporate history, according to Hindenburg Research, a tiny American investment firm that specializes in short-selling. The group completely refutes all of the claims made in the Hindenburg report. Prior to the publication of the study, the company had a market value of $235 billion, and its founder and CEO, Gautam Adani, ranked third in the world's wealth. Since then, the market value of the companies owned by the Adani Group has decreased by $70 billion. How did Mr. Adani build his empire? Who is he?
To start off, Adani's life is one of the rags to riches story. Unlike other corporate tycoons, Adani did not inherit his father's wealth. Instead, he made a concerted effort to alter his destiny. When you examine Gautam Adani's success story, you can see how he employed hard work, business savvy, and a strong determination to create his ladder to success.
Diamond in the Rough
Right from a young age, childhood to be precise, Adani exhibited entrepreneurial traits. After his second year at Gujarat University, he left college to pursue a career. He was one of his parents' seven kids, and they had struggled financially. His father ran a textile business.
He got into working as a diamond sorter and relocated to Mumbai. Even though his initial position only lasted for two to three years, at that point he had gained knowledge of the business's inner workings and how it adapts to the market. He was able to establish a diamond brokerage thanks to his industry understanding. It was the first venture he tried out for himself.
The Breakthrough
A significant turning point occurred in the 1980s when Gautam's elder brother asked him to aid in running the Ahmedabad plastic factory that he had newly acquired. Gautam returned to his hometown and started importing essential raw materials for the production of plastic. He also started connecting internationally and got a taste of what it was like to be a global dealer of commodities.
Soon after, in 1988, he founded his own company.
Gamechanger
Adani established Adani Exports Ltd., an import-export company for polymers, in 1988. The trading firm was able to quickly develop and soon started dealing in various other commodities, including metals, agricultural goods, and power, thanks to a number of economic liberalization policies that were implemented in India at that time.
The company's entry into the port industry, the jewel in Adani's commercial empire, marked the following significant turning point in 1995. Adani's business expanded rapidly thanks to the appropriate infrastructure.
Seven publicly traded companies make up the industrial conglomerate known as Adani Group today. Adani is the owner and pretty much has everything covered. His vast empire focuses on everything from data centers, green energy, coal mining, cement, and media to airports, railroad lines, and ports—basically anything the country's current prime minister believes necessary to achieving the country's long-term economic objectives.
Shot his Shot When Opportunities Came in
Usually, it is said that a successful person stands out from the crowd due to their foresight and ability to seize opportunities. Living proof of that is Adani. When the Indian economy opened the door to globalization, he saw opportunities. He found it to be a blessing. He quickly expanded his business using the circumstances to gain access to the new market.
In 1988, Adani formed the Adani Group, but his business initially traded in agricultural goods and power. But, that altered in 1991 as the Indian economy entered a new era. In light of the change in market demand, Adani seized the chance to diversify. Adani Group gradually developed into a conglomerate by diversifying into several industries, including power generation and transmission, coal mining and trade, gas distribution, oil and gas exploration, ports, and special economic zones (SEZ).
However, questions have been raised about Adani's quick rise. The tycoon has faced a number of rather serious accusations over the years. The most recent one is the Hindenburg Research's allegations made this year.
In January 2023, Hindenburg Research, a U.S.-based short seller known for betting against cryptocurrency firms and unprofitable electric vehicle manufacturers, accused Adani of pulling the largest scam in corporate history after learning that the conglomerate had allegedly engaged in a brazen stock manipulation and accounting scam over the course of decades.
Separately, on February 1, 2023, group business Adani Enterprises Ltd. made the decision to withdraw a recently conducted $2.5 billion fully subscribed share offering and returned the cash to investors. Despite Adani Group's protestations of innocence and the publication of the Hindenburg Research study, investors immediately fled the premises. The market cap of Adani's seven listed firms had decreased by a combined $65 billion by January 30, 2023. 15 Adani dropped off Bloomberg's list of the top 10 richest persons on the planet the next day, one week after the claims were made, having reportedly lost $34 billion of his personal worth in just three trading days.
Constant Learning
If we look into Gautam's life, we can see that his ascent to the top wasn't simple. He had to fight as everyone else did to get to this position. Yet he was also a visionary who grew up learning to seize opportunities as they presented themselves. These are some life lessons that can be drawn from Gautam Adani.
With no exclusive training from business schools, Adani learnt the ropes by watching trading practices and gained an understanding of business principles such as supply and demand. This shows that he is a good observer who knows where additional demand may emerge and is a proponent of embracing the early chance.
Adani constructed a 2 km long airport in his port that can accommodate huge aircraft. In India, it is the only port with an airport. He intends to make it fully operational so that it can handle the transportation of high-value, low-volume commodities like diamonds and pharmaceuticals.
Hence, we can say that Adani possesses vision and that he understands the significance of ports in the development of an economy. Adani succeeded in gaining a stranglehold over the market since he saw the potential of merchant ports. He continues to construct additional ports both domestically and abroad and is currently the largest port owner in India.