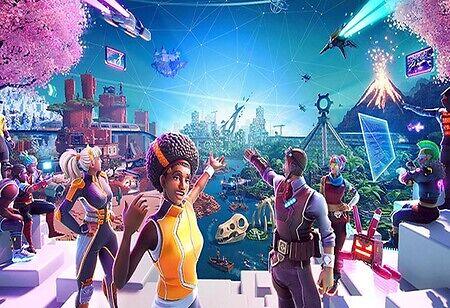 Buying or trying on clothing that only exists in a virtual environment may appear somewhat bizarre, as the concept of digital fashion can be challenging for many to understand. But as this niche industry has recently grown significantly, many experts are starting to take the notion that the metaverse will significantly alter the course of fashion seriously. The metaverse allows the fashion industry to enable customers to try on and see the garments they're interested in before adding them to the cart. According to recent studies, clothing that exists only online is much more environmentally beneficial than clothing that exists in the physical world. The former emits 97 percent less CO2 and uses about 3,300 liters of water less per item. Additionally, evidence indicates that it can lower a brand's carbon footprint by a stunning 30 percent by switching physical samples for digital ones during a company's design and development phases.
Before very recently, the idea of a digital metaverse would have raised skepticism about how it would function and, more crucially, what it would provide consumers that brick-and-mortar stores and online shopping cannot. The idea likewise looked purely outlandish, but the digital metaverse actually exists. Consider, for example, Hermès' entry into Web3 with their MetaBirkins or Burberry's debut NFT collection with Blankos Block Party. The methods in which these luxury brands are moving in the metaverse show that it is, in fact, the next big investment in fashion.
Fashion Brands on Metaverse
Several well-known companies, including Adidas, Nike, and Gucci, are said to have generated $137.5 million in NFT sales alone in 2022. The most expensive suit ever sold was a computerized Glass Suit by Dolce & Gabbana that cost the fashion house $1 million late last year.
However, that's not to say there is no use for retail stores and e-commerce despite a post-pandemic world seeing the rise of crypto and NFTs. Divya Mathur, former Chief Merchandising Officer of INTERMIX, says, "If you look at the facts and the numbers, this is the first time in the last three years where retail store openings actually outpace store closures. People realize there's a need for both channels and to optimize each. As for stores, you have to ask, what are you doing in a physical store that you can't do in a digital space?"
While online shopping builds customer confidence, especially for users who only buy things with reviews or negative ratings, in-store shopping supports the try-before-you-buy brand. With the additions of a digital metaverse, fashion designers and brands can produce and present their most recent collections in a brand-new, immersive setting, giving them a chance to connect with a larger audience that is beyond geographic restrictions, conventional fashion shows, and endless online scrolling. As fashion in the digital metaverse becomes more commonplace, Indian global businesses have a wonderful opportunity to expand and diversify.
The metaverse enables more observation. While visiting every company worldwide in person is physically impossible, you can enter a place in the metaverse where you can more easily view more items. Additionally, if technology is evolved enough, it may be possible to make decisions instantly. Because the marketplace model is less risky and allows retailers to connect with creators they would not otherwise have access to, the digital metaverse enables up-and-coming fashion designers, particularly those who produce Indian clothing and other ethnic wear, to expose themselves to more retailers.
Indian Fashion Industry and Metaverse
The need to exhibit India's rich cultural heritage and traditional textiles in a modern and creative approach is being recognized by Indian designers. Rishi Vimadalal, a tech enthusiast and the COO of Falguni Shane Peacock, thinks that the metaverse will produce an engaging experience enabling a closer relationship with customers. According to Vimadalal, technological improvements have historically helped the fashion industry, and designers and artists are constantly looking for the next big thing.
The distinctions between international fashion and Indian fashion are blending as of right now. Indian fashion has long served as a catalyst for international trends, particularly those geared towards Gen-Z, as evidenced by streetwear couture. Every design studio wants to test the waters of the metaverse, which is growing in India and aims to provide an easy and hassle-free envisioning and shopping experience.
That's not all, either. Shubhika Sharma, the founder and CEO of the fashion label 'Papa Don't Preach' believes that integrating Indian designers into the digital metaverse also gives female designers a chance to become more visible. She says, "Thanks to technological breakthroughs, new horizons in mass customization, flexible manufacturing, 3D configuration, and virtual reality will significantly simplify the supply chain and customer engagement processes. Given that India has a strong market for luxury products, this trend will probably have a favorable effect on the nation." Shubhika adds, "Six of our pieces were included in the digital runway at the Women Economic Forum in India last year for our Metaverse premiere, which allowed the fashion industry to draw attention to the beauty and intricateness of Indian craftsmanship while connecting it to technology and its ever-evolving aspects."
Emerging and upscale Indian designers can use the metaverse as a starting point to build virtual catwalks to display their most recent collections or even to build immersive experiences aimed at certain audiences. There are countless ways to combine technology and fashion.
However, there are disadvantages to consider because the metaverse is still developing, and customers might need to be fully aware of its potential and restrictions. Due to bandwidth and 5G requirements, there are accessibility problems; however, these problems will eventually improve as technology advances.
What are the Challenges in the Metaverse?
Undoubtedly, the metaverse holds promise, but it also faces obstacles, like any other universe, whether physical or digital. The metaverse is now ambiguous; neither good nor bad can be said to apply to it. It is part of a spectrum that can be beneficial or destructive to individuals engaging in it. Yet, because it is still in its early phases and is evolving quickly, this presents new difficulties. As we all know, the metaverse is a virtual world where many real-world activities, like buying real estate or shopping, are simulated. However, if no legislation or virtual authority is formed, it may make individuals susceptible even though it allows them to communicate and forge relationships.