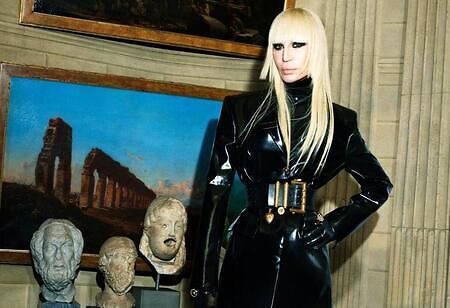 As the NAACP Image awards just drew its curtains, Zendaya's sense of style was the showstopper this year. The Euphoria star strutted the red carpet in a 2002 Versace couture black gown with lime green stripes. Versace has been one of the major brands reference in pop music and prestigious award ceremonies. Most likely, Versace holds a deep affinity towards music, thanks to Gianni and Donatella Versace's personal interest in all things music.
From hanging out with Stephanie Seymour at Guns N' Roses concerts back in the day to traveling across the world to see Lady Gaga sing at the Super Bowl, Donatella has always shown her interest in music which is not just entertaining, but is also good business.
Donatella Versace, who has served as artistic director of the Versace empire since 1997, has presided over the development of the company's luxury fashion division along with its expansion into accessories, home furnishings, and hotels... and the creation of a luxury lifestyle brand. She is in charge of the house's whole vision, from its fashion lines and brand image to its global expansion and future in the digital domain, in her capacity as artistic director and vice president of the board. With that said, here's to the story of how Donatella has been holding the fire to Versace till this date.
Her Brother Reigned the House of Versace
Donatella Versace was born in Reggio Calabria, Italy, on May 2, 1955. The youngest of four kids, she was young. Sadly, when Tina was only twelve, she lost her life to tetanus. Donatella and her siblings assumed ownership of the Versace name after she passed away.
The second-oldest, Gianni, settled in Milan in 1972 and began his career in fashion. He was an extremely gifted individual who was capable of drawing practically any type of outfit. When he was younger, his mother watched while he practiced.
Eventually, he began to work on his own and increased the prosperity of the House of Versace. Also, he was quite adamant about maintaining the label in Italy for a very long time. Gianni's journey from poverty to wealth is a shining illustration of how hard effort can pay off. He eventually rose to prominence as one of the most famous designers ever.
Donatella traveled to Florence to pursue her language studies later in 1973. She pursued teacher training. Yet, she frequently traveled to Milan to support her brother's business. Donatella was a significant art critic, and he frequently considered her opinions.
Taking Charge
However, the scenario turned for the worse after Gianni was murdered by an American serial killer in 1997. The House of Versace crumbled completely following the tragedy. Donatella, though, was aware that Gianni loved his house. Donatella Francesca relaunched the business after Gianni Versace SpA took a prolonged leave of absence. She took on the responsibilities of chief Designer and vice chairman of the board. She received a 20 percent ownership part in the business. With Gianni's passing, the House of Versace brand was on the danger of losing its luster. Donatella saved it.
She led some of the company's campaign maps' noteworthy changes while serving as vice president and artistic director. She first boosted the company's reputation by using her Marketing expertise and assured design direction. Second, she expanded the company's position in international markets by launching the label there. Her marketing efforts increased in both Europe and the US. Finally, Versace expanded the Versace fashion brand by featuring the likes of Madonna, Jennifer Lopez, Lady Gaga, and Beyonce. Attended her events were Kate Moss, Prince Charles, and Sir Elton John. Finally, having these contacts gave her a high social profile, which aided in the expansion of the business.
Continuing the Musical Tradition
The pattern has become a Versace tradition, continuing in following years with advertisements showcasing some of Donatella's favorite performers, including Lady Gaga and Christina Aguilera.
Donatella and her team typically choose musicians who are also lovers of Versace when hand-selecting the music for each collection. It makes sense to include a hot song in your show when it's calling your name, and Donatella Versace did just that for the Versace Spring 2014 collection finale by incorporating Migos' hit song into her playlist.
Paying Tributes
The most touching musical performance by Donatella during the Spring 2017 Menswear collection may have been a tribute to her dear friend Prince. Versace paid homage to a music icon with a collection of unheard songs serving as the soundtrack and male models sporting outfits inspired by the late idol.
The Super Bowl
It was obvious that Lady Gaga would be wearing something special the moment Donatella posted Instagrams from her private aircraft stating that she would be attending the Super Bowl. For Gaga's big moment, Donatella created a sparkly leotard as part of their continuous cooperation.
Honorable Works
She contributed significantly to the design of The Palazzo Versace Dubai, the second Palazzo Versace hotel, which debuted in November 2016. She also designed The Palazzo Versace Australia resort on the Gold Coast in Queensland, Australia, which opened in September 2000. One of the most exquisitely designed vehicles was the Mini Cooper, which was created by this label for the Life Ball. Donatella Francesca Versace organized a memorial performance for her brother in September 2017.
Donatella Versace, the artistic director of the Versace empire since 1997, has presided over the development of the company's luxury fashion line alongside its expansion into accessories, home furnishings, and hotels etc., and building a luxury lifestyle brand.
Versace stands out for being as much a part of pop culture as the celebrities it clothes. Donatella Versace, the brand's bleach-blonde founder, is largely to thank for this because she firmly established celebrity dressing within the brand's foundations. Versace's reputation as a luxurious, celebrity-focused company has changed in 2022, though. It's also become a well-liked brand to purchase at consignment stores; young people seeking a little fashion fantasy are purchasing fantastically Baroque, grandiose homages to more glamorous earlier times.