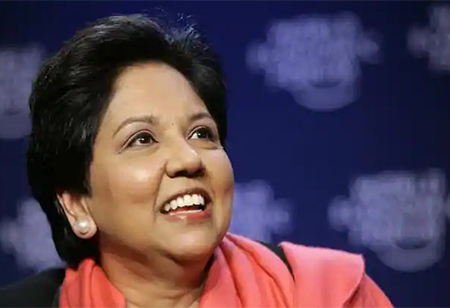 To be inspirational to the next generation hits on different levels. That eventually leads to remarkable leadership. The far-reaching advantages of diversity and gender parity in leadership and decision-making are increasingly acknowledged in many domains, and women are the potent agents of change. Women still make up only a small percentage of those who make decisions in politics, business, and society. If we look at the trail of inspirational women business leaders, Indra Nooyi, former CEO of PepsiCo, will be in the leading position. Let's look into the life of this successful leader and her inspiring leadership qualities.
Early Life and Education
Born into a traditional Indian middle-class household, Nooyi was initially interested in sports games and went on to join an all-girls cricket team during a time when women were not viewed as the ideal role model on the playground. Holy Angels Anglo Indian Higher Secondary School in T. Nagar, Chennai, Tamil Nadu, is where she did her schooling. In 1974, she completed her undergraduate studies at Madras Christian College of the University of Madras in physics, chemistry, and mathematics. A go-getter who never shied away from chasing her dreams, Nooyi joined an all-girl rock-guitar band at her college. In 1976, she graduated from the Indian Institute of Management in Calcutta with a diploma in the Post Graduate Program. IIM was one of only two institutions in India offering an MBA at the time.
After receiving her degree, Nooyi started working in India, and she was employed by a British textile business. Afterward, she was employed by Johnson & Johnson's Mumbai offices as a brand manager. The Stayfree account was given to Nooyi, who found it to be a significant obstacle. In the Indian markets, the new launch had difficulties. Nooyi started to think about the issue and felt unprepared for the business world at that point in time. She decided to pursue her further education here. Nooyi got enrolled in the Yale School of Management in 1978, and in 1980, she earned her master's in public and private management from there. Indra wed Raj K. Nooyi, the head of AmSoft Systems, in 1981. They live in Greenwich, Connecticut, and are blessed with two daughters. Forbes' ranking of the World's Powerful Mothers placed her third. Her older sister is Chandrika Krishnamurthy Tandon, a businesswoman and Grammy-nominated musician.
Major Challenges Nooyi Faced
It took some time, effort, and facing challenges for Nooyi to adjust to her new life abroad. Over the following two years, she only managed to make ends meet. Yale gave her a scholarship, but she still worked shifts as a receptionist to support herself.
In an interview with Financial Times, Nooyi once said, "My whole summer job was done in a sari because I had no money to buy clothes." Nooyi couldn't afford a business suit and had to wear a saree to interviews conducted by prestigious Business consulting firms.
Taking Off with Career
Nooyi spent six years working on various corporate strategies at Boston Consulting Group after earning her master's degree in public and private management. She began a four-year stint as Vice President and Director of Corporate Strategy & Planning for Motorola in 1986. She left Motorola in 1990 to head strategy at Asea Brown Boveri Inc. Due to Nooyi's qualities as a worker, numerous businesses lined up to hire her. Among them, she received two prestigious offers. One was from Wayne Calloway, CEO of PepsiCo, and the other was from General Electric CEO Jack Welch. Nooyi joined PepsiCo in 1994 as chief strategist. In 2006, She became the CEO of PepsiCo, replacing Steven Reinemund. She was the fifth CEO in the history of PepsiCo.
Nooyi has been the company's CEO for ten years, during which time she has frequently changed the company's overall strategy. She contributed to redesigning PepsiCo's brand identity and assets, including the choice to divide the identities of the businesses that own Pizza Hut, KFC, and Taco Bell. She ruined important, expensive deals. Nooyi also emulated Coca-Cola, a rival of PepsiCo, which sold its bottling assets a decade earlier to reap outstanding profits and high margins on stocks. Pepsi decided to imitate them. Pepsi's bottling operations were valued at $2 .3 billion when it went public. Nooyi had a key role in acquiring and merging Tropicana and Quaker Oats Company. The purchase of Tropicana wasn't easy. The decision initially drew some criticism from PepsiCo's board members, but it eventually offered the company a competitive edge in the market. At the time, Tropicana had a 44 percent market share in chilled orange juice, a significant advantage over Coca-Cola's Minute Maid, which only had a market share of around half of Tropicana's. Nooyi's action gave Pepsi influence over Coca-Cola. The annual net profit of PepsiCo increased from $2.7 billion to $6.5 billion.
Contributions
In 2019, Nooyi joined the Connecticut Department of Economic and Community Development as a co-director of the newly established Connecticut Economic Resource Center, a public-private partnership. She will contribute to creating the state's new economic development plan.
Nooyi resides in Connecticut as well. 2020 saw the announcement that Nooyi and Yale epidemiologist Dr. Albert Ko would assist in Connecticut's gradual relaxation of COVID-19 planning regulations. Ko and Nooyi will share leadership of the Reopen Connecticut Advisory Committee.
Nooyi's diversion was a deliberate performance. She effectively fostered a long-term growth culture that had a favorable influence on the environment and society. She divided the goods produced by PepsiCo into three groups:
fun for you(such as potato chips and regular soda),
better for you (diet or low-fat versions of snacks and sodas),
good for you (items such as oatmeal).
To make society more physically fit, she assisted in shifting corporate expenditure from unhealthy options to healthier ones. Aspartame, the artificial sweetener, was taken out of Diet Pepsi. She also paid attention to sustainability and environmental protection. The business changed the packaging to reduce waste and turned to recycling and renewable energy sources to conserve water. By 2020, the US corporate giant's activities ran entirely on renewable electricity. Nooyi was also renowned for forging relationships with her staff members. She went to the residences of her leadership group to stay in touch on a personal level.
Nooyi was a globally recognized business leader and inspiration to many when she stepped down from the CEO post on August 6, 2018, after completing 12 years of her tenure, seven years longer than the average CEO tenure. She was replaced by Ramon Laguarta, a 22-year PepsiCo veteran; however, she continued to serve as the organization's chairperson until early 2019. The sales of PepsiCo increased by 80 percent when she was CEO.
Awards and Milestones
Forbes magazine ranked Nooyi in The World's 100 Most Powerful Women from 2008-2017.
Nooyi was named on the Wall Street Journal's list of 50 women to watch in 2007 and 2008.
Listed among Time's 100 Most Influential People in The World in 2007 and 2008.
Fortune magazine ranked Nooyi number one on its list of Most Powerful Women in business for 2006, 2007, 2008, 2009, and 2010.
In 2008, Nooyi was named one of America's Best Leaders by US News & World Report.
In 2008, she was elected to the American Academy of Arts and Sciences Fellowship.
In January 2008, Nooyi was elected chairwoman of the U.S.-India Business Council (USIBC).
Nooyi has been named 2009 CEO of the Year by the Global Supply Chain Leaders Group.
In 2009, Nooyi was considered one of The TopGun CEOs by Brendan Wood International, an advisory agency.
In 2013, Nooyi was named one of the 25 Greatest Global Living Legends by NDTV.
On 14 December 2013, she was awarded Padma Bhushan by the President of India, Pranab Mukherjee, at the Rashtrapati Bhavan.
Nooyi was named to Institutional Investor's Best CEOs list in the All-America Executive Team Survey from 2008 to 2011.
In 2018, Best CEOs In The World by the CEOWORLD magazine.
Nooyi was selected as one of the 2019 American Portrait Gala honorees by the Smithsonian's National Portrait Gallery.
In 2019 Nooyi received the Bower Award for Business Leadership from the Franklin Institute Awards Program.
In February 2020, Nooyi was honored with the Outstanding Woman in Business award by the League of Women Voters of Connecticut.
In 2021, Nooyi was inducted into the National Women's Hall of Fame.