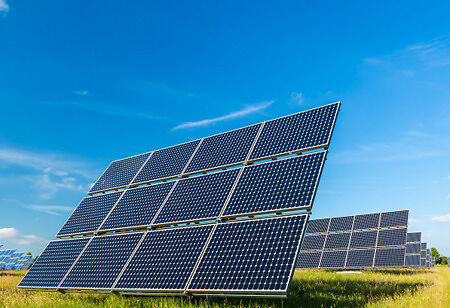 India has demonstrated outstanding credentials, dedication, and leadership potential by actively addressing both mitigating and adapting to climate change. Only India is among the G20 nations on pace to meet its climate goals. The country has pledged in its recently updated Intended Nationally Determined Contribution (NDC) to achieve about 50 percent of its cumulative installed capacity of electric power from non-fossil fuel-based energy sources by 2030 and to reduce the emissions intensity of its GDP by 45 percent from 2005 levels. India is leading both the International Solar Alliance and the Coalition for Disaster Resilient Infrastructure, and Prime Minister Narendra Modi's recently announced LiFE Lifestyle for Environment mission serves as a shining example of how stronger climate action could be successfully aligned with these initiatives.
Over the past few years, solar energy has had a notable impact on India's energy infrastructure. Solar energy-based decentralized and distributed applications that meet people's needs for lighting, cooking, and other forms of energy in Indian villages have benefited millions of people who are working hard to develop innovative technologies, adhere to international standards, and introduce more efficient products to the market that promise greater results. Up to 545Wp to 590Wp solar modules are produced by Indian solar panel manufacturers for rooftop, utility, and commercial uses. Indian module producers are currently concentrating on lowering their reliance on importing raw materials from China. The Indian government's use of BCD will undoubtedly increase sales in the future. Indian businesspeople are leading the way in going green. Let's look into Indian businesses renowned globally and go green:
Saatvik Green Energy Pvt. Ltd.
One of the top-ranking and fastest-expanding module manufacturers among the top 10 solar panel producers in India is Saatvik Green Energy. The company currently operates its production out of Ambala and has its corporate headquarters in Gurugram. The production plant in Ambala is outfitted with cutting-edge machinery designed using the latest technology, along with robotic assembly technology for quicker operations. Saatvik produces high- and premium-quality Solar PV Modules for Rooftop, Commercial, and Utility applications, with an annual production capacity of 1.5 GW. The company uses M-10 Technology to provide a variety of solar PV modules, including polycrystalline up to 335 WP, bifacial mono perc up to 545 WP, and mono perc half cut up to 590 WP.
According to its expansion, Plan Company continually pursues success on the global market and will soon launch its export division, for which it has planned out its foreign marketing methods. With an exponential rise in solar installation projects planned across the nation, the solar industry in the United States is poised to rebound. The demand for solar products in the United States has skyrocketed in recent years due to the country's desire to switch from fossil fuels to renewable energy.
Saatvik will shortly begin operations in the USA market to meet the growing demand for solar modules. In order to provide and perform installations for the most prestigious projects worldwide, the company recently added EPC services to its business verticals. With the addition of EPC services, the company will soon set new benchmarks.
Adani Green
Adani Green Energy is regarded as one of the leading companies in India that produce solar PV modules. One of the top 15 developers of utility-scale solar power in the world is Adani Solar, a division of Adani Enterprises Ltd. Solar cells and modules with a capacity of 1.5 GW and more are produced in Mundra, Gujarat. One of the largest installers of solar panels in India is Adani Solar.
The first and largest vertically integrated solar company in India, Adani Solar, provides products and services across the entire photovoltaics manufacturing industry. The state-of-the-art technology, which includes gear acquired from top-tier suppliers, intends to provide cost leadership, operational scale, and dependability standards in line with global benchmarks. In Mundra, India, Adani Solar is currently building the first fully integrated and comprehensive ecosystem to produce 10 GW of solar power.
Waaree Energies
Waaree Energies Ltd., a Mumbai-based company with more than 360 locations in India and 68 other countries, was established in 1989. One of the major solar panel producers in India, Waaree, has magnificent 2 GW module production facilities in Surat. The first company in India to have an internal NABL lab facility is Waaree Energies. They offer a wide range of services, including independent power plants, solar water pumps, solar rooftop solutions, and EPC services. With more than 32 years of experience and a presence in 68 countries globally, Waaree Energies Ltd. is one of the best solar panel manufacturers to rely on.
Tata Power Solar Systems
This solar power company is still a preeminent force in the Indian industry. The company has a stronghold in residential rooftop solar systems, and over the previous 20 years, it has supplied over 1.4 GW of solar modules globally. India's largest solar EPC contract has been awarded to Tata Power Solar. With SJVN Limited publishing a letter of intent for a 1GW EPC order for Rs. 5500 Cr., Tata Power Solar moves closer to achieving its goal of helping India achieve its sustainability goals by including one of the largest solar EPC projects in its portfolio. In creating this EPC order, 'Make in India' cells and modules were creatively utilized.
In accordance with the MNRE's CPSU strategy, the project will be constructed and completed in 24 months. This project, which would span more than 5000 acres of land in Rajasthan, aims to prevent about 22, 87,128 kg of carbon emissions while producing roughly 2500 million units annually.
Vikram Solar
One of the largest solar energy companies, Vikram Solar, supplies mono and bifacial solar panel modules across six continents. In India, solar projects totaling more than 1355 MW have been built and put into service. They can produce more than 1 GW of solar panels and have a 10 kW floating solar factory in Kolkata.
The majority of the demand for raw materials is currently satisfied by imports from China as the Indian solar industry expands as quickly as expected and assumed. However, as the Indian government is aggressively working to innovate new techniques and promote made-in-India products, a variety of schemes and policies have been improvised to support Indian players. Top solar module producers in India may now exhale with ease following the implementation of BCD as import tariffs have increased as a result, and module producers are now giving Indian producers some thought.