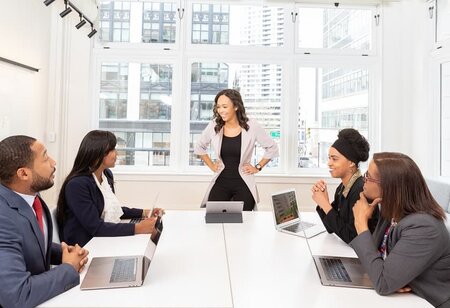 As the prime leaders responsible for running an organization, CEOs are often expected to lead by example. Accountable to ensure the smooth functioning of the departments and communicate with the employees, CEOs are often considered the binding force of the organization as they play an active role in guiding and motivating everyone else within the company. However, as most leaders misleadingly believe that it is upon only the HR to communicate with the employees and ensure their well-being, the executive team too, and especially the CEO also needs to prioritize employee engagement to know the people who are playing a sensible role in supporting and running the business. As enterprises are exploring new as well as innovative ways to incorporate employee engagement strategy across their business functionalities, 'CEO & Employee Engagement' has become the new norm of corporate dynamics. Under some of the most successful, talented, and influential CEOs who not only managed to build great businesses but also ruled the heart of their employees as well as co-workers, come the names of Sundar Pichai of Alphabet (Google), Tesla's Elon Musk, Satya Nadella of Microsoft, and Mark Zuckerberg of Facebook. So, what's different about them? They just walked the extra mile to ensure each employee is being taken care of, meanwhile ensuring a smooth working scenario to encourage employee engagement in the organization.
To help the budding CEOs as well as the top-notch executives who are looking forward to enhancing their stature as an employee-friendly persona, this article explores the various ways CEOs Can Increase Employee Engagement.
Interact with your employees at a pragmatic level
While the employees are trying their best to survive in this competitive industry scenario, the last thing employers can do is to create a healthy relationship with their employees. To initiate a relationship that is mutually beneficial for the enterprise as well as the employee, in particular, CEOs need to engage more often with their employees, which will ultimately lead to increased employee efficiency. Through an effective engagement plan, that includes interacting with the employees at a more pragmatic level, knowing the problems they have been facing currently, and projects they have been working on at present, CEOs can maintain a synergetic relationship with the employees.
Loop them in your vision and objective
As a CEO, you might be surprised to learn that a fair share of your employees is unaware of the company's vision and mission. Even if you have been talking about the vision constantly, they are mostly in meetings with other members of the executive team, because the further employees are from the C-suite, the less likely they are to comprehend your vision. Make sure that you share your vision for the company's growth and success with employees, on an ongoing basis, with the help of your communications team. Apart from that, CEOs can also go for the conduction of employee events that are exclusively focused on vision and values, a culture book that highlights the company's vision, a sequence of leadership videos, or a regular feature on vision in your employee magazine or on the intranet. The CEOs must help employees understand their vision for the company, as it shapes their confidence in their leadership. The CEOs should make efforts to get to know their employees personally and treat them with respect, which will inspire them to work harder. The employees will also feel motivated as they are being recognized as a person rather than just a worker.
Encourage Employees to Share their Input
Spending time and building relationships can bring a team together. By learning about one another, CEOs can connect with employees to help them understand the company as well as the CEO effectively. Allow employees to share their ideas and make sure to implement some of the shared ideas for the betterment of the company. The day-to-day experiences of employees give them firsthand knowledge about your customers, your products as well as your processes that you may or may not have any way of knowing as a top-notch executive. Though many companies are currently asking for employee feedback through surveys, as a CEO, you might consider a feature on the intranet that allows the employees to share their ideas or concerns. While interacting with individual employees, make a point of asking them if they have any ideas for improvising the company's operations. But instead of stopping there, introduce an initiative that rewards employees for their out-of-the-box ideas that can ultimately benefit the company.
Celebrating your Employees
Identifying the achievers and celebrating their successes always encourages employees to contribute more effectively to the organization. But to start this initiative, you must first try to understand what rewards or recognitions your employees expect from you or what will work in favor of the employees. To keep the employees motivated and recognized for their good work, initiatives like 'Employee of the Month,' are often conducted to fabricate a trusted and energized workforce.
Most managers and CEOs don't give their employees room to grow and perform, but this is a mistake. Your employees are always in need of your support and mentorship and as a company CEO, if you are allowing your employees to show the ability to accomplish their targets; you might be able to channel their skillsets in many effective ways. One of the best ways to achieve this feat is to create an open and friendly environment, which will enable your employees to work in a way they're most comfortable. A comfortable environment encourages the employees to bring out their best to yield more productivity.
Take Them Out for Luncheons
Monthly 'lunch and learns' with the president or another executive is also one of the best alternatives to ensure employee engagement. If one of your key performing employees has a birthday during that month, as a CEO, you can take your team to attend a special lunch with them. In this way not only that particular person will feel motivated, but the entire team will feel more connected with each other. Once implemented across the cultural fabric of the organization, these meetings help leaders to know their employees at a personal level and discover their goals and aspirations. They can find out what their employees are currently focused on in their lives. Sometimes these factors like paying off debt, children's admissions to college, and parents' health, help the leaders to understand the employees at a much more practical level. After getting a clear idea about their current purpose in life, you can become a driving force to help them succeed and this can be a huge engagement booster.
Employees never leave a company but they leave their managers. Maintaining a transparent relationship with your employees has numerous advantages, and one of them is enhanced employee retention because interacting from time to time with your employees creates an emotional as well as psychological attachment between employees and the employer. At such crucial times, when the trained employees are not hesitating to look for better opportunities to escape the suffocating environment and immense work pressure, employee engagement can do wonders for the present-day CEOs.