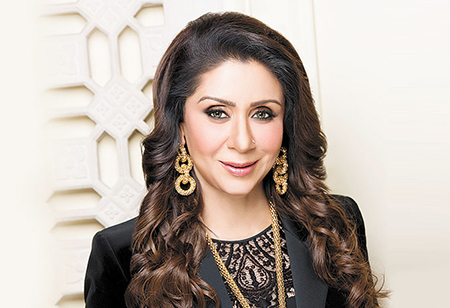 The number of women entrepreneurs in India has increased in recent years. According to a research by the National Association of Software and Services Companies (Nasscom) in cooperation with Zinnov, at least one woman founder or co-founder leads 18 percent of startups in India. In 2022, the total number of unicorns and potential unicorns is estimated to reach around 36.
The survey also discovered that between 2019 and 2022, 17 percent of investment agreements in India were raised by firms with women CEOs, indicating the rise of women leaders in India's start-up ecosystem.
Kiran Mazumdar Shaw - Biocon
Kiran Mazumdar Shaw is a first-generation Indian entrepreneur and philanthropist who created Biocon Limited, Asia's largest insulin manufacturer, in 1978 in Bangalore, India. Since venture capital was not available in the country at the time, Shaw had to establish a business plan based on sales and profitability. She faced challenges since her business strategy needed to be improved and she was a woman. Getting a loan was also difficult. She eventually met a banker who helped Biocon create a financial backup plan. Biocon India became the country's first manufacturer of enzymes, shipping them to the United States and Europe.
Biocon India was the first Indian start-up to manufacture enzymes and distribute them to markets in the United States and Europe within a year of its founding. Kiran Mazumdar-Shaw utilized her first year's profit to buy a 20-acre tract of land with plans to grow in the future. She expanded the company's operations to encompass pharmaceutical manufacturing. Producing and marketing enzymes offered her the cash flow she required to fund research and development, helping her company to expand into a fully integrated biopharmaceutical enterprise.
The company developed a research and development team to focus on the development of a new solid substrate fermentation technique. Biocon was the first Indian biotech business to attract investment from the United States. As a result, she began exploring cost-effective and low-cost alternatives. Kiran began recommending that pharmaceutical companies be cost-conscious while marketing to poor countries in order for people to be able to buy the drugs they require.
Hemalatha Annamalai - Ampere Electric
Hemalatha Annamalai, through her company Ampere Vehicles, is one of the few women who have brought the groundbreaking E-bikes model to India. Ampere was created in 2008 in Coimbatore with the goal of bringing Eco-Friendly Mobility into people's lives while also making journeys affordable. It makes electric bikes, scooters, three-wheelers, and particularly designed vehicles for the disabled. Year after year since its inception, the company has continued to improve and add feathers to its features. The main idea behind Ampere Vehicles' various product lines is to save energy and go fuel-free. Furthermore, the raw materials used in the construction of the cars are indigenous and aimed at waste management.
Her company, Ampere Vehicles, found it challenging to establish itself in the marketplace; nevertheless, perseverance and a creative marketing plan helped it do so. Only 69 electric automobiles were sold during the company's first six months of existence. Gradually, the business began receiving notice after it produced vehicles specifically tailored to the needs of the disabled and gave the Tamil Nadu government 1200 scooters. The company's revenue attracted investors and a top-notch R&D team to grow its customer base.
The significant turning point for the brand occurred when Mr. Ratan Tata made his first automobile investment here, among its investors like Forum Synergies and IMI investments.
Radhika Ghai – Shopclues
There are many male-dominated powerhouses in the e-commerce sector, including Amazon, Flipkart, Snapdeal, and many others. For Radhika Ghai, co-founder of Shopclues, it was nothing short of thrilling to be the sole female entrepreneur to carve a space for herself among them. In 2012, Radhika was getting an MBA in the USA and sought to learn more about the Indian e-commerce industry. She traveled back to the nation after receiving constant encouragement from her partner Sandeep, only to face off against large e-commerce sites. Not to mention getting over the uncertainty caused by Amazon's entry.
Shopclues, which was valued at $1.1 billion, was the fourth unicorn firm in India and attained unicorn status between late 2015 and early 2016. It was also in the process of filing for an IPO. Unfortunately, fate had other plans for the company's co-founders, who got into a nasty argument. As a result, Shopclues' revenues began to decline while its losses grew. Also, the business had an excessive number of departures, employee firings, and the defeat in a legal dispute with L'Oreal. Shopclues was defeated by all of these, and its difficulties surviving were made public.Within five years, it moved on to become a unicorn with a valuation of US$1.1 billion. It was purchased by the Singapore-based e-commerce platform Qoo10 in 2019.
Currently, Radhika serves as the founder and CEO of Kindlife, a modern platform for wellness and beauty that features 150+ carefully chosen businesses in the fields of nutrition, home care, and cosmetics.
Leena Nair - Chanel
There have been numerous firsts over Leena Nair's 30-year career. She made waves all around the world in 2021 when she became the first woman of color to hold the position of Global CEO for French ultra-luxury lifestyle brand Chanel. Leena has pioneered the delivery of culturally rich programs throughout her career at Unilever. As vice president of human resources for South Asia, she previously founded the Career by Choice program, which was created to assist women who have fallen off the career ladder in reentering the workforce.
And now, in 2023, as human-centered leadership becomes increasingly important to business success, Leena continues to bring her own distinctive brand of diverse leadership, passion for people, and sense of purpose to the fashion industry. She is leading the 112-year-old French fashion house into a more inclusive future as it looks to tap into the Chinese and other global luxury markets. The company employs 27,000 people globally and has revenues of US$15.6 billion in 2021.
Vandana Luthra - VLCC
One of the most prominent and well-known Indian businesspeople is Vandana Luthra. She is the creator of VLCC Health Care Ltd. and the head of the council for the beauty and wellness industry (B&WSSC). When she began attending VLCC, her perseverance and diligence have been her strengths. She once remarked that there weren't many female business owners back in the 1980s when she launched her company. The business is a wellness and cosmetics conglomerate. The business offers prescription drugs in the Middle East, Africa, Asia, and Europe. In 2014, she was elected chair of the Beauty and Wellness Sector Skills Council (B&WSSC), which receives funding from NSDC, an agency under the Ministry of Skill Development and Entrepreneurship.