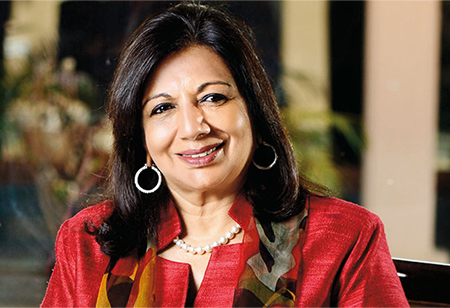 The chances of spotting a drug or medicine manufactured by Biocon at any pharmacy in India is no less than having a festival or two in every month of the country. That is why Biocon Limited is the largest biopharmaceutical company in the nation. Kiran Mazumdar Shaw is the woman behind this enterprise. She is renowned as one of India's wealthiest women and serves as the company's chairperson. This company is responsible for major clinical research advances and now has over a thousand patents granted in its name.
Kiran Mazumdar Shaw is a first-generation Indian entrepreneur and philanthropist who founded Biocon Limited in 1978 in Bangalore, India, and is Asia's largest insulin manufacturer. She is the company's executive chairperson. Throughout her career, she has received numerous prestigious awards and recognitions, including the Othmer Gold medal (for her exceptional contribution to the advancement of science and chemistry), being named to the Financial Times' top 50 business list of top 50 women in 2011, and being named the 65th most powerful woman in the Forbes list of the world's 100 most powerful women in 2020.
Putting Her Father's Faith into Action
Kiran Mazumdar was born in Pune, Maharashtra to Gujarati parents. She attended Bangalore's Bishop Cotton Girls' High School and Mount Carmel College for her higher schooling. She studied biology and zoology at Bangalore University, where she earned a zoology degree in 1973. She wanted to go to medical school but couldn't due to a scholarship.
Kiran's interest in science began at a young age. Her father was the head brewmaster at United Breweries. He believed in women's empowerment and advised her to study fermentation science and become a brewmaster. Mazumdar attended Melbourne University in Australia, where she studied malting and brewing at the encouragement of her father. She eventually finished first in her class and was the only female in the class.
She later worked as a trainee brewer for Carlton and United Breweries. She also worked in Australia as a trainee master at Barret Brothers and Burston. She honed her talents further by working as a trainee consultant at Jupiter Breweries Ltd in Kolkata and as a technical manager at Standard Maltings Company in Baroda.
She wanted to advance her career in Bangalore or Delhi, but she was met with criticism for being a woman in the profession. Refusing to be discouraged, she began looking for other options outside of India and was soon offered a post in Scotland.
A Fateful Meeting
She describes herself as an accidental entrepreneur since she met another entrepreneur, Leslie Auchincloss, who wanted to open a branch of his company in India. His company created enzymes for use in brewing, food packaging, and textiles. He was looking for an Indian entrepreneur to help him establish a subsidiary in India. That's how her Biocon adventure began. Kiran had previously worked with this firm.
Shaw had to develop a business model based on sales and profitability since venture investment was not available in the country at the time. She faced obstacles since her company model needed to be improved and she was a woman. Obtaining a loan was also a problem.
Shaw joined Biocon in 1978, while Bangalore was still developing as a technology powerhouse in south India. Kiran initially faced numerous hurdles as a result of her youth, gender, and underdeveloped business strategy. No bank would lend her money. She also had difficulty finding individuals to work for her start-up; in fact, her first employee was a retired garage mechanic. She acknowledges that she was driven to make this firm a success since she had failed as a brewmaster.
Eventually, she was able to meet a banker who assisted Biocon in creating a financial backup. This company actually took off when Biocon India became the country's first manufacturer of enzymes, exporting them to the US and Europe.
After Leslie trained her to be a manager at his company, she returned to India and began working for Biocon in a leased garage in Bangalore with a 10,000 INR initial investment after learning about the company's operations and sales.
Kiran Mazumdar-Shaw was able to persuade a few people to support and fund her. That is how she began her business. Mazumdar-Shaw opened her first factory near a 3000 square foot shed after receiving her initial finance. The early efforts of the corporation were the extraction of papain (a papaya enzyme used to tenderize meat) and isinglass (Obtained from tropical catfish and used to clarify beer).
Within a year of its founding, Biocon India was the first Indian start-up to manufacture enzymes and distribute them to markets in the United States and Europe. Kiran Mazumdar-Shaw used her first year's profit to purchase a 20-acre plot of property with the intention of expanding in the future. She expanded the company's operations to include the production of pharmaceuticals. Manufacturing and sailing enzymes provided her with the income flow she needed to fund research and production, allowing her company to grow into a fully integrated biopharmaceutical enterprise.
Expanding the Biocon Empire
She discovered some new dimensions in 1984. A research and development team was formed by the corporation to focus on the development of a new solid substrate fermentation process. Biocon was the first Indian biotech startup to receive US investment. Subsequently, she began looking for alternatives that were both cost-effective and low-cost. Kiran began suggesting that pharma companies be cost-conscious while marketing to poor countries so that people can afford the drugs they require.
By the year 2000, Kiran Mazumdar-Shaw had formed two Biocon companies, Syngene and Clinigene. Clinigene concentrated on clinical research trials and the development of both generic and novel medicines, whereas Syngene provided a contractual framework for early research and development. Kiran Mazumdar-Shaw founded Biocon Biopharmaceutical Private Limited (BBLP) in 1990 to create and distribute a limited number of biotherapeutics in collaboration with the Cuban Institute of Molecular Immunology. The corporation generated $1.1 billion as of 2022.
Kiran Mazumdar Shaw's tale is one of achievement, hard work, and dedication. Biocon was able to grow exponentially as she was able to see the big picture and comprehend the significance of investing in research and development.