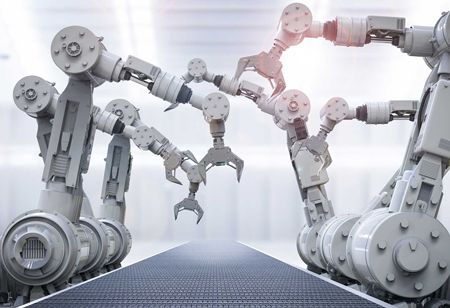 The economic change in India is picking up speed. India's economy captured the attention of the world for a significant portion of the first decade of the twenty-first century. As India became the fastest-growing free-market democracy, other nations watched in envy as it appeared to move seamlessly from being a country steeped in poverty into that of a high-tech, car-owning, middle-class society. Powered by IT giants like Infosys, Tata Consultancy Services, and Wipro, the nation was ready to become a major role on the world stage, possibly even an economic powerhouse. The manufacturing industry is ready to take the pilot seat, thanks to a much more favourable milieu set up by the government.
Cisco to Produce Networking Equipment in Chennai
As part of its efforts to diversify its global supply chain, the global technology giant Cisco plans to establish a manufacturing facility to produce networking equipment in Chennai, Tamil Nadu. Cisco has set a target of $1 billion in combined domestic production and exports in the coming years.
Daisy Chittilapilly, president, Cisco India and SAARC, says, "The manufacturing facility will focus on networking equipment, including routing and switching portfolio. The government is announcing a lot of incentives like PLI production-linked incentives, which are obviously attractive, and most importantly, the ecosystem in India is maturing. There is also a strong demand domestically for technology. In addition, we have always been a very strong talent hub, and there has been no dearth of engineering talent."
Flex India is probably Cisco's manufacturing partner in the nation. Cisco frequently uses subcontractors to produce its products. The manufacturing facility for Flex India is situated in Chennai's Oragadam Special Economic Zone (SEZ). The unit, which is anticipated to begin releasing items over the next 12 months, will potentially add about 1,200 jobs to the manufacturing sector. Several Asian countries, including Korea, China, Taiwan, Malaysia, and Singapore, currently produce networking switches and routers for Cisco. Cisco uses optical, powerline, WLAN, and media access control technology to design, produce, and test key switches in China.
Zeiss Group to Invest Rs 2,500 cr on a New Plant in India
According to a senior corporate executive, the world's largest manufacturer of optical lenses, Zeiss Group, will spend roughly Rs 2,500 crore in India on a new facility in Karnataka, primarily to boost its capacity to produce eyeglasses. When the new plant is completely operating, Carl Zeiss India, the company's branch in the nation, anticipates hiring about 5,000 workers. The company, which has been operating in India for 25 years, aims to reach a revenue of Rs 5,000 crore by 2027.
"One of the big things that is coming to the Indian market is the new factory that we have got approved; this is in partnership with Invest in Karnataka. We have procured 34 acres of land close to the (Bengaluru) airport and are in line to get another nine acres hopefully, with an investment of close to Rs 2,500 crore coming into this, Carl Zeiss India Director and CFO Shreyas Kumar.
When the plant is operating at full capacity, it will employ up to 5,000 people, up from the initial calculation of 800 employees. This will be the biggest plant for making eyeglass lenses for Zeiss and maybe the biggest in the entire world.
The corporation will begin manufacture, at least on parallel lines, by October 2024, after construction on the factory is slated to begin by the middle of this month. Therefore, the company's capacity for producing spectacle blanks out of glass is currently at 30,000 per day. The amount will increase to nearly two lakhs every day.
Regarding the importance of the new plant, he stated that it would allow the Indian arm of the Zeiss group to play a significant part in the global supply chain, with about 60 percent of production probably going towards exports. The beautiful thing about the supply chain this plant will put up is that we can send back to Europe within 72 hours, back to the optometrist who ordered it, regardless of where in Europe they are—in Germany or Italy, for example.
Tesla Plans To Manufacture Rs.20 Lakh Car In India
China has been eclipsed by India as the world's most populated country. Tesla does not have a gig factory in India, only in China. India and China have had numerous disagreements over the years, and Indian Prime Minister Modi has made it clear that his nation does not accept Tesla's Chinese-manufactured cars. For many years, Tesla and India have been in and out of negotiations, with little progress being made. Vehicles made outside of India are subject to import duties that might reach 100 percent.
Elon Musk, the founder and CEO of Twitter, took time out of his duties in June to see the prime minister of India in person in the US. Elon Musk then promised to start producing Tesla cars in India as soon as it is humanly practicable. India is currently the fourth-largest market for new cars worldwide, yet Tesla, which is dedicated to fostering the EV revolution in every country on Earth, has essentially no presence there.
According to reports, In May, a team from Tesla traveled to India to have early discussions with government representatives about potential government subsidies for the production of cars and batteries. It's great news that a new Tesla plant is being built in India, but here's the true meat of the story: Insiders with knowledge of the negotiations, which have been ongoing since May, claim that the beginning price of the cars made in India will be Rs. 20 lakh. It is still unknown what model Tesla has in mind because it does not currently sell vehicles for that amount.
Apple Partners Foxconn to Invest $500 Million
As part of its ongoing strategy to establish a stronger foothold in the South Asian market, Foxconn, a major Apple contract partner, will invest $500 million to build manufacturing facilities in the state of Telangana in southern India. The investment by Foxconn, according to Telangana's IT minister K.T. Rama Rao, will generate 25,000 direct jobs in the "first phase." Foxconn, which currently produces iPhones in India, won a bid to produce AirPods there earlier this year, according to Reuters. Additionally, this month, according to local media sources, it purchased land in Bengaluru for $37 million. Additionally, the Karnataka government has offered the company an additional 100 acres of land. Years before many of its international rivals, Foxconn began operations in India in 2006.
Google and Amazon to Invest $25 Billion in India
Google is going to contribute $10 billion to the Indian digitalization fund. On the other side, e-commerce behemoth Amazon intends to increase its investment in India by $15 billion, bringing its total to $26 billion. Following a meeting with Prime Minister Narendra Modi, the CEO of Google and its parent company, Jassy, who is of Indian descent, revealed both investment decisions.