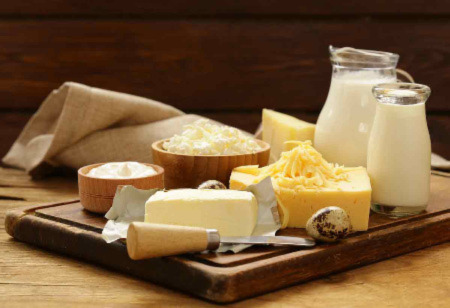 Tamil Nadu, Kerala, and Karnataka are experiencing a serious milk scarcity, and things may get worse in the upcoming summer. Consumers in all three states are witnessing a substantial drop in milk supply despite a robust dairy movement as a result of dairy farmers' protests over lower procurement prices. The problems are made worse by a livestock illness.
A significant portion of the rural economy is also at risk in addition to the supply of milk for customers and restaurant enterprises. An effective substitute for the cultivation of crops that require a lot of water, like paddy, is dairy farming. Experts worry that widespread animal illnesses and procurement concerns are pushing away many dairy farmers.
In Tamil Nadu, the situation is arguably the most depressing. Dairy farmers in western Tamil Nadu have dumped milk cans on many roadways while on the attack. Farmers are currently giving milk away for free as a novel form of protest. For the milk they supply to the government-run Aavin dairy cooperative, they demand a higher price.
The farmers claim they are tired of Aavin's delaying strategies with regard to the procurement price. They note that the increase in the cost of cattle feed and its effects on the margins have severely strained their financial situation.
Poor procurement prices and a labour crunch have hit Aavin, the flagship brand of India's fourth largest milk cooperative society, the Tamil Nadu Cooperative Milk Producers Federation. Many regular buyers of Aavin are forced to opt for other private brands amid a shortfall.
The shortage is not only of milk, but also butter. Aavin's unsalted butter is a staple in numerous Tamil Nadu households that are now forced to buy other brands. When they do spot an outlet that has stock, they hoard the butter.
In Kerala, too, dairy farmers say they are struggling due to rising costs of feed. This is despite having high yielding breeds of milch cattle like its own Sunandini and high-yielding cattle like Jersey and Holstein Friesian.
Karnataka, a neighboring state that has the most dairy co-ops and producer members in South India, is likewise facing the effects of a decreasing milk supply. Due to intense competition from private dairies, rising input costs, and a lack of price adjustments, dairy farmers are struggling and there is a shortage of milk.
In addition to growing concerns over crop damage and a shortage of water in some regions of the nation, the lack of milk is a concern for many Indians.
The Karnataka Cooperative Milk Producers' Federation (KMF), which has raised milk prices, recently turned to a practical method to alleviate the issue of milk shortage.
Selling Small Litres of Milk at Same Price
The second-largest dairy cooperative in India is the KMF, which sells milk under the Nandini brand.
It has seemingly decided to sell a smaller amount of milk at the same price rather than raising the maximum retail price (MRP) of a milk package. In the past, full-cream milk cost Rs 50 for a litre (1,000 ml) and Rs 24 for a half-litre (500 ml). According to a report in the Indian Express, consumers are now paying Rs 50 and Rs 24 for, respectively, 900 ml and 450 ml.
This is despite the fact that the nation's milk production only increased in 2021–2022 by five percent to 221.06 million tonnes, according to the intel from the center. Parshottam Rupala, the minister of fisheries, animal husbandry, and dairying, published this information in a yearly report titled Basic Animal Husbandry Statistics 2022.
What Caused a Shortage in Milk Production
According to experts, a decrease in production over the summer months is to blame for the lack of milk. Additionally, reports said that there is a lack of milk being collected from dairy farmers.
As a result, farmers are observed to be selling their cattle at a higher rate from their dissatisfaction with KMF's procurement price.
Another concern is that the delivery is being delayed due to technical difficulty with BAMUL's computer systems. However, the survey noted that not all unions were vocal about the issue.
Not to mention, the economy's bounce back after the COVID-19 outbreak by depicting an increase in economic activity only made the dairy industry's problems worse.
Adding more to the woe, butter, ghee, and anhydrous milk fat exports increased, making the domestic scarcity worse.
This made experts contemplate that the shortage in milk supply will increase eventually due to the milk prices.
Cause Behind Milk Price Rise
To start with, there has been an increase in the cost of labor, raw materials, and calf feed for dairy farmers in India. This occurred during the Russia-Ukraine conflict, which led to a global shortage of cereals like wheat and maize, which are essential components of animal feed.
More about the cattle feed, the increase could also be brought on by a prospective scarcity of fodder. The wheat crop has been negatively impacted by the hot weather, leaving inadequate cattle feed.
Private dairies are paying farmers more for their milk. Additionally, according to insiders in the sector, they are purchasing milk that does not meet the SNF (Solid Fat Content) requirement.
Due to their increased profit margins and absence of SNF norms, farmers choose them. The farmers' action has resulted in a decrease in milk collection. They further observed that, as a result, there is a milk shortage in many areas of Karnataka, including Bengaluru.
The cost of producing animal feed has increased by 40 percent. Additionally, the cost of delivery has increased as a result of rising diesel costs. Due to these reasons, milk prices have increased by Rs 2 at various dairy manufacturers like Amul and Mother Dairy.