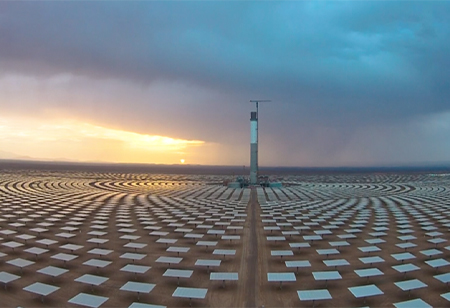 Last year, when war broke out between Russia and Ukraine, gas supplies were halted in Europe adding more stress to the industry leaders and the government. Germany and other parts of Europe witnessed the shoot up of gas wholesale prices, leaving many to fear rationing, rolling of blackouts and economic calamity. But thanks to the quick wits of the government, industry and lucky breaks from the weather, the scenario was saved from going downhill.
Although the challenges of Europe's energy system may be structural, the shift in gas supply from Russian pipeline supplies to more expensive liquid natural gas (LNG) imports exposes a major weak spot. But the issue extends beyond gas. Meaning, Europe depends on single suppliers for almost half of the key resources in rare-earth mineral and multiple prefinished goods. There's also the objective of reducing CO2 emissions towards climate change.
The war in Ukraine did make Europe's politicians put more effort in tackling climate change with new sources of clean energy, there is one ounce of hope that wishes to be part of that solution and that is Morocco.
Why Morocco has the Potential?
Morocco is only inches away from convincing Europe on the goal and it plans to generate 50 percent of electricity from renewable sources by 2030. It plans to export a generous amount of electricity through undersea cables from Europe. Thanks to projects such as the huge Noor-Ouarzazate Solar Complex, Morocco's efforts did not go in vain in boosting renewable energy generation.
Generating Solar and Wind-Energy Electricity
In 2016, the first phase of the Noor-Ouarzazate Solar Complex began and it was developed by ACWA Power, a Saudi Arabian firm with funds coming in from the World Bank and the European Investment Bank.
The World Bank believes that expanding Morocco's solar and wind energy production might support the nation's economic expansion. It has funded the sectors with millions of dollars. Nevertheless, according to World Bank estimates, Morocco would need to raise the majority of that $52 billion (£41.6 billion) from the private sector in order to meet its 2030 renewable energy objective.
How it works is that these facilities use mirrors to reflect and concentrate sunlight on to central towers receivers. Inside these are fluids heated from the light, emitting steam that spins turbines to produce electricity. Today it remains as the world's largest concentrated solar power plant, with several mirrors stretching at about 3,000 hectares (11.6 sq miles).
Upon viewing the project's progress, many Moroccan firms are planning to export solar and wind-generated electricity to Europe.
Some firms have even pitched out wind and solar schemes in hopes of meeting at least four percent of Germany and Italy's electricity needs.
On the other hand, Xlinks, a British energy startup is in thoughts of constructing an undersea electricity cable from Morocco to the UK. With Moroccan solar and wind power, the UK startup intends to provide eight percent of the UK's electricity requirements by 2030.
A Win for Morocco as Well
To position itself as an industrial hub for investments for exports of green industrial products like automobile production utilizing renewable energy, Morocco. The administration is seeking to forward the renewable vision first presented by King Mohammed VI in 2009. It is acutely aware of the potential benefits.
In the Maghreb region, Morocco is the country that is most resilient to climate hazards. The ranking, which evaluates nations' efforts to combat the threat posed by climate change and to cooperate in the spread of green energies, places Rabat at the top. the Green For South report on climate finance readiness, which is based in Toronto.
Morocco has made investments in green energy of 130 million dirhams, or 13 billion dollars, in addition to its geographic and natural advantages. One of the biggest investments in Moroccan history is this one.
The results of this proactive program are already beginning to show. According to the most recent study of the Renewable Energy Country Attractiveness Index (RECAI), Morocco has established itself as one of the global leaders in this industry.
Morocco intends to accomplish this year the 42 percent clean material production goal set for 2020, a delay brought on by the pandemic, and the 64 percent green production goal set for 2030. Leila Benali, the minister of energy transition and sustainable development, reaffirmed this goal while testifying before the House of Representatives. The minister claims that 61 projects are in the works to do this.
The Moroccan Office Jerifien des Phosphates (OCP) is one of the most crucial. In order to become carbon neutral by 2040, the monopoly, which currently controls 95% of Morocco's chemical industry, will invest $13 billion to enhance fertiliser production using only solar and wind energy. OCP intends to focus on seawater desalination and generate one million tonnes of green ammonia in order to achieve this. In addition, as a result of the exponential increase in fertilizer prices brought on by the Russian-Ukrainian conflict, turnover is rising even though carbon emissions are declining.
Morocco has reached agreements with the European Union as well as with other nations, including Israel, with whom it has committed to conduct natural gas exploration and production. According to Mounia Boucetta, all of this is a culmination of investments made by the Atlas Royal Instructions to provide a compelling offer and encourage the growth of rival value chains.
But according to latest estimations, just 16,000 GW will be required by 2030. This means that the aim is not only more achievable, but will also allow Morocco to be more ambitious in its effort to rely less on hydrocarbons like coal and oil.