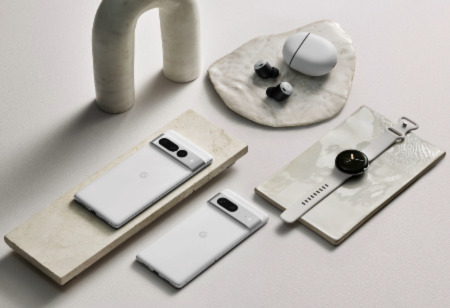 Every I/O offers a ton of news since it is Google's biggest event of the year. The announcements at I/O 2023, though, seem to carry greater risk as they have the potential to significantly alter how users interact with Google's flagship products. Along with software-related announcements, the company is rumored to introduce a number of hardware products, such as the Pixel Tablet, which was formally teased during the introduction of the Pixel 7 and the Pixel 7 Pro last year.
Even though Google I/O is primarily geared toward developers, the opening keynote will introduce the company's newest consumer goods and services as well as possibly give a sneak peek at goods arriving later this year.
Although Google has yet to officially disclose what it will show at I/O, we can make a few guesses based on information it provided at I/O 2022 and reliable rumors. Here are a few things we anticipate seeing at Google I/O in 2023.
Google AI
Google has already demonstrated generative AI capabilities in Gmail and Google Docs, and testing has already begun. While this is going on, Google has briefly demonstrated the addition of image generators to Google Slides and the ability for Google Meet to automatically create notes from a video call. The tech giant needs to give a clearer explanation at I/O 2023 of how AI will be integrated into its Workspace apps beyond specific capabilities. Information on a public launch and how the general public will be able to access it are also crucial.
Google Search and Chrome
Many stakeholders will want an update on how AI is coming to Search as it is Google's crown jewel. When the company announced Bard, it provided a sneak peek of AI Insights in Search, but we still need a more thorough examination of the entire process. It's been rumored that Chrome will have a chatbot that you can use to ask questions about the page you're currently reading. This would be quite helpful, as generative AI presence needs to be present in Chrome since it serves as a key entrance point for how users use Google.
Voice Assistant
Voice assistants seem to be a natural fit for generative AI given its conversational nature. In the past, Google Assistant has hit a wall and seen a reduction in its feature set. It's unclear whether Google is at a place where it's prepared to reveal updates given the team behind it is now focused on Bard development. If it did, Google could claim that Assistant is more powerful than Alexa or Siri whereas Microsoft explicitly does not currently have a speech assistant.
Google Pixel 7a
The Google Pixel 7a may not even be the most intriguing product the company unveils during I/O 2023. For many users, it will be a unique product, though. The Pixel 7a will receive many significant improvements over its predecessor in addition to becoming the most cheap phone with the Tensor G2 CPU. The phone will likely come with an enhanced in-display fingerprint sensor and a smoother 90Hz refresh rate. In addition, the phone is rumored to receive a camera hardware update, with a 64 MP primary camera with OIS and a 12 MP ultra-wide-angle lens being included. The phone is also rumored to have an updated selfie camera sensor and a 10.8MP selfie camera on top of all that.
The Pixel 7a will probably look similar to the Pixel 6a in terms of appearance. The display, on the other hand, is probably going to have somewhat thinner bezels, and if we believe leaks, the phone might also come in a variety of colors. The Pixel 7a could cost approximately Rs 40,000, at least at launch, and like its predecessor, it would have an IP67 classification for water and dust resistance.
Google Pixel Fold
With the Pixel Fold, Google is finally joining the foldable smartphone trend. This device does resemble the Galaxy Fold 4 quite a bit. According to reports, the Pixel Fold will include a 7.57-inch primary foldable display in addition to a 5.72-inch cover display. The Tensor G2 chip, which also powers the Pixel 7, Pixel 7 Pro, and even the future Pixel 7a, is claimed to power the phone. According to reports, the smartphone has a 4,700 mAh battery and supports both fast wired and wireless charging. The phone will come with Android 13 OS out of the box and, by the end of 2023, will be among the first foldables to get an Android 14 update.
Google Pixel Tablet
While there are a few Android tablets available, none of them, especially following the Apple Silicon upgrade, could compete with the likes of the iPad Pro. This may change with the upcoming Pixel tablet. The next Pixel tablet is expected to have a number of innovative software tricks in addition to its hardware to make it a terrific premium Android tablet.
Wear OS
Wear OS 3 was launched in 2021, and version 3.5 arrived discreetly the previous year. The release of Wear OS 4 would coincide with an upgrade to Android 13 that includes Material You, which would be appropriate in terms of timing.
Many people are anticipating more Better Together efforts that are entertainment-focused in the entertainment space. In the past, rumors have suggested linking Google/Android TV devices to Nest and third-party speakers, and connections for better access to smart home controls are planned (for 2024). Additionally, Fast Pair is rumored to be coming to Android TV and Google TV.
Fitbit
Fitbit has to start explaining the second phase of its plan, which ranges from a redesigned app to new capabilities, after substantial removals with the promise of upcoming new capabilities. The best moment to accomplish that would be during I/O. While this is going on, it has already been reported that Fitbit integration will continue the Better Together tentpole by displaying real-time exercise statistics on Google TV.
Users can look at shoes in zoom and rotation settings with Maya, a 3D augmented reality program, and then purchase them. Users will be able to test out the lifelike version in their own physical environment using the AR version.