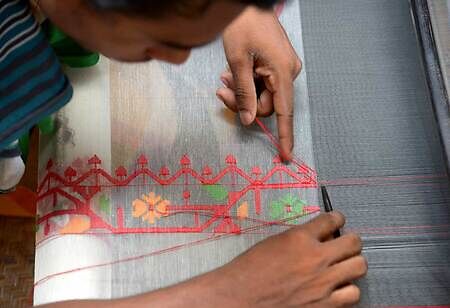 Indian fabrics are miles of stories reflecting its heritage, the craftsmanship, reality of politics, wars waged, Mahabharatha epics, Buddhist texts, animals and other aspects that aged over time. Every identity of the country finds expression through this form of art. The country's ric natural resources provide a huge range of plant-based fibers and natural dyes to cultivators, weavors, dyers, printers and embroiderers.
Today, the apparel industry contributes five percent to the country's GDP, making India the sixth largest exporter of textiles and apparel in the world, according to Invest India. Nearly 95 percent of hand-woven fabric comes from the country, with silk placing as the second largest producer of the material globally. Also, the textiles and apparel industry is the second largest employer providing direct employment to 45 million people and 100 million people in allied industries. To sustain and encourage more productions, as well as, employment into the sector, it's only natural that the Government of India stitches up 75 textiles in the country's very own Knit City, which is Tiruppur.
Knitting Town of India
A small town in the district of Coimbatore, Tamil Nadu, Tiruppur has been a popular trading hub for cotton for decades. A vast majority of cotton wear that Indians wear today is manufactured from this Knitting town. The apparel exporters produce and export knitted garments. The place is known for its clustered activity, with most activity of garment making is carried out in the outside units through knitting units, dyeing & bleaching units, fabric printing, garmenting, embroidery, compacting and calendaring and other ancillary units. The town faces many challenges such as poor transport infrastructure, labour shortage during the peak season, outdated machinery, pollution, exchange rate fluctuations and cotton yarn price fluctuations and over dependence on cotton. Beyond these challenges, apparel exporters are encouraged to increase the export marketing activity.
Special industrial parks have been developed to support the textile industry. Among those that are in use are Nethaji Apparel Park, Thirupur Export Knitwear Industrial Complex, SIDCO Industrial Estate, and J.S. Apparel Park. 53 businesses in Nethaji Apparel Park produce knitwear for export. Currently, the NAP employs 15,000 people and generates 15 billion in export earnings from the clothing it produces. Established in 1992, the Tirupur Export Knitwear Industrial Complex comprises 189 sheds spread across 4200 square feet. Clothing and textiles are imported from Tiruppur by some of the biggest stores in the world, including C&A, Nike, Walmart, Primark, Adidas, Switcher, Polo Ralph Lauren, Diesel, Tommy Hilfiger, M&S, FILA, H&M, and Reebok.
Government's Plans for the Knitting Town
The Indian government is encouraging the industry by bringing in more manpower and other innovative ideas. Currently, it is on a mission of establishing 75 textile hubs.
These 75 textile hubs in Tiruppur are believed to not only support textile products export, but to ensure inclusion of sustainable technology, while generating enormous employment opportunities.
Since, the government views Tiruppur as a home to textile production worth 30,000 crore each year. The sector provides direct employment to six lakh people and indirect employment to four lakh people, collectively providing 10 lakh employment opportunities.
In 1985, the town was recorded exporting Rs.15 crore worth of textile products. The government recalls that this year, the estimated exports from Tiruppur are Rs.30,000 crore, which speaks of growth by two thousand. Upon this growth, when measured in terms of what is contributed to the textile industry, Tiruppur's compounded annual growth rate sits at 22.87 percent.
Piyush Goyal, Union Minister of Textiles, Commerce & Industry and Consumer Affairs, Food & Public Distribution said that Tiruppur has made the country proud and is home to textile production worth 30,000 crore every year. He said that the sector provides direct employment to 6 lakh people and indirect employment to 4 lakh people, therefore, collectively providing employment to 10 lakh people.
This is due to the fact that Tiruppur boasts an enormous employment avenue that welcomes the youth into its textile system. The government observed that there are nearly 70 percent employed in the textile sector comprising women and those hailing from the economically backward sections. Therefore, the government plans to provide training to those individuals.
In India, roughly 3.5-4 crore people are engaged in the total value chain of the textile industry. It's not surprising that the industry is ahead of the agricultural industry. The government believes that even for the next five years, the textile industry has the potential to grow in exports up to Rs.10 lakh crore.
Since India has one of the fastest growing economies, the government's calculations indicate that if India were to grow by eight percent annually on a compounded annual growth basis, the economy will double in nine years reaching a $ 6.5 trillion economy. Likewise, 18 years from now indicate a $ 13 trillion economy, leave alone 27 years with a $ 26 trillion and 30 years with a $ 30 trillion economy.
Governmental Initiatives
Firstly, the government plans to reduce the logistics cost through the PM Gati Shakti program by improving the infrastructure and ensuring timely execution and budget based project execution.
Multi Modal Logistics Parks will be set up to focus on container manufacturing.
Currently, the government is already addressing exporting issues and is opening up market opportunities.
FTAs inked with the UAE and Australia along with UK, EU, GCC are believed to open new opportunities for Indian exporters.
The FIEO President requested the Commerce and Industry Minister for suggestions on linking issuance of RoSCTL and RoDTEP with export realization for better value including other sectors such as Iron & Steel, Pharma, Chemicals etc.
For the RoDTEP, it was also requested to extend the EOU/SEZ units and AAA/DFA users.
TMA is being revised for the agri sector.
Solution on money struck for export made to Sri Lanka.
Implementation of Rupee Payment System for export to Russia.
Creation of MSME Market promotion fund.
Market access for emerging sectors in services.