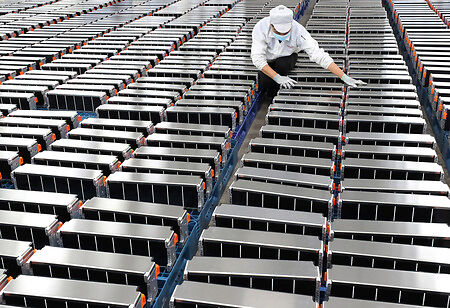 The chances of an environmental threat from the wasteload of a simple junk drawer may be minimal, but not inevitable. If you can't get rid of them, there's only three ways to take care of them and they are recycle, repurpose and reuse.
Electric Vehicles (EV) often resonate with sustainability and are environmentally friendly. They also present an opportunity to various stakeholders in India of almost Rs.3 lakh by 2026 according to CRISIL. Schemes such as Faster Adoption and Manufacturing of Hybrid and Electric Vehicles (FAME India), Phased Manufacturing Plan, and Production Linked Incentive are accelerating the country's EV journey. New startups including OEMs (Original Equipment Manufacturers) are actively involved in manufacturing EVs.
Achieving Net Zero Emissions means way more than the wide adoption of EVs or cars without a tailpipe. There needs to be an effective solution around battery management, if not to dig up the same emissions that EVs are promised to cure. Since lithium-ion batteries (LIB) are vastly considered as suitable alternatives among several battery technologies, however, most EVs use lithium, nickel, manganese and cobalt (LNMC) and lithium iron phosphate (LFP) batteries. Although these batteries pose a longer lifespan, they can no longer be used in EVs once their energy generating capacity dissipates.
The batteries piling up into a landfill is a mega bomb set for destruction. Still there will be more consequences to pay for if not provided a solution immediately.
There's More to the Explosion
The cells inside the batteries could emit hazardous toxins, as well as, heavy metals. If handled carelessly, the pile up could end up exploding and bring back nightmares from historical bombing scenarios.
Although materials such as cobalt, lithium and nickel are key ingredients for lithium-ion batteries, mining them can pose serious ethical and environmental concerns such as child labour, pollution and heavy water usage.
Wasted batteries ending up in landfills is soil and water contamination. According to research published by the Multidisciplinary Digital Publishing Institute (MDPI), metals can seep into the soil and, as a result, groundwater.
According to this report from the Observer Research Foundation, dumping waste batteries is also a missed economic opportunity.
These are large, heavy, complex materials and packaging that do not recycle in the same way that a water bottle does, said the former Tesla CTO JB Straubel, who departed the company to start a new company, Redwood Materials, to focus on the very problem.
The company likes to say "the largest lithium and cobalt mines in the western hemisphere can be found in our country's junk drawers," not to mention underneath our electric cars.
Another distressing factor is that the materials are finite and not sufficient enough to meet future demands. This makes recycling more important. Since batteries used in vehicles ranging from two-wheelers to large vehicles and public transportation buses are nearly identical. However, the composition and scale of these systems vary depending on the amount of electricity necessary to operate them. There is a dearth of understanding and implementation of how end-of-life battery management for EVs should be managed. Recent study, on the other hand, suggests that recycling is the best and most practical alternative in this situation.
Recycling into a New Economy Opportunity
Due to limited stocks of lithium, graphite, cobalt and nickel, a major source of lithium-ion batteries are imported from China. Recycling EV batteries could benefit India by lowering the cost of EV batteries and accelerating the adoption of EV.
According to a study conducted by NITI Aayog and the Rocky Mountain Institute (RMI), India's battery sector is predicted to exceed $300 billion by 2030, accounting for almost a third of global demand for EV batteries.
A LIB circular economy will benefit the domestic EV and storage industries greatly. By 2030, recycled materials from obsolete batteries would be able to produce 60 GWh LIB cells in India, reducing dependency on imports and offering up new economic opportunities for Li-cell manufacturers, complementing the government's AatmaNirbhar Bharat initiative.
However, India currently lacks a commercial-scale recycling system. Retired batteries are piled up and discarded in landfills without being properly treated. Lithium (which spontaneously reacts with moisture, causing explosions), nickel, and cobalt are all hazardous elements included in LIBs. These toxins in the environment can also be harmful to human health.
Mechanical process (physical separation of components), pyro-metallurgical (heat treatment), and hydro-metallurgy are the currently commercially feasible recycling processes (chemical treatment). The most efficient (95 percent recovery) and least energy-intensive method is hydrometallurgical.
Government's Guidelines on Lithium-ion Batteries for EVs
The Batteries (Management and Handling) Rules of 2010 do not cover lithium-ion or lithium batteries as of today. The E-Waste (Management) Rules, 2016 cover lithium-ion batteries indirectly, as it turns out. Computers, laptops, notebooks, and cellular phones, as well as their components, consumables, parts, and spares, are among the broad categories of electrical and electronic equipment covered by Schedule I of the Rules. The E-waste Rules, on the other hand, do not particularly address lithium-ion batteries.
However, a new draft regulation titled 'Battery Waste Management Rules, 2020' is now being worked on. The draft was released to the public in February 2020, although it is still under consideration. It will cover a wide spectrum of batteries, from alkaline and mercury disposables to rechargeable Li-ion and nickel-cadmium batteries.
A 'battery pack' and a 'industrial battery' are also covered in the draft. EV batteries fall under the concept of 'industrial battery', which is defined as a power source for 'electric vehicle propulsion'. Due to the COVID-19 pandemic, the formal notification of the draft was postponed, but EV sector insiders predict that these guidelines will be announced in a few months.
The new draft, like the E-Waste Management Rules, specifies the battery manufacturer's responsibilities in great detail. These responsibilities include everything from establishing battery-waste collection centers and take-back systems to setting collection objectives for two to seven years after the rules go into effect. These rules demand for a mandated recycling mechanism for the safe disposal, however, recycling of EV batteries is not covered.