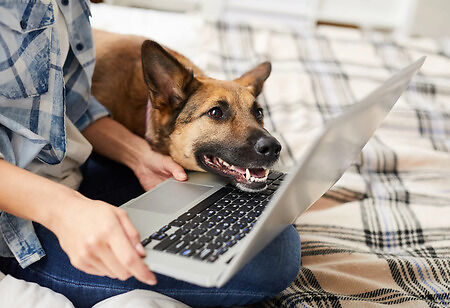 'Work from Home' was almost a myth, barring a few lucky employees across the IT segment. A decade back, doing your work from the kitchen counter while preparing your lunch, on the coziness of your couch, or even during traveling was not even a possible concept. That has certainly changed after the COVID-19 pandemic, proving technology's deep connection with the modern world, providing the balance of remote working while keeping the global economy afloat. We now know that people don't have to be physically present to work together, allowing most work to happen by design or default.
According to a study by 'The Reinvention of Work,' nine out of 10 Indian knowledge workers say they felt empowered by the technology they used for work during the pandemic. Most indicated benefits of easily communicating with colleagues from anywhere, including better collaboration and an overall faster and more efficient way of working. 86 percent of them went on to say that they would like to continue using the technology they adopted during the pandemic.
Technology is widely observed to be bolstering the work culture, especially when employees are working from different parts of the world. A study by Slack indicated that nine out of 10 Indian knowledge workers implied that technology made them feel part of the team, despite working remotely.
Although technology has automated most work processes, it was observed that the transitioning to work from home wasn't quite smooth. Several hindrances made performance, productivity, focus, and staying motivated difficult. More challenges came through while attempting to reach targets of the company's missions, and here are some challenges employees can relate to.
The Transitioning was Tough
One big challenge that came with the remote working arrangement was the infrastructure. Placing the right individual at the right job is what most companies do. But working from home made that difficult as some had inadequate tools to support their work, leave alone a stable internet, secure systems, and dedicated workstations.
Security Risks
Many companies faced challenges when VPN (Virtual Private Network) connections strained the existing infrastructure. As it became harder to manage and monitor these connections, companies were exposed to security threats, including unauthorized access to data while employees were using their systems at home.
Productivity Affected by App Proliferation
Slack says that respondents seemed content to work with the apps provided for work, but switching between them proved to drain their productivity. With Indian knowledge workers using ten apps per day on an average, respondents indicated that they had wasted 10 hours every week trying to navigate between apps.
Application Overload
Due to application overload, getting that many data points to work together required a lot more apps to help separate sources of data collaborate to pitch out new information. As each app fed the problem, it created its own proprietary data that required new integrated systems to be developed. Eventually, this resulted in a never-ending feedback loop.
Difficulty in Access Information
Another problem Slack identified was that seven out of 10 respondents said that there was a lack of quick and easy access to information, conversation, and files. In turn, the respondents said that this took away the manner of communicating and collaborating seamlessly and efficiently with their colleagues, including people outside their organization.
Solving external collaboration challenges is particularly important as companies need to either sell or convey the message of their product or solutions to customers, industry associates, partners, suppliers, and government bodies.
But the Tough Get Going
Back to Slack, nine in 10 Indian knowledge workers said having a common collaboration platform would enable a better way of working.
Since better integration of workplace apps meant not affecting the productivity, which resulted from navigating between them and empowering Indian organizations to benefit from the best of the best software. This is mainly vital for the Indian organizations, which are increasingly steering towards formalizing their hybrid work model, while employees are distributed between the office and home.
As a result, there is an immense responsibility to bear by the IT department of any company that looks into providing remote communication, access to data, and security. Even though certain employees may or may not have the tools at home as per their job requirement or lack the tech comfort level, the IT department has surely looked into those aspects as well.
Thanks to their quick transitioning to telecommuting, the IT department is widely observed to have been helping their fellow employees from updating their corporate VPN to strengthening endpoint security and taking on troubleshooting tasks that arose as employees worked from home.
On the other hand, numerous cloud management vendors were observed to be extending free trial versions of their applications to support the employees and possibly acquire more customers in return.
Moreover, companies themselves seem to have begun relying on VDI (Virtual Desktop Infrastructure) to encourage their remote working employees. This then gave birth to the 'desk-as-a-service' technology that helps deliver corporate desktops to any employee on any internet-connected device.
Other options of delivering single virtual applications rather than full-fledged virtual desktops, published applications, or session-based desktops also came by.
However, since connectivity can either make or break a remote desktop worker's productivity, tools such as 'unified endpoint management' and 'enterprise mobility management became vital for IT teams to share corporate productivity tools to mobile devices. Many employees often seemed to be using their smartphones to access corporate resources.
If the pandemic persists, companies that don't already have large device programs could develop an interest in purchasing mass mobile devices or laptops to enable remote workers. However, due to supply chain interruptions, several companies, such as Apple, have warned that they will limit purchase volumes of certain products.