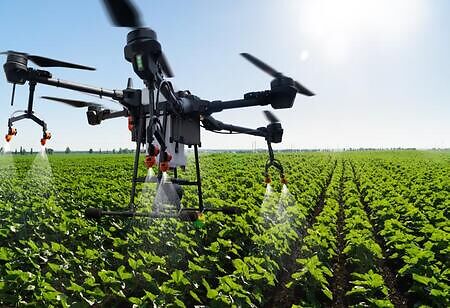 The first pilotless vehicles were manufactured and used during the First World War. In March 1917, Britain Ariel Target tested a small radio-controlled craft. But the American aerial torpedo proclaims Kettering Bug was the first aircraft to fly without a pilot in October 1918. In the 1990s, the Indian Army acquired unmanned aerial vehicles or UAVs from Israel, and the Indian Air Force and Navy followed suit. During the 1999 Kargil war against Pakistan, India first used military drones for photo reconnaissance along the Line of Control.
Drones have come a long way. Today, drones are starting to play an important role in multiple industries, thanks to advanced technologies and drones' astonishing capabilities to help even the bottom layer of the business ecosystem, not to mention the entertainment/surveillance videography.
Drones in Today's Life
One of the most exemplary use cases of drones is in the agriculture industry. Drones help with pest control and fertilization, proper monitoring of irrigation systems, and performance analysis. In addition, drones help farmers to monitor and be up-to-date about crops' growth.
On the other hand, since they fly securely low to the ground, drones have also penetrated the security segment with a vast array of applications, including search and rescue, helping to locate missing people or things. It also significantly assists in monitoring catastrophes and natural disasters, as well as providing emergency communication network aid. With the help of quads, we can curtail fire outbreak situations. Drones can access and monitor dangerous fires without helicopter-based aerial support. Thermal-resistant drones are built to see through smoke and dark to detect hotspots. Hence, it is easy to dispatch drones first at a fire outbreak to observe the situation.
In the civil department, the primary purposes of drones include structures and job site inspection, employee monitoring, security, surveying, and 2D and 3D data creation. Drones are also used as an escort and beacon to transport heavy payloads and for shipping and delivery applications. It enhances the safety and reliable delivery of products.
The healthcare sector uses drones as vehicles to transport blood samples and medicines. The application also extends to science and research, including identifying methane leaks, monitoring pipeline installations, geophysical surveying, archaeological and meteorological research, glacier surveillance, iceberg monitoring, plant species identification, and forestry management.
Going forward, the e-commerce sector is also at an exciting juncture, with drones expected to revolutionize last-mile delivery in the near future. The concept is currently in the testing phase.
According to the Drone Industry Insights Report 2020, the worldwide drone industry is predicted to grow at 13.8 percent CAGR to $42.8 billion by 2025. With the Ministry of Civil Aviation updating the Drone Rules 2021, efforts are to make India a global drone hub by 2030. By 2025, India is anticipated to be the world's third-largest drone market, according to the results. India's unmanned aerial vehicle market is expected to grow at a CAGR of 20.9 percent between 2020 and 2026, which further gives us an estimate of the investments from industrial conglomerates, chip companies, and IT consulting firms, etc.
In the previous governments, technology was considered a part of the problem, and it had an image as anti-poor. There was an atmosphere of indifference regarding the use of technology in governance before 2014. But things have changed for the better. India has embraced technology with both arms, and the explosion of the drone industry in India is the epitome of this. The government is striving to boost the drone ecosystem in the country through various initiatives. Among them is the recently concluded 'Drone Mahotsav 2022', which brought together over 1,600 delegates comprising government officials, foreign diplomats, armed forces, central armed police forces, public sector undertakings, private companies, and drone startups.
Drone Mahotsav 2022
While villages across the length and breadth of the country expect the roads, electricity, optical fiber, and digital technology, agriculture is being conducted in old ways, leading to hassles, low productivity, and wastage. The government is confident that drone technology is going to play a major role in empowering farmers in India and modernizing their lives.
During the Drone festival 2022, PM Modi said, "The enthusiasm that is being seen in India regarding drone technology is amazing. This energy is visible; it is a reflection of the quantum jump in the drone service and drone-based industry in India. It shows the potential of an emerging large sector of employment generation in India."
PM also talked about continued dependence on the revenue department with regard to activities ranging from land records to flood and drought relief. The drone has emerged as an effective tool to tackle all these issues.
During Mahotsav, the Prime Minister also recalled that in earlier times, technology and its inventions were considered to be meant for the elite class. "Today, we are making technology available to the masses; first, he said. Till a few months back, there were a lot of restrictions on drones. We have removed most of the restrictions in a very short time. We are also moving towards creating a strong drone manufacturing ecosystem in India through schemes like PLI. When technology goes to the masses, possibilities of its use also increase accordingly," the Prime Minister concluded. The government's measures to help agriculture sectors have ensured that technology is no longer intimidating for the farmers as well as the common people.