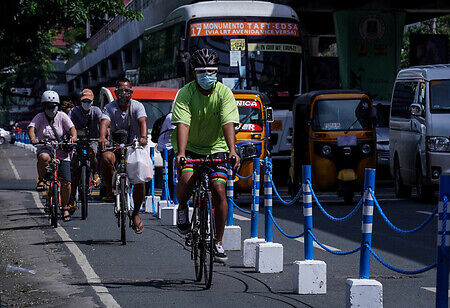 Watering two plants with one hose is what cycling does. Cycling improves physical and mental health by releasing toxins from the body, while contributing zero emissions to the environment. In Mexico city, cycling brought down eight percent of tax use, five percent of private car use and 499 tons of CO2 under the EcoBici bike sharing scheme. What's more, bicyclers view it as a means of saving their money and getting fitter. The Philippines has taken a bike friendly route by encouraging its people to use bicycles as much as they can. In 2020, the President Rodrigo Duterte even made the fourth Sunday of November as National Bicycle Day, specifying non-motorized transportation, "as a means of fostering sustainable development and promoting environmental health that is conducive to the physical health and well-being of Filipinos", by signing the Proclamation No. 1052. Under this proclamation a comprehensive management program will be provided for air pollution while promoting non-motorized transport.
At the time the proclamation was signed, it served as a reminder how bikes helped with travel when COVID-19 made public transport limited and private transport were banned from the roads.
More Cycling than Steering?
Based on Social Weather Stations data from May 2020 to April 2022, there are more households with bicycles than cars. It was observed that owners owned bicycles more than cars and motorbikes in the National Capital Region, as well as in the rural areas which typically are known to use more motorbikes. In fact, the Bureau of Customs indicated that bicycle imports crossed 112 percent in 2020. On the other hand, the ever fluctuating prices of gasoline is also responsible for people taking a move on buying bicycles rather than cars and motorbikes.
Last year, A 313-kilometer network of bike lanes covering 67 roadways in Metro Manila was completed. Additionally, in Central Visayas and Southern Mindanao, the 29-kilometer Metro Cebu Bike Lanes and the 54.7-kilometer Metro Davao Bike Lanes were opened, which will enhance safety and encourage equitable use of road space and active transportation.
To make it easier for cyclists to access major roadways in Metro Manila, Metro Cebu, and Metro Davao, the DPWH (Department of Public Works and Highways) erected reflectorized thermoplastic pavement markings, road signage, and bike lane dividers in coordination with the Department of Transportation (DoTr).
Constructing Bike Facilities For Every Road and Bridge Construction Project
Since 2016, the DPWH has been working towards building pedestrian infrastructure on public roads in Luzon, Visayas, and Mindanao. However, DPWH's Secretary Mark Villar took it up a notch by mandating that every project involving road and bridge construction will also work on providing bicycle facilities and this Villar institutionalized through the Department Order of 88.
According to Secretary Mark, bike friendly infrastructure will not raise the bar on safety, but nudge people into biking for a safer travel, benefitting their physical health and the environment by reducing greenhouse gas emissions, noise pollution and traffic as well.
Depending on the current road and traffic conditions, bicycle facilities are said to be divided into three classes under DO 88: Class 1 or the Shared Use Bike Path, Class 2 or the Separated Bike Lane, and Class 3 or the Shared Roadway.
In Class 1, a designated path will be made that is either shared with pedestrians or wholly isolated from the road for bicycle usage only. In Class 2, a paint strip, curb, or barrier will be used to identify a section of road that is intended for exclusive use. A section of the road that has been formally designated and signposted as a bicycle route may also be utilized by motor vehicles in Class 3, if an issue with the limited carriageway width exists.
What makes Indonesia's Bicycle craze more interesting is that these bicycles are manufactured with nature's resources.
Bamboo Bikes
In the rural environment of Indonesia, bamboo groves are commonplace. In rural Indonesia, bamboo has long been utilized for a variety of things, including roofing, toys, musical instruments, windmills to keep birds away, and even festival decorations. In some areas of the Maluku islands, homes were constructed entirely of bamboo until 1986.
One morning, Anthony Albanese and Indonesian President Joko Widodo spent time planting trees together during the new Australian prime minister's first state visit to Indonesia in early June.
Social media was ablaze with images of the two politicians riding about the Bogor Presidential Palace. The 'bamboo bike diplomacy' was hailed with pride by Indonesian environmentalists, who saw it as the president's endorsement of the country's sustainability movement. The pair's bamboo bicycles were made entirely in Indonesia. The bikes were made and bought from the Indonesian bamboo bicycle company Spedagi, whose name is a combination of the words sepeda pagi, which means 'morning bike ride'.
This implies the government's will on promoting the Philippines as a bike friendly country is deep rooted.
Fostering Bike Culture
Iloilo City, winner of this year's Galing Pook Award for its I-Bike Program fostering bike culture, may serve as an example for local government entities. The city boasts an 11-km bike network that has enhanced communication with businesses and made it simpler for citizens to bike and walk safely. The city calls itself the 'bike capital of the Philippines'. The city was named the nation's most bicycle-friendly city at the Mobility Awards 2021 and received the gold award at the Bike Lane Awards 2021, which honors 'exemplary efforts' made by local governments that have pushed for active transportation through the establishment of new infrastructure and the implementation of various support programs in the last two years.
Miles to Go Before Philippines is Bike Friendly
Bicycles are considered to be a 'poor man's ride', as the Philippians' mindset is mostly biased in preferring cars over other modes of transport. Although political and governmental efforts are being whisked towards encouraging bicycles, there are still concerns over safety over bikers as most lanes were constructed upon existing lanes which are used by vehicles. Furthermore, there is the need to establish or provide separate parking lots, as well as, connectivity to office and commercial establishments. But most importantly, the country is stated to be required for a law enforcement that mandates Bikers to wear necessary protective equipment such as helmets, and motor vehicles should not be allowed to enter bike lanes.