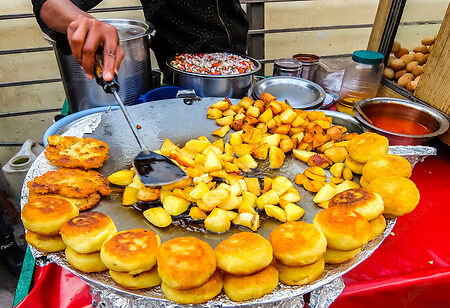 Everyone will have their own favorite foods and snacks, and even restaurants. Elders at home often say that eating food from outside might cause serious health issues as they use some flavoring and coloring agents to increase the taste and attract customers. Though there is a certain amount of fact to this, people are often forced to dine out daily. For instance, in Bangalore, people who come from other states for occupation often find themselves having food from restaurants (either via dine-in or online delivery) or on the street regularly. Bangalore is one of the most happening places in India, being a metropolitan city with a huge heterogeneous crowd. Due to the easy availability of high-speed internet, and a vast migrant population, with students and IT employees, it also witnesses a lot of takeout food orders.
In the evenings, if you walk on the busy streets of Bangalore, there are many street stalls selling fast food having bigger menus as well. Every culture and region has a history that shows the love of people for street food since ancient Greece, wherein they served fried fish as their most common street dish. For people of ancient Rome, street food was their primary food source. Chickpea soup was a commonly sold item.
Fast Foods on Streets
Parameshwar Sahu, a street fast food seller who has a fast food selling stall near Koramangala, says that while starting, it was a bit difficult to cook and supply the food, and even he only had a few customers. But, after a few days, people started to prefer his food, and many of them became regular customers. Now he is earning about 10,000 per day, and after deducting the price of ingredients and other expenses, he is able to save 5000 per day. His monthly income is about one lakh now.
Let us look into the advantage of the Street fast food businesses:
The street food business is getting attention in India. Moreover, many people love to eat it. Street foods are available to people in the form of meat, vegetables, chicken, cheese products, etc. However, Indian food is one of the most popular foods worldwide.
They have a very diverse range of saviors. They have quite a large range of spices mixed with food, giving a unique taste to every food item.
There are many street food items in India that you can try, such as Paratha, Gol Gappa, Tandoori Chicken, Kathi Rolls, Bhel Puri, Aloo Tikki, Pakoda, Samosas, Kebabs, and whatnot. They keep a long-lasting delicious flavor in the taste buds.
Let's look at some of the unique features of Indian fast food:
• Street foods are easily available on the streets. So people can easily buy them without making an extra effort to go to a far place for food
• Food is unique and tasty as well.
• The street food menu includes traditional, cultural food items that people might have a problem looking for in big restaurants.
• Usually, street foods are traditionally old recipes, preserving the original taste of these food items too
• Price is cheaper.
• Preparation is in front of customers, so one gets a good idea of the ingredients included in them.
If you plan to explore Bangalore, here are some of the best Street Foods you could indulge in on the streets of the tech city:
Vada Pao of Aamchi Mumbai
Though its exact origin is unknown, you'll find Vada Pao in every corner of the country. However, if we compare it to other street food items, Tikki is something that'll catch everyone's glimpse every time they are on a street food stroll. The mashed potatoes mixed with spices are fried to get hot and crispy Tikkis. They serve them with Tamarind chutney and sometimes with a combo of tamarind and mint; this dish is a bomb of flavors. A few vendors also garnish the dish with reddish onion, adding more to its taste.
Pav Bhaji
The spicy and blended flavors and hot bhaji is served with butter-oozing pavs. The food looks dreamy when served with a pinch of lemon and onions. Pav Bhaji is served with the thick vegetable curry combined with rolled bread that took birth in the Maharashtrian region of India, and now the whole continent is crazy for its tastes. The food is everywhere, from handcart vendors to 5-star hotels. Moreover, the juicy and flavorful Pav Bhaji tastes best when eaten at a Chai Tapri. The butter makes the food tastier.
Bhelpuri
If you go around the marketplace, you can see Bhel Puri stalls, and it has become one of the staple street food items to have whenever in a marketplace. It is a paradise for the ones on a diet. People can munch on Bhel Puri without counting calories as it is very low in calories. It is prepared from puffed rice mixed well with tangy spices, chutneys, finely chopped onions, and tomatoes.
Idli Sambhar
Chennai Idli sambar is famous not only for Chennai you can find the food on the streets of Banglore with the same taste. On the busy streets of Bangalore, there are 100 percent chances you'll treat your taste buds with the delicious idli sambhar. To the distance, till your eyes can see, you are to spot at least five idli sambhar vendors on roads. How much ever you eat the food will never make you get bored.
Cholle Bhaturey
One of the famous foods of Punjab, now this dish is crazily loved by other parts of south India too. The luscious chickpeas prepared in a bundle of spices are eaten with fried bread made from majorly maida. As a bite goes in, you are in a paradise of flavors. The street food dish tastes so good that you can't resist having it. It is a favorite dish of Punjabis and is usually found the best in the streets only. The taste of Cholla Bhatura isn't justified if you have it in a lavish restaurant. It will only taste the way it is supposed to once it has the touch of the street. The onion, chili salad, and pickles make it yummier.