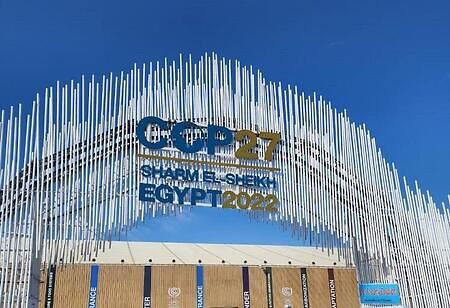 Climate change has become a global issue at present. Recently Delhi saw temperatures of more than 49 degrees Celsius, and Gurgaon registered 48 degrees Celsius. It was the highest temperature since May 1966, and the incidence of extreme weather events sounded dangerous. And the issues can be tackled by urban planning by investing in green and blue infrastructure, such as green walls, greenways, urban forests, green roofs, and water bodies to cool urban areas. Planting trees on the streets helps to reduce heat stress and the urban heat island effect. Urban areas are usually warmer than their surroundings due to concentrated structures and less greenery.
The Conference of the Parties (COP) hosted the 27th session of COP in Sharm el-Sheikh, which resulted in countries delivering a package of decisions that reaffirmed their commitment to limit global temperature rise to 1.5 degrees Celsius above the pre-industrial levels. Global strengthened action to cut greenhouse gas emissions and adapt to the inevitable impacts of climate change, as well as boosting the support of finance, technology, and capacity building, will be initiated by the developing countries.
The major principle deduced in the COP27 this year is to create a specific fund for loss and damage. Adaptation, with governments and agreeing on the way to move forward on the Global Goals on adaptation, will conclude at COP28. New agreements totalling more than 230 million dollars were made to the Adaptation Fund at COP27.
The commitments will support many more vulnerable communities to adapt to climate change through concrete adaptation solutions. COP27 President Sameh Shoukry announced the Sharm el-Sheikh Adaptation Agenda, enhancing resilience for people living in the most climate-vulnerable communities by 2030. The UN Climate Change's Standing Committee on Finance was requested to prepare a report on doubling adaptation finance for consideration at COP28 next year.
Nuclear Approach towards Climate Change
In COP27, the #Atoms4Climate Pavilion event exhibition has shown how nuclear science and technology can play a role in tackling climate change and its impacts in areas related to energy, innovations, the ocean, water, food, and climate-smart agriculture. According to the UN Environment Program (UNEP), there are currently no credible pathways in place to limit the global temperature rise to 1.5 degrees Celsius compared to pre-industrial levels unless an urgent and systemic transformation is achieved.
An event in COP 27, Carbon Removal Using Coastal Blue Carbon Ecosystems, explained how the absorption of CO2 by the ocean provides a nature-based solution for reducing greenhouse gas concentrations in the atmosphere. Besides, Ocean Acidification Adaptation and Resilience in Africa gathered marine experts to discuss how nuclear and isotopic techniques help assess ocean acidification. The summary of the event is to support countries on the African continent in analyzing the CO2 uptake of the ocean and understanding how to better protect marine resources.
UNEP's engagement at COP27 will focus on three areas:
Climate adaptation
Climate finance
Transition
Reducing carbon emissions is no longer enough to halt the impacts of climate change. Many countries realize it's time to start adapting to a warming world. UNEP has undertaken over 70 projects on climate change adaptation in over 50 countries. The climate change adaptations project works are as follows:
Ecosystem-based adaptation and implementing projects that utilize biodiversity and ecosystem services as part of a holistic adaptation strategy.
Knowledge, analysis, and networking include spreading vital adaptation knowledge through well-connected global networks, such as the Global Adaptation Network.
The World Adaptation Science Program aims to provide an interface between the adaptation research community and decision-makers.
National Adaptation Plans support countries in advancing their National Adaptation Plan process.
Access to adaptation finance - Helping governments and partners all over the world to obtain funding for climate resilience.
The Climate adaptation project is to support projects on Ecosystem-based Adaptation, National Adaptation Plans, Early Warning Climate Systems, and more.
Climate adaptation resources & multimedia are producing a wide range of communication and knowledge products to improve understanding and accelerate action.
Financing Climate Actions
Very importantly, financial resources and sound investments are needed to address climate change, to both reduce emissions, encourage adaptation to the impacts that are already occurring, and build resilience. The benefits that flow from these investments, however, dramatically outweigh any upfront costs.
COVID-19 hasn't stopped climate change; even though the pandemic did produce a drop in emissions, the drop was temporary, and emissions have climbed back to about where they were before the pandemic back a path that would lead to global temperature increases far in excess of the Paris Agreement goal of 1.5°C, and which would cause far great devastating impacts.
Investment decisions now will determine whether we create or destroy wealth and potential paths to prosperity. It is increasingly clear that the world cannot afford to burn all of its fossil fuel reserves if we are to succeed in limiting climate change to sustainable, livable levels.The long-term economic reality is that only a fraction of proven fossil fuel reserves can be burned if we are to keep the temperature rise to 1.5°C.
This transition has some policies that govern nations toward carbon neutrality well before 2050. This is how the UN Secretary-General António Guterres has set six priority areas for climate action during the COVID-19 recovery phase: investing in decent jobs; no bail-outs for polluting companies; abandoning fossil fuel subsidies; ending investment in and construction of coal-fired power plants; taking climate risks and opportunities into account in all financial and policy decisions; increasing international cooperation; and ensuring a just transition that leaves nobody behind.