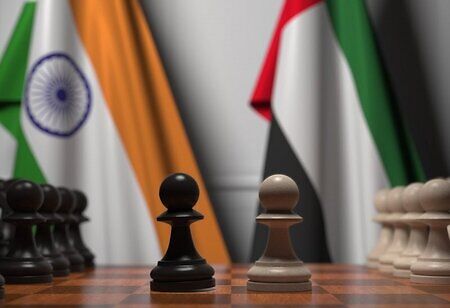 Existing humanitarian crisis coupled with a sluggish government attitude among others, worsened India's economy when COVID-19 entered the picture. According to the ministry of statistics and program implementation, the economy contracted by 7.3 percent this year in what is viewed as the most devastating decline thus far. Reasons pertaining to the decline are mountainous from MSMEs shutting down to unemployment rates shooting up, GDP (Gross Domestic Product) growth crashed at 23.9 percent. Excluding the agricultural sector and certain digital platforms, nearly every sector suffered a blow in their own regard. Although, COVID cases seem to be mellowing down, the nation still remains far behind the line in economic recovery. On the bright side, the nation is constantly burning the night oil in its new aim of emerging as a trillion dollar economy by 2025.
Maharashtra has been chosen to bring light to this vision of India and United Arab Emirates (UAE) negotiations for a Comprehensive Economic Partnership Agreement (CEPA). It is to discover how the state can boost exports while opening the land for investments. The state, popularly deemed as Magnetic Maharashtra is known to be the nation's fastest growing economies.
Maharashtra as the Protagonist of this Dream
Maharashtra was no exception against the coronavirus, however, the state government's encouragement towards the working of industries following COVID-19 protocols, added with the flexibility in movement of labour promoted a quick recovery.
Additionally, the state had already signed 25 Memorandums of Understanding (MoUs) worth Rs 15,620 crore at Dubai expo, added with another MoU with the Africa-India Economic Foundation for bilateral trade and cooperation. As the state has been proving time and time again for offering a combination of a well endorsed educated manpower clubbed with a good infrastructure that it's no wonder why investors flock around it.
Moreover, the state's government claimed that over 15 ministries marketing the state's core focal areas, such as infrastructure, medicine, and electric vehicles, inked MoUs. Companies from six nations have promised to invest in Maharashtra, including Japan, Singapore, Sweden, Korea, Germany, and Italy.
With the industries department organizing knowledge exchange and networking sessions with important investors in thrust sectors such as food processing, social infrastructure, AVGC, and logistics, the state experienced considerable corporate participation in the UAE and the Expo. They also had one-on-one meetings with worldwide multinational companies like Honeywell, DP World, Tabreed, Sharaf Group, Virgin Hyperloop, and others to discuss potential collaboration.
During Maharashtra's two-week participation in the Expo, other departments such as the Tourism Department, MMRDA, Skills Department, and Women & Child Development Department met with global counterparts and signed MoUs as well. In addition to the state's engagement, the government reached out to the Marathi diaspora in the UAE with a robust opening programme and an evening cultural event that drew over 800 local Marathi citizens.
The objective is very clearly set out in the partnership agreement between India and the UAE. There is a $75 billion investment target and Maharashtra is also ready with the projects for this.
The UAE is focussing on supply chain security and the ideal partnership would be where manufacturing is done in Maharashtra and the last mile storage happens in the UAE to address the strategic priorities at both ends", states Suresh Kumar, chairman, Indian Business and Professional Council (IBPC), Dubai, UAE.
On the export front, a bilateral link might be established between Mumbai and Dubai to enhance trade between the two port towns that have direct sea connectivity. Maharashtra's GDP currently stands at $400 million. To grow, the Maharashtra government must remove the barriers that nations like the UAE encounter when attempting to engage into trade agreements with the state in order for investments to be viable.
Expectations of India-UAE's CEPA Partnership
In 2019, India was the UAE's second-largest trading partner, while from the 2000s the UAE has been India's eighth-largest investor. If both countries can agree on a trade pact, it will be the first of a series of trade accords that India hopes to sign with other developed countries in the coming months. With bilateral trade, the UAE is India's third-largest commercial partner and second-largest export destination after the US.
Textiles, jewellery, footwear, leather products, and handicrafts will be popular in India, while fintech, food, medical equipment, petrochemical equipment and byproducts would be among the priority areas on the UAE's side.
Petroleum goods, precious metals, stones, gems and jewellery, minerals, food items such as cereals, sugar, fruits and vegetables, tea, meat, and seafood, textiles, engineering and industrial products, and chemicals are among India's top exports to the UAE. Petroleum and petroleum products, precious metals, stones, gems and jewellery, minerals, chemicals, and wood and wood products are among India's top imports from the UAE.
Commerce and industry minister Piyush Goyal and Thani bin Ahmed Al Zeyoudi, UAE's minister of state for foreign trade, believe that CEPA negotiations promptly and constructively will strengthen both countries' deep trade and economic links.
Both Ministers reaffirmed their commitment to working together by agreeing to strengthen the World Trade Organization's rules-based, transparent, non-discriminatory, open, and inclusive multilateral trading system. They also pledged to work toward a fair and inclusive resolution at the 12th World Trade Organization Ministerial Conference (MC12) in Geneva, Switzerland.
Goyal said he and Sheikh Hamed bin Zayed Al Nahyan, a member of the Abu Dhabi Executive Council, will co-chair the ninth UAE-India high-level joint task group on investments.
On the other hand, Thani stated that the UAE's legislation has been designed to encourage enterprise and innovation, citing 100 percent foreign ownership laws, streamlined business setup procedures, and long-term visas for investors, critical experts, and high-achieving students as examples. "CEPA creates the groundwork for an ambitious new age, one in which we are able to attract investment and talent to the region, accelerate growth, and spur a broad-based economic recovery", added Thani.
"I think CEPA will be a game changer for regional cooperation as this agreement is uniquely structured to address the bilateral needs of not just the two countries, the UAE and India, but also the UAE as a gateway to the rest of the GCC (Gulf Cooperation Council) and beyond", says Suresh Kumar, chairman, Indian Business and Professional Council (IBPC), Dubai, UAE.