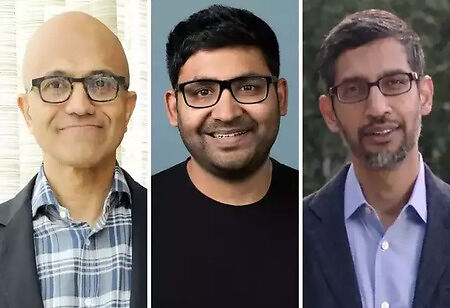 Until a while ago, a storm of opinions were fluttering about who will be Twitter's next CEO from the people of Twitter town. The storm calmed and a rainbow blossomed stretching across nations radiating with a message saying that a new CEO has been summoned for the role Jack Dorsey, Twitter's Co-founder and CEO, was leading. The new CEO, Parag Agrawal, has been the microblogging site's chief technology officer (CTO) involved in the company's technical strategy, and was named as Twitter's first Distinguished Engineer before becoming its CTO.
Agrawal is the latest to hop on US-based globally renowned company and his appointment represents one of many Indian-origin leaders who are heading major global tech enterprises today.
Parag Agrawal: Twitter's first Distinguished Engineer
At 37 years old, Twitter's new CEO, Parag Agrawal, has become the youngest CEO of an S&P 500 business. Agrawal, a 2005 alumnus of the Indian Institute of Technology-Bombay, went on to Stanford University for his doctorate. He has been in charge of the company's technical strategy as well as directing machine learning and AI across the board as CTO. He has spearheaded efforts to scale Twitter Ads infrastructure and re-accelerate user growth by increasing home timeline relevance since joining Twitter in 2011. Agrawal worked on large-scale data management research with collaborators at Microsoft Research, Yahoo! Research, and AT&T Labs before joining Twitter.
The appointment of Agrawal comes at a time when Twitter is ardently pursuing expansion, as by the end of 2023, it expects to have 315 million monetizable daily active users and to have more than doubled its annual income. His appointment also comes at a time when the company has been chastised by investors for failing to create a new monetization product in years, which in turn promotes the 2023 plan.
Dorsey said that, "there's a lot of talk about the value of a firm being founder-led, wrote Dorsey. In the end, I believe that's a major limitation and a single point of failure".
"I have complete faith in Parag as Twitter's CEO. For the past ten years, his work has been revolutionary. His brilliance, heart, and soul leave me speechless. It's his turn to take the reins", says Dorsey.
In response to Dorsey, Parag expressed that, "I feel both honored and humbled. And I value your (Dorsey's) continuous guidance and friendship. I appreciate the service you offered, the culture, soul, and purpose you established in us, and the fact that you guided the organization through some challenging times".
This appointment was given a shout out by Elon Musk, who's often seen active on the platform tweeting, "USA benefits greatly from Indian talent!"
Soon followed by a congratulatory tweet of Stripe's Co-founder and CEO, Patrick Collison, who tweeted, "Google, Microsoft, Adobe, IBM, Palo Alto Networks, and now Twitter run by CEOs who grew up in India. Wonderful to watch the amazing success of Indians in the technology world and a good reminder of the opportunity America offers to immigrants".
That's about Twitter's story thus far, and now it's time to look into the others who have and have astonished the world with their ideas and decisions.
Sundar Pichai: The Launch of Google Chrome
Pichai, who is the CEO of Google and its parent company, Alphabet Inc., hails from Tamil Nadu and is an alumnus of the prestigious Indian Institute of Technology, Kharagpur and Stanford University, California. Pichai started the engine to his Google profession in 2004. With the exits of Larry Page and Sergey Brin, Alphabet placed Pichai as a management executive. One of his most notable successes at Google was the creation of the Google browser Chrome, which quickly surpassed existing browsers such as Internet Explorer and Firefox in popularity.
Satya Nadella: The Debut of Microsoft's Cloud Computing Services
Hyderabad born Nadella is the executive Chairman and CEO of Microsoft succeeding Steve Ballmer as CEO in 2014 and John W Thompson as Chairman in 2021. A resident of Washington, Nadella possesses an electrical engineering degree from Mangalore University, a master's degree from the University of Wisconsin, and a master's in business management from the University of Chicago. Nadella joined Microsoft in 1992 and became known for creating legendary products, eventually rising to become the Vice President of Microsoft's Cloud and Enterprise group. He is also known for making a huge impact on Windows 10, which has taken the stock price uphill.
Arvind Krishna: The Architect behind IBM's $ 34 Billion Red Hat Acquisition
Krishna joined IBM in 1990 as a business-savvy technologist and was instrumental in the company's acquisition of Red Hat. Krishna's appointment adds to a growing list of Indian-origin executives at the helm of some of the world's most powerful organizations.
Krishna is driving IBM at blazing pace to place it as a market leader in hybrid cloud and AI. Krishna has made 14 acquisitions in his 16 months as CEO, set in motion the spin-off of IBM's $19 billion Global Technology Services managed infrastructure company, and implemented the most significant transformation in IBM's go-to-market strategy in the last three decades. These pursuits reflect his ambition of making the storied computing business he adores the undisputed winner of the cloud's architectural war.
Shantanu Narayen: Global Indian of the Year 2018
Narayenn, who also hails fromHyderabad like Nadella, joined Adobe in 2005 as president and chief operating officer before being appointed to CEO two years later. Since then, he's added the position of 'chairman' to his resume. Narayen, who was selected Global Indian of the Year in 2018, was instrumental in the development of Adobe's recurring revenue cloud-based subscription model. He studied educational institutions such as Osmania University, the University of California, Berkeley, and Bowling Green State University.
Raghu Raghuram: In Pursuit of Making VMware a Global Leader in Multi-Cloud Computing
Alumni of IIT Bombay, Raghuram joined VMware's Server Business Unit in 2003, when it was a five-year-old startup, and this year became its CEO. Raghuram was the Senior Vice President and General Manager, Cloud Infrastructure and Management, Virtualization and Cloud Platforms, and Enterprise Products. Raghuram eventually rose through the ranks to become the company's Executive Vice President. He possesses in-depth understanding of VMware, both in products and innovation, as well as its culture. Raghuram has played a key part in the company's acquisition and merger strategy. His crucial presence also contributed to the development of strategic alliances with Dell Technologies, hyperscalers, and other strategic partners.