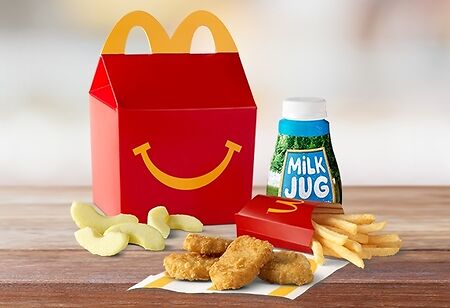 McDonalds' Happy Meal has been out there for as long as one can remember, especially the iconic television advertisements advertising the kind of toys the fast food chain was bringing each season. Even the grownups were fans of the meal for reasons entailing its choice of dishes or the toys like 'Star Trek' figurines which could be collected only when the consumer completed their order of prescribed set of meals.
Today, as a part of completing its #25ActsofHappy campaign in India, McDonalds has teamed up with packaged consumer goods company ITC Ltd., to add a fruit treat in its Happy Meal. Now the latter's B Natural range of mixed fruit beverage is added to its combo of McAloo or McEgg Happy Meal burger along with a cup of hot corn and is distributed across west and south India. This Deepawali, the fast food chain introduced Memory Bites adding extra cheer to the festive season.
As customers share their fondest memories, McDonalds is turning these memories into delicious treats. All it takes is sharing those fond memories from McDonalds tagging the fast food chain on social media and a sweet delicious surprise gets sent to the customers' inboxes.
Commenting on the campaign, Arvind R P, Director of Marketing and Communications, McDonalds India expressed that, "we hope to please our consumers throughout the year with the 25 Acts of Happy. We're kicking off the festivities with Memory Bites, but there will be plenty more throughout the year".
But this is just one of many initiatives the fast food chain has done to not only keep its young diners entertained but to promote a healthy dining experience as well. Below are some of the initiatives that show how McDonalds has worked to keep its young diners interested.
Toys was the Key to Children's Hearts
Way back in 1979, before Happy Meal was introduced, McDonalds had an initiative called 'Treat of the Week' that offered toys every week on request by their young diners. The Happy Meal took form when Yolanda Fernanández de Cofino, the spouse of José Cofino, owner of all the McDonald's franchises in Guatemala created a signature meal package consisting of a hamburger, small fries and sundae in what was called 'Menu Ronald'. Then a man named Robert 'Bob' Bernstein, inspired by his son's interaction with puzzles and games on breakfast cereal boxes, created boxes for the Happy Meal that also carried the same. In fact, he is the first to think of placing toys in the Happy Meal. Little did they see it coming that this would be converted into an everlasting kid favourite initiative cherished to this date only to go by the name, Happy Meal.
To carry on keeping its young diners thrilled with its Happy Meal, the fast food chain went on to collaborate with films, TV shows, toy companies and more.
The Alliance with Star Trek
This was the first Happy Meal promotion in 1979 when McDonalds collaborated with motion picture. Comics and games were promised to kids buying a Happy Meal, but are requested to complete a quest to get those goodies and this was basically about completing a set of Happy Meals.
Old McDonald Had a Chicken Nugget Farm
Back in the 1980s red meat was off menu in the US, to counter this problem; McDonalds introduced the Chicken McNugget that became an instant favourite to the palates of many. But it wasn't until 1983 that the fast food chain began serving these nuggets globally and one could say McDonalds set the path to chicken nuggets that are still the most preferred snack among many served in today's fast food restaurants.
Enter Disney
Fastforwarding to 1987, McDonalds upgraded its Happy Meal toys on the next level by hopping on the land of Disney to bring its characters to its franchise. Mickey Mouse, Simba, Mowgli, Aladdin and every popular Disney character that McDonalds could grab on, presented it in its Happy Meal. This was a hit, but an even greater hit was when McDonalds brought in a miniature version of the Teeny Beenie Babies.
Teenie Beanie Babies Take Over the McDonalds Land
Surely there were popular characters, but the world lost it when the fast food chain decided to give them a miniature version of Ty's classic Teenie Beanie Babies starting in 1997. This became even more popular collectable among young diners that the craze went on for a decade.
Time to Cut the Fat
As the voices of parents complaining how McDonalds should consider the health aspects in its Happy Meal grew louder. Since the 2000s became a period when obesity struck children, McDonalds had it hard as it not only dealt with parents' complaints but lawsuits were also filed.
Its Happy Meal was said to be high in calorie count and fat content and it bounced back in 2004 enabling an option that consisted of reduced fat in chocolate milk, apple juice took over soda while apple slices took over the cookies for dessert. The fast food chain even went on to print health facts on every Happy Meal.
Happy Meal to Go Digital
As it plans to keep the calories in check including added sugar, sodium and saturated fat, it also plans to drop out on its cheese burgers.
As for the toys, McDonalds has plans to take the digital route by allowing kids to access games, quizzes, and other digital entertainment by scanning QR codes with their McPlay mobile app, which was released in 2013. As more and more children obtain their own phones and tablets, the little physical toy may become out-dated. Speaking of toys, McDonalds has decided to offer sustainable toys to reduce the plastic in its Happy Meal by 2025.
Sustainable Toys to Counter Environmental Issues
In response to the climate change to protect the environment, McDonalds has already started to cut down on virgin fossil fuel based plastic toys. It intends to achieve 90 percent of the amount of virgin fossil fuel based plastic it used in toys in 2018.
Some toys, such as board game components, will be produced from recycled or plant-based materials. Others will see more dramatic transformations in their appearance. Instead of plastic miniatures, superheroes and movie characters will be 3-D cut-outs. It is also considering moving away from plastic packaging and toward plant-based, certified fiber packaging.
Within its restaurants, the fast-food chain is also searching ways to recycle the outdated plastic Happy Meal toys. Plastic from its locations in the UK and Japan, for example, has been utilized for playgrounds and restaurant trays.