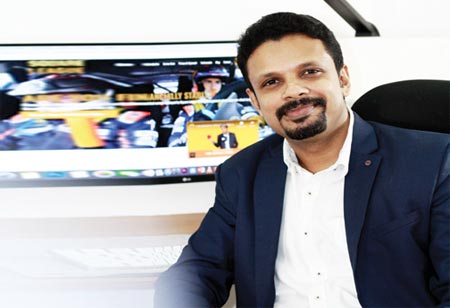 Thomas Verghese, Founder, Square League, 0
In tandem with the ongoing paradigm shifts in technology, policies, environment, society and many other factors, the financial advisory as well as wealth management firms are striving to offer more personalized and holistic services to their clients. While managing their day-to-day finances is a must thing to do, preserving existing wealth and accumulating even more is also imperative for individuals and businesses today.
It is here Cochin-based Square League has been leading the league as a world-class financial advisory and wealth management platform, offering customized plans and one-stop solutions to its clients since its establishment in 2017. Absorbing the superlative interests of all its stakeholders, the firm manages the private finances and wealth of its clients, while they focus on their core business.
In a span of just three years, it has successfully served 300+ clients through flexible plans and solutions, 100 percent digitization, technology partnerships, Financial Stability Index (FSI) methodology, and innovative story telling. FSI is a trademark concept developed by Thomas Verghese (Founder, Square League), which reveals the stability of a person financially akin to Body Mass Index (BMI) that tests a per-son's health.
At Square League, clients are presented with a wide spectrum of strategic and state-of-the-art financial advisory & wealth management solutions. The company's portfolio of services under these verticals includes Stock, Wealth Management, Family Office, and Retirement Planning. Being adept and independent financial advisors and ex-bankers, its team stands at the forefront to provide unbiased advice and best services to all the clients. More-over, they also hold the flexibility to access financial products from a variety of companies and platform providers, thereby bestowing clients with several options to choose from.
The product pick at Square League is oriented on the output of the research through its research wing, which is unique in the financial advisory market. This wing comprises of data collection of near future events in the Indian as well as global markets, individual debt paper analysis, g-sec, daily rupee update, top-down analysis on equity, sector-specific analysis on equity mutual funds, duration & rating-based analysis of debt mutual funds, quarterly results based data, and other elements.
Intricate Process & Approach
Thomas asserts, "We follow a stringent process entailing need analysis, portfolio evaluation, monitoring the recommendation, and frequent industry updates, while offering services to our clients". Need analysis or financial need analysis is the first step, wherein Square League's team of ace financial experts deter-mines the present state of clients' finances and future financial requirements as well as frames the risk appetite. Following this is the portfolio evaluation step where the returns procured on each asset class are compared with the individual investment profile.
The last steps are monitoring the recommendation wherein clients' portfolio holdings are studied as per the market trends on a monthly basis, and also frequent updates, views and reviews are provided to them. Most importantly, Square League advises clients to sign a non-disclosure agreement ensuring that their data is kept safe.
So far, Square League takes pride in acquiring a swarm of success stories, testimonials and most importantly, the utmost satisfaction of its clients. Here is an interesting case study where Thomas relished the best of work satisfaction in his entrepreneurial journey.
One of Thomas' clients approached him to manage his total wealth and conduct proper estate planning for him as well as his family during his last days. Hence, the team of financial experts at the company ensured that his whole family was held with all his financial and non-financial assets, including small investments such as club memberships.
Post successful completion of the work, Thomas was overwhelmed by the fact that the client was extremely grateful to him for his works while realizing the difference he and his team etched in the client's life as well as his family's.
The Journey
Square League is the brainchild of Thomas, who is an ex-banker with 10 years of experience in banking and asset management. He kick-started his career with ICICI Bank at Chennai as Relationship Manager for third-party products, followed by a stint at a small enterprises group in a regional office. Later, he worked as a cluster wealth manager over-seeing third-party revenue of six branches, and then at HSBC Bank handling HNI relationships. It was here he learnt and mastered the science of financial planning. His next stint was at ASBL Asset Management Company, where he studied in detail about the equity markets and also asset management industry.
We follow a stringent process entailing need analysis, portfolio evaluation, monitoring the recommendation, and frequent industry updates, while offering services
At some point of his career, Thomas realized that there were a lot of things he could pursue to add value to clients by creating his own brand in the financial advisory and wealth management space. Hence, by deploying his long-standing experiences, he laid the foundation for Square League in 2017. Moreover, he also established a strong system for clients, which encompasses re-search system, client management process, financial planning process, and innovation.
He adds, "Despite facing multiple challenges such as building a brand from the scratch, creating a system from nothing and acquiring best talents, we soared high as a process oriented firm that currently on boards any client through a stringent process".
Thomas believes in pure long term value investing and loves to identify future opportunities for clients. That could be many investment structures, and that's where Square League specializes. Thomas believes that each and every client the firm acquires is a life-long relationship and the oldest client Square League has been personally associated with is for more than eight years. "We believe wealth management is not about advising a product like mutual funds.
Mutual funds are only one vehicle or an instrument to investment, while wealth management is a much broader concept. We believe this business is not target or sales oriented because of two reasons and none of our people work on sales number; we purely work on goal addition. We do this out of pure passion and have set goals in adding value to our client, and hence expect business to grow multifold like com-pounding," adds Thomas.
For the years to come, Square League foresees huge opportunities in the areas of financial planning, family office and financial advisory, and hence is all geared-up to leverage the best of those opportunities.
Thomas Verghese, Founder
An ex-banker and well-experienced business leader, Thomas stands the forefront of Square League to ardently mould it into of the finest financial advisory and wealth management platforms in India in terms of ethics and quality of advice.
Quick Facts:
• Office: Cochin
• Services: Stock, Wealth Management, Family Office & Retirement Planning