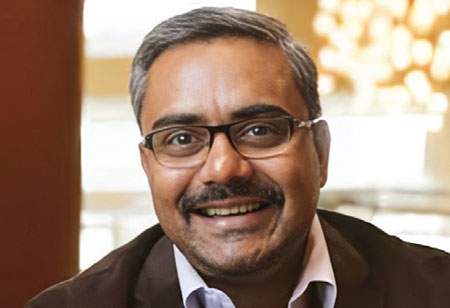 Sridhar Krishnamurthy, Head of Data Analytics and Engineering, Brillio , 0
1.What are the mainstream digital technologies you have engineered? How have you put forward the technologies of digital enhancement?
From an industry wide perspective, digital transformation is a crucial focus for companies to capitalize on technological disruptions and benefit their customers. Key digital technologies, such as Cloud, AI, IoT, and Mobile, are pivotal in driving innovation and creating new opportunities for enterprises worldwide.
Companies should prioritize collaboration with clients, establishing digital innovation labs, and experimenting with cutting-edge technologies like Metaverse, Block chain, Deep Learning, Edge Computing, and 5G. This approach facilitates the mainstream adoption of these innovations and keeps businesses at the forefront of the industry.
Promoting a culture of experimentation and investing in workforce capabilities through training programs and certifications foster innovation and keep organizations competitive. Organizing employees into communities of interest encourages cross-learning and the sharing of best practices, propelling the spirit of innovation within the company.
Understanding customers and their evolving expectations is paramount for successful digital transformation. Employing methodologies like Design Thinking helps gain deeper insights into customer needs and unlocks business value. Combining design and engineering to deliver relevant products and solutions is essential, with AI-powered solutions offering increased agility and speed in development and delivery. By embracing these strategies, companies can stay ahead and remain relevant in the ever-evolving digital landscape.
2. How is agile methodology helping digital technologies?
Agile focuses on iterative and frequent delivery of useful product features, incorporating client feedback. In the realm of digital transformation, where businesses face dynamic landscapes and changing customer expectations, agility is essential. Traditional execution methods can't meet the demand for rapid results and adaptability.
Agile methodologies enable organizations to break free from the constraints of scope, cost, and time, allowing them to evolve with the evolving technology landscape and consumer patterns. It fosters a mindset shift among developers, business analysts, and product owners, prioritizing better and promoting continuous improvement.
Agile has become the go-to delivery methodology for software products due to its disciplined approach and adaptability. Today, agile philosophy plays a pivotal role across the entire digital technology value chain. From crafting visions aligned with agile principles to engineering high performance systems and continuous product management, agile is integral to achieving success.
At Brillio, we are committed to driving the benefits of agile for our clients. We have integrated agile into our engagement models and work philosophy and invested in Intellectual Property like "BrillioOne. ai." This platform combines Agile, Frameworks, Methodologies, and Accelerators to bring the true essence of agility to life.
3.State the foremost digital technologies for business transformation.
All digital technologies today are focused on helping businesses deliver products, solutions, and services better while reaching out to newer segments of customers. In the current macro-economic climate,
customer experience, resilience, scalability, and cost continue to be the primary drivers for digital business transformation. To drive impact across these dimensions

•Cloud Technologies have emerged to be the most potent transformation force for enterprises. Moving to the cloud not only massively reduces the cost of operations, but also presents the opportunity to innovate with business models that can be scaled to demand instantly and ensure business continuity. Hybrid and MultiCloud approaches are being adopted by many enterprises.
•The evolution and convergence of Decision Sciences, Machine Learning, and Advanced AI are making a significant push towards industrialization of Artificial Intelligence & Business Intelligence from PoCs to full scale production. The pervasiveness and adoption of AI across enterprise is enabling unimaginable productivity gains, cost reductions and laying the foundations for new capabilities.

4.So, can you tell me what is the future of digital technology?
There is a drastic shift in customer behavior due to changes in demographics over the next decade as hyper connected, tech-savvy, digitally aware and digital native millennials and Gen Z will account for a significant portion of the working population. This would significantly alter how technology is consumed and therefore the approach towards designing the products and solutions will also change over time.

As 5G connectivity becomes mainstream, as the lines between physical and virtual continue to blur with the advent of the Metaverse, as AI becomes even more impactful, we can certainly expect digital technology led business to take center stage with newer business models, intelligent products and exceptional customer experiences.

We should also expect digital technology to alter the socio cultural fabric which would call for considerable focus on concerns regarding privacy, security and the responsible use of data and AI. Safe guarding the organization against cyberattacks and data theft will continue to be an important focus area for organizations.

5.What are the revenue strategies you have implemented for impeccable digital Technology business?
Our philosophy of driving value for our clients is anchored around two guiding principles an unwavering focus on customer success and aligning commercial strategies with client's vision.

We partner with our clients to solve new age challenges & are committed to offering the required flexibilities that make such collaboration possible. This may require a range of hybrid revenue strategies including Managed Services where we own the end to-end management with commitment of outcomes, Co-Ownership through joint partnerships and collaborative models for co-developing solutions and results, or consulting models where we own the achievement of specified business objectives.

We trust our prowess in delivering industry leading digital transformation, which empowers us to engage in open and incremental delivery, beginning with only a high level view of the product and ascertaining the details as the product evolves and accordingly rally the state-of-the-art technology, expertise and experience that exceed expectations.

Sridhar Krishnamurthy, Global Head - Data Analytics & Engineering, Brillio
An accomplished international digital executive, proficient in P&L management and leading transformative initiatives across Technology and Business sectors. Demonstrated expertise in establishing, reshaping, and expanding digital enterprises in diverse industries and regions, encompassing the US, Europe, India, and Asia Pacific. Holds an M.Tech degree from Birla Institute of Technology & Science, Pilani in 1998.

Below is an excerpt of the interview by Sridhar Krishna murthy Global Head - Data Analytics & Engineering, Brillio who shares key insights about data analytics with CEO Insights. Sridhar is a seasoned digital executive possessing experience in transforming digital business across industries globally.