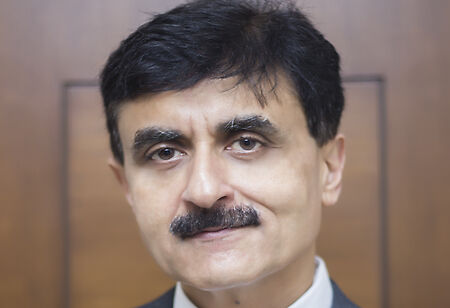 Amit Chopra, Managing Director, India and South Asia, Thermo Fisher Scientific, 0
Below is an excerpt of the interview by Amit Chopra, Managing Director, India and South Asia, Thermo Fisher Scientific, who takes CEO Insights into the country's emerging healthcare landscape. Amit hails from strong professional experiences across P&L, commercial, manufacturing, M&A and innovation management in India and Asia Pacific, in technology intensive businesses.
India is expected to make significant investments towards building state-of-the-art healthcare infrastructure
India is forecasted to be one of the fastest-growing economies this year and is anticipated to increase its GDP by 3x from the current USD 3 trillion to $ 9 trillion by 2030, according the Confederation of Indian Industry (CII). Technological advancements and enabling policies among other factors have given a boost to the Indian healthcare industry and is positively impacting economic growth.
Also, during the pandemic, for the first time, the government's budgeted expenditure on the health sector reached 2.1 percent of GDP, against 1.3 percent in the previous fiscal year. The government's efforts on ensuring 'Health for All' is opening opportunities to strengthen the healthcare infrastructure and bridge the gap in the healthcare delivery system. Collaborative efforts of the government, industry and academia will provide further impetus to the sector.
I would like to share some emerging themes in technology and policy that will drive future growth:
Emergence of Molecular Diagnostics and Next-Generation Sequencing:
Molecular diagnostics, which involves analyzing the DNA/RNA for the emergence of a specific infection, has witnessed rapid development in the last decade. RT-PCR tests, once considered a niche technology, have become a household name. The Indian molecular diagnostics market is projected to grow at a CAGR of around 10 percent till FY 2026, with a rise in the infectious diseases. Furthermore, the government's initiative to increase healthcare funding to improve the country's molecular diagnostics capabilities will also have a positive impact on the market in the coming years.
Next-Generation Sequencing:
NGS is another transformative area that is being adopted in clinical oncology to help advance personalized treatment for various cancers and other diseases. NGS allows clinicians to test many genes of cancer simultaneously and identifying rare cancer mutations, among other applications. With India's cancer burden set to rise to 29.8 million in 2025 from 26.7 million in 2021, NGS will play a crucial role in providing information for prioritizing interventions that can be tailored to a patient's particular cancer.
Precision Medicine:
While there has been a leap in the advancements in medicine, drug efficacy remains an area that needs addressal. India is in the early stages of adoption of precision medicine or personalized medicine which is bound to move the needle from a one size fits all approach to a more targeted approach to patient care. A wider adoption of precision medicine will usher in a new era for healthcare, where decisions are made based on an individual's clinical, molecular and lifestyle information. Precision oncology is forecasted to accelerate targeted therapy treatment and improve patient outcomes.
Preventive Diagnostics:
Traditionally focusing on curative care, Indians have now realized the critical role played by preventive healthcare in maintaining the quality of life. Seventy percent of treatment decisions are based on lab results, a fact that necessitates the need for providing affordable, accessible diagnostic facilities.
Another key factor driving this sector is the rise in the lifestyle diseases and the willingness to spend more on healthcare, which has led to greater awareness to sustain and prolong wellness.
Digitization and Data Analytics in Healthcare:
Data science and digital tools such as Artificial Intelligence and Machine Learning, in an enabling ecosystem, are creating cutting-edge transformation in the industry. In fact, big data analytics is expected to grow faster in healthcare than other industries. Clinical experts now rely on customer-centric digital solutions to enhance patient outcomes.
Make in India:
Even today, 80 percent of the medical equipment is imported. However, with the government introducing enabling policies that encourage and strengthen indigenous capabilities, this scenario is likely to change soon.
Thermo Fisher has been at the forefront in the fight against COVID-19; from developing one of the first COVID-19 RT-PCR detection solutions to partnering in vaccine making
The country has already demonstrated its Make in India capabilities in the field of vaccine development and manufacturing. Various Indian and global biopharmaceutical companies are now including vaccines as a part of the product portfolio and have created an overall infrastructure to meet the needs of India as well as globally. In fact, India already meets more than 50 percent of the global demand for vaccines. By 2026, India's vaccine industry is anticipated to grow to $ 4 billion from the current $ 2 billion.
India is also the world's largest provider of generic medicines by volume and has the highest number of biosimilar products approved globally.
Competitive Federalism between States:
Competitive federalism and the Public Private Partnerships focus are enabling rapid growth of start-ups and accelerating investments in the biotech sector. The country has rapidly emerging Dept. of Biotechnology supported biotech parks in Bengaluru and Hyderabad and aims to be a USD 150 bn biomanufacturing hub globally.
Collaborative Eco-System across Industries:
As India ushers in the era of digitization, it is imperative that there is collaboration across private and public industries, including research and government, to enable more innovation and accelerate development of technologies. In doing so, we are enabling an ecosystem that will advance research and create a more broadly skilled workforce. Research parks are being set-up by premier institutes in India and are being equipped with end-to-end workflows by leading companies.
Thermo Fisher Scientific is playing an enabling role in providing an impetus to the Indian healthcare industry
Thermo Fisher Scientific Inc. is a world leader in serving science, with annual revenue of approximately $40 billion. Our Mission is to enable our customers to make the world healthier, cleaner and safer. Whether our customers are accelerating life sciences research, solving complex analytical challenges, increasing productivity in their laboratories, improving patient health through diagnostics or the development and manufacture of life-changing therapies, we are here to support them.
Our technologies, products and services help customers around the globe in laboratories and clinics, on production lines and out in the field. Thermo Fisher has been at the forefront in the fight against COVID-19; from developing one of the first COVID-19 RT-PCR detection solutions to partnering in vaccine making.
Further, Thermo Fisher Scientific is making strategic investments in the areas of precision medicine for oncology, cell and gene therapy, companion diagnostics, liquid biopsy, direct-to-consumer, and more through product introductions, partnerships, and facility expansions.