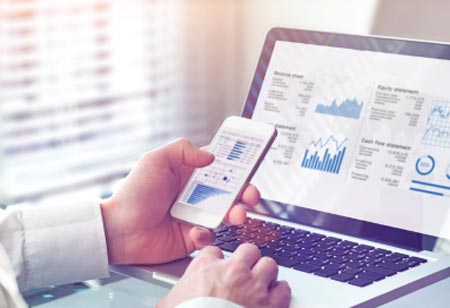 Md. Sajid Khan, Head of International Development, ACCA, 0
With 14+ years of experience as the Head of International Development at ACCA, Md. Sajid Khan has extravaganza of skills in business development, financial analysis, business planning, risk management, corporate finance, and auditing. Every skill of his is implemented for the development of ACCA's invaluable growth.
'Going digital' means integrating digital technology into all spaces of a business. Basically, it pertains to changing how seamlessly a business operates and delivers value to its consumers. It is also a cultural shift that entails organisations to recurrently contest their status quo, experiment, and be prepared to handle risks and opportunities. As rightly put in the words of George Westerman - "When digital transformation is done right, it's like a caterpillar turning into a butterfly, but when done wrong, all you have is a really fast caterpillar."
Today, a digital makeover is mandatory for all businesses - from a small company to an enterprise. This is evident from any latest literature, discussion, or research related to how businesses can remain competitive and relevant as the world becomes increasingly digital. So is the case with accountants and finance professionals.
As COVID- 19 coerces organisations to impose mandatory work from home policies, the trend of working online from afar is experiencing a decisive boost. We have entered the age for the digital metamorphosis of the workplace where it is not merely the physical space. The COVID- 19 has changed the way we communicate and collaborate with employees; our workplaces have rapidly changed and evolving every day. After all, it is a matter of survival. In the time of big data, digital technologies, such as robotic process automation (RPA), artificial intelligence (AI) and predictive analytics, it means that the finance function can progressively add business value through better accuracy, proficiency and calculated insights. To hold on to these prospects, accountants need the precise mix of digital acumen and business intelligence. These advanced work models will hasten the move towards digitisation and endorse careers that are cerebrally broadening and propelled by an improved sense of purpose.
Scanning the Digital Landscape
It is now a fact that technology has changed the role of accountants and finance professionals. Being pre-emptive about refining one's skill set and mindset can prepare accountants to create a new role based on their strengths as an accountant and the tasks that motivate them. According to the Meaningful work for the digital professional, a report by ACCA (the Association of Chartered Certified Accountants) and EY based on a global survey, the future of work for accountancy and finance professionals is only going to get better owing to an increase in the adoption of digital technologies. To ascertain what creates significant work for the accountants in this digital world, it is vital to inspect how finance professionals engage with technology and not just focus on what it does.
Accountancy and finance professionals must understand the technology relating to delivery models for their services, changing consumer demands and needs, technological guidelines as well as ethics and the public interest. While technology might seem striking from a product development standpoint - it solves a problem - it may be unbecoming when it comes to other aspects mentioned above.
The ACCA & EY report, based on 4,281 respondents and 55 interviews, shows that there is room to increase levels of digital adoption. Universally, community technologies (55%) such as social media and messaging saw the highest adoption rates followed by 'next-generation' computing (Cloud, Server-less, Edge) at 36% and data technologies (big data, analytics, visualisation) at 30%. The major gaps in adoption rates between leaders and the rest of respondents were within the data technologies category. By the next few years, respondents expect engagement with digital and technology to approach 90%.
It is now a fact that technology has changed the role of accountants and finance professionals
Digital transformation has moved the attention of the accounting and finance firms at every level. There is a greater emphasis on process optimisation and handling exemptions because the data coming in is being synthesised through automation. Less time is being spent on building reports so the results can be analysed more meticulously, and accountants and finance professionals can focus more on advising the businesses. The main thing is that accountants will be able to focus more on creating value making them feel more appreciated, engaged, and content.
The blueprint for the finance professionals starts with constant skimming of the digital backdrop that goes past comprehending how an individual technology works. This provides a basis for understanding the purpose and for reflecting profoundly on why it is important to embrace technology and work with developing components of digital skills.
Once there is transparency on this, accountants need to assess strategic fit with the organisation and to set a tone that supports learning and development. This includes looking beyond instant deliverables and understanding how the work fits into the overall picture, for example, the value created for stakeholders and career paths in sync with the agenda of those stakeholders.
Role of the professional
The disruption by technology has been steered by the accountancy profession through business cycles for a long time now and this will continue – indeed, over the years, the profession has been something of an early tech adopter. The COVID-19 pandemic has, actually, augmented digital adoption in areas such as e-commerce (for reaching clients) and remote working (for reaching staff) that relay directly to upholding operations.
Additionally, accountants will need to partner efficiently with other professionals and specialists like data engineers or cybersecurity specialists. Given the specific nature of technology and the briskness of technological change, this will be crucial as it is not possible to obtain a deep knowledge of everything. So, it is imperative to consider whether the organisation model permits access to multidisciplinary proficiencies in a swift, smooth manner.
Jeff Bezos said, "There is no alternative to digital transformation. Visionary companies will carve out new strategic options for themselves — those that don't adapt, will fail." True to this, while a fast-changing and increasingly systematising world presents challenges, for those eager to get involved, there are always chances of gains. The digital backdrop presents substantial prospects for accountancy and finance professionals to accomplish significant work experiences – ones that are compelled by tenacity and which have the prospective to expand in new and gratifying ways.