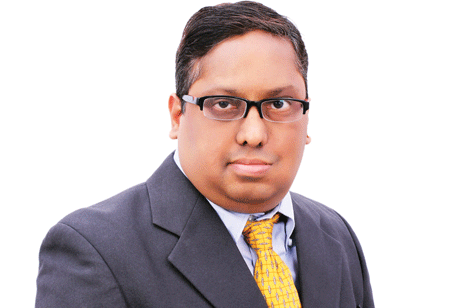 Girish Managoli, Chief Architect, Mindtree, 0
Holding a Bachelors degree in Electronics & Communication from National Institute of Engineering, Girish has been associated with Mindtree for over 19 years now, prior to which he held the role of Senior Engineer at Siemens.
Traditionally, we have seen business models where value is created by one party and consumed by their customers. This is set to change where a business creates an ecosystem to connect value creators and consumers. Think, YouTube or Uber. YouTube is the largest media house today that doesn't create its own content. Uber is a large transport company that owns no cars.
I classify the platforms into six types:
•Transaction Platforms:
Platforms that focus largely on connecting producers and consumers backed by modest technology background. Uber and Lyft connect drivers with riders and Airbnb connects homestays with travelers.
•Retail Platforms:
These are platforms which offer stores on the Internet and connect buyers and sellers. Amazon and eBay connect sellers of anything from books to electronics to fashion to toys to buyers. Etsy does the same for an e-commerce store for aesthetic, handmade, vintage items and crafts.
•Rich Platforms:
These platforms built on heavy technology background bring significant business value. Amazon Web Services (AWS) allows companies to do their 'business as usual' without worrying about down-time and scale. Android and iOS are the other platforms that let the organizations run their business apps on them or small time developer build a game and make money of it.
•Value Plus Platforms:
Then there are platforms which have raised above the mundane producer-consumer connect and have found ways to offer higher business value. Wonolo lets us find skilled and semi-skilled workforce to meet our staffing needs. Upwork let us find professionals and hiring agents with businesses to meet their talent needs.
•Crowd* Platforms:
Crowd* is using and harnessing collective intelligence of people around us. Amazon Mechanical Turk is crowd sourcing market place that lets the individuals and businesses to outsource their business problems to a distributed workforce. Kickstarter is a crowfunding platform and Kaggle is online data science community that lets anyone find machine learning solutions for their business problems.
•Social Platforms:
(Social here pertains to societal platform business that caters to upliftment of society.) The platform model is applicable well to the betterment of the society around us at large. Land Lease Exchange lets to use your vacant land for agricultural purpose. 'I Got' is the mother of Sustainable Digital Platforms. One among them is igotgarbage.com end-to-end waste management platform for meaningful livelihood of waste pickers and fewer landfills.
There are more examples Wikipedia, Quora, LinkedIn, Google, Facebook, Alibaba, Instagram, WhatsApp, Pinterest, Booking.com, Klöckner, BlaBlaCar, Twitter, GitHub, Zipcar, InnoCentive, ZocDoc and more. On the Indian side are Flipkart, Door2Door, Swiggy, Ola and many.
Platform Businesses are Disruptive
There was a mammoth called Nokia that made the best-selling mobile phones till late 1990s. Nokia produced innovative phones running on its Symbian OS that captured the imagination of the youth. However, Nokia's was a closed platform. Ever heard of Nokia apps? Likely, you wouldn't have. Came iOS and Android with their
platform architecture and app economy. In 2017, iOS stood high with $17 billion, followed by Android at $9 billion (from their respective app stores alone, whereas Nokia (through their phone business hmd) garnered $2 billion. BlackBerry, once the pride of CXOs, has similar story. Blockbuster vs. Netflix is another tale to tell.
Amazon Web Services(AWS)allows companies to do their 'business as usual' without worrying about down-time and scale
Platform businesses are economically rewarding
To compare, BMW is in existence since 1916 with 130,000 employees and has a market cap of $51B, while the new age 'car company' Uber started in 2009 has 16,000 employees with $76B market cap. Guess which is platform business? Here's another: Marriott and Airbnb have comparable market cap (about $38 billion) with the former having 177,000 employees and latter 10,000 employees. Again, no prices for guessing platform business. These are 2018 figures. The total platform companies market cap is estimated to be over $4 trillion. This was in 2015 and is expected to grow to $60T by 2025.
What defines a platform?
•Low Employee Per Revenue:
Platforms are driven by low employees on board. They do not need to be manpower driven. They know how to add value and build business with resources pulled from elsewhere. Uber earns about $0.5 million per employee worldwide.
•Ecosystem & Not Products:
A platform company does not make or sell its own products. It focuses on creating an ecosystem of sellers and buyers. Amazon's nearly two million active sellers sold over $100 billion worth of products in 2017.
•Network Effects:
Platform economy thrives by number of users. A good example is telephone network. One user on the network has value zero because they need someone to make a call two users have value one as they can call only each other 1000 users? value 499,500(n*n-1/2). Thus value of the platform network grows exponentially with users.
•Value Created Elsewhere:
In a platform, value is not created at the platform provider alone. Value is created at every touchpoint in the platform. Sure, kickstarter takes a percent for funding every idea earns, but the ideators get the funding (minus kickstarter fee) to make their idea a reality. Pebble smartwatch garnered over $20 million as the most successful Kickstarter campaign till date in 2018.
•Technology is Not Mandatory:
Surprise! Platform doesn't need the coolest technology to be a success. All you need is identify the problem and solve with the technology you have in your hand. Airbnb's frontend and backend would be laughably rudimentary for the business of its size.
•Innovation:
What is mandatory is innovation. The ability to identify the gap that is not apparent today, the one people didn't think they were missing, yet they would not be able to live without the gap filled. Google saw the gap to build an open, convenient and practical Android as a successful mobile platform obliterating the then incumbent.
How to build your platform?
•Identify the gap that exists today but not apparent
•Don't focus on building products, see how to build value
•Innovation is mandatory, but not technology
•Build a network and carry everyone along on the success path
•Funding is incidental do more with less Digital platforms are made with software, hardware, operations, networks and innovation. Platforms are the new gold rush. Seek forth and ye shall prosper!
Bonus
Here is a platform idea you could make a business out of School children enrichment platform. Build a platform that children from public school can connect with knowledgeable people with time on their hands to learn and boost their skills.