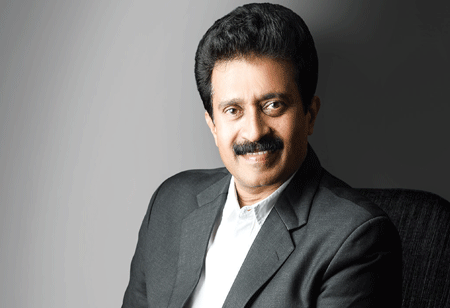 Bantwal Ramesh Baliga, CEO
As the living standards of an increasing number of Indians are improving, the flourishing bathroom accessories market in India is expected to reach $10,480 million by 2023. Today's welltravelled people are aware of the dizzying array of choices available in the bath accessories segment and are exacting in their expectations. This new-age consumers' quest for quality, exclusive style & design, ecofriendliness and after sales service has not only accelerated the sales of branded bath accessories in the domestic segment, but has also enforced the hospitality & tourism industry to up the ante and procure glamourous accessories from the organized sector. However, due to the cost barrier, these varieties have been limited to just the highincome group.
Determined to make a difference, Watertec India one of the biggest manufacturers of bath fittings & plumbing in India, offers premium quality products at affordable prices, thereby lowering the barrier to entry and get everyone started on the path of stylish high calibre products. Providing 360 degree unique solutions for bathrooms, plumbing and drainage systems, and this Coimbatore based company is recognized as a market leader in India, SAARC countries and South East Asia, "Watertec is synonymous with excellence in quality standards and achieving customer satisfaction to the hilt. All of our products undergo stringent manufacturing procedure assuring high durability," remarks Bantwal Ramesh Baliga, CEO, Watertec.
The company was incepted in 1997 as a Joint Venture company between Coimbatore headquartered UMS Group, Watertec Malaysia and Sri Lanka based South Asian Investment, with a mission to revolutionize the bath spaces in India and the world beyond. Over the years, the company has built its brand with utmost care and successfully established quality as its hallmark. Today, this ISO 9001-2015 certified company delivers more than 25 million bath fittings annually produced in its vast 700,000sq. manufacturing facility equipped with state-of-the-art machinery, permitting high degree of automation.
Watertec outclasses the competition with the astonishing aesthetics of its products, which are available in compelling designs and array of colours suitable for urban, rural, residential, commercial or hotel complexes. "The designing and detailing of a bathroom become an art with Watertec products. Our inspiring range of faucet and polymer & stainless steel supplies creates an ambience that exceeds imagination," affirms Baliga. Its sanitary ware products are designed with antibacteria repellents, which offer unique antibacteria properties, therefore ensure complete protection and hygiene. While the aerated flow technology in its faucets ensure a uniform flow of water, its modern cartridges ascertain a smooth movement of faucets. As a cherry on top, its efficient & ecofriendly shower heads conserve water, thus contributing to a better environment as well.
"We have charted out a business plan for next five years that would position us as one of the top total plumbing solution providers to all the segments of the society"
Geared up for Industry 4.0
Ramesh Beluga's postgraduation degree in mechanical engineering bestowed him with a deep understanding of the bath fittings domain. He further gathered immense expertise over two decades at giant organizations including Jaquar and Villeroy & Boch (as its Director and Country Head). This strong ground & practical industry expertise enabled Ramesh Baliga to develop Watertec into a new generation company designing innovative products at affordable prices, which stand for the basic principal of water saving. Moreover, he fortified Watertec's foundation by leveraging his retail, channel sales and institutional contacts. Endeavouring to create a very strong base for Watertec, Ramesh Baliga has developed a new technology plant for the company, which has three fully automated machineries working in three shifts.
"Confirming to industry 4.0, we have fully automated injection molding machines equipped with fully automated robotic arms, which would give high-quality, processed and error free products without the need of too many manual operations" adjoins Ramesh Baliga. Watertec has its own quality lab, which is recognized as one of the best in the country, where a complete quality control test is conducted on each lot of products coming out of the company. All of its products go through rigorous tests like torque test, endurance test, pressure test, heat resistance test and salt spray test to ensure the highest standards in quality. Watertec is one of few companies to use NSF approved resin for its bath fittings as well as CPVC pipes & fittings. Already attained the approval of BSI, IAPMO and ESMA, its products will shortly get the certificates from UPC 1, NSF 61 and 372. The company has also approached to get WRAS approval for all of its products ranges.
A Strong Network
In addition to its 15,000 dealers and 1,700 employees, the company also has a strong network of customer service team which takes care of the pre and post maintenance of its manufactured products. Watertec overcomes the challenge of managing smaller network by assigning the smaller dealer network to the distributors, who can deliver the material for a smaller consignment within the stipulated time. Likewise, distributors entering into other territories tend to cause market disturbances in terms of product sales. To surmount this, Watertec has clearly earmarked the territory and deals the related policy violations with a firm instruction, which is widely appreciated by its customers.
The company maintains a strong association with architects, builders, designers, plumbing consultants and channel partners, which facilitates it to improve its products' visibility. On top of this, it also participates in various exhibitions and road shows across India. Watertec, in association with IPA/IPSC, has trained almost 2,000 plumbers PAN India and has conducted over 950 in shop plumber training with smaller group in the last FY. Having already built two plumbing training centres, Watertec intends to join hands with two more such training centres in North India.
Watertec is synonymous with excellence in quality standards and achieving customer satisfaction to the hilt
The company regularly conducts training programs for its employees in production, sales, HR activities and personal front via both in-house & external coaches using its customized training module. Its people have a minimum of training programs across various segments to attend in a year. It adds on to their KPI scoring, based on which they are ultimately awarded in terms of remuneration. Watertec's friendly work culture and the several HR activities it has implemented have enabled the company to maintain a very low attrition rate. It has deployed an efficient employee engagement program, wherein the CEO interacts with most of the employees directly to understand their needs, work related issue and others. Standing as a testimony to the success of these endeavours is the Best Employer in Coimbatore Award that Watertec received in 2019.
A Better Future
As water is estimated to be in acute shortage in future, Watertec is focusing more on water saving products. The company will soon be launching very innovative water saving devices at extremely affordable prices in India. These can replace even the existing faucets and would help save up to 80 percent of water. Watertec, in association with its international partner CONTI+, is all set to revolutionize the bathroom space with its disruptive water management system, which would allow its customers to maintain the bathroom on a tablet/phone.
It's this innovative spirit that has facilitated the company to consistently record an astounding 25 percent annual revenue growth since a decade. Having clocked a 27 percent growth in this financial year, Watertec has devised aggressive expansion programs to grow at the same pace. "We have enhanced our product ranges & network base and expanded into export markets to complete the business plan & achieve the set growth plans. We have charted out a business plan for next five years that would position us as one of the top total plumbing solution providers to all the segments of the society," concludes Ramesh Baliga. The company also aims to launch its own display centres nationwide to showcase its products for creating awareness amongst its end customers as well as its network, and soar to greater heights.
Key Management
Bantwal Ramesh Baliga, CEO
A Mechanical Engineering postgraduate who has held leadership positions in legendary organizations for more than two decades, Ramesh Baliga has complete expertise in plumbing, product workings and distributions. He adeptly orchestrates all the business activity of Watertec for India, SAARC & MENA countries and is guiding Watertec to new realms.
Locations:
Coimbatore(headquarter & three manufacturing units) and branches across Punjab, UP, West Bengal, Odisha, Assam, Chhattisgarh, Goa, Maharashtra, Mumbai, siliguri , Guwahati, Rajasthan, Gujarat, Kerala, Karnataka, AP, Telangana and Tamil Nadu along with sales team present in each and every tier 1,2,3 and rural markets
Watertec in Spotlight:
•Delivers more than 25 million bath fittings annually
•Providing 360-degree unique solutions for bathrooms, plumbing and drainage systems across India, SAARC countries and South East Asia
•Has a vast 700,000 sq. manufacturing facility equipped with state-of-the-art machinery
•Honoured with Asia's Greatest Brand and Leader 2018 Award by AsiaOne Magazine and URS Media at Asian Business & Social Forum 2019 for its premium Bath Fittings and Accessories
•Received Best Employer in Coimbatore Award– 2019
•Received award of excellence-2019
•Received most preferred real estate award 2019.
•Have international standards plants in Coimbatore conforming to industry 4.0