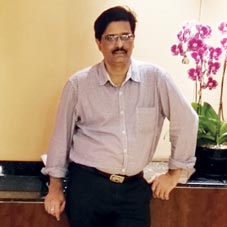 At Heritage Foods (Estd. 1992) – one of the largest private sector dairy enterprises in South India with 206 manufacturing facilities, 52 sales offices and 13 admin offices, Prabhakara wears multiple hats as an architect, leader and coach. He serves as an architect in designing accounting, costing and budgeting systems in ERP which are adaptable to evolving business trends and regulatory environments. As a coach, his aim is to coach the finance team members and ensure each one of them is a winner. Lastly as a leader, he envisions inspiring others to achieve the firm's vision ~ "Delighting every home with fresh and healthy products and empowering the farmer".
So far, Prabhakara has achieved a wide selection of awards & recognition throughout his long-standing professional journey and has gained valuable expertise in finance and it's related verticals. Delve into the following excerpts of an exclusive conversation between Prabhakara and CEO Insights to know more about his journey.
Walk us through your educational and professional background.
I'm a Science graduate from SVU, Tirupati and also held a University Rank and National Scholarship Entitlement in 1983. Post graduation, I qualified as a Chartered Accountant accredited to ICAI, semi-qualified in Cost Accountancy from the Institute of Cost Accountants of India in 1991, and completed a Certification Course in Valuation from ICAI. I'm also a proud Fellow Member of ICAI today.
Speaking of my professional journey, I've served in different positions in Finance & Accounts at Heritage Foods right from Assistant Manager, Senior Assistant Manager, Deputy Manager, Manager, Senior Manager, Deputy General Manager, General Manager, Senior General Manager, Vice President to CFO (since 2014). Throughout my tenure,
I have acted as a first-mover and have helped implement important processes such as Accounting Systems in fully-integrated ERP platform, system-driven Product Costing System (SKU-Level) for quality decision making, Budgetary Control Systems, and Internal Financial Control Systems. Besides, I've complied all relevant statutory compliances including Financial Reporting, successfully handled M&As, maintained low working capital cycles, high ROCE in dairy space, ensured timely payment to farmers, and also managed debt with nil overdue, low debt/equity ratio and low debt capital cost.
I take pride in successful implementing Accounting Systems in fully-integrated ERP platform, system-driven Product Costing System (SKU-Level) for quality decision making, Budgetary Control Systems, and Internal Financial Control Systems
Brief us on some of the challenges and lessons you have experienced so far.
Initially, challenges that I faced included working with legacy disintegrated data management systems, long working hours, lack of efficient communication systems, no proper delegation/prioritization of work, deployment of spreadsheets for preparation of financial statements, and huge time spent in reconciliation of account balances and consolidation of data from multiple locations. On the other hand, the lessons I learnt entail proper delegation/prioritization of activities can achieve targets ahead of timelines, deploying adaptive systems, importance of cash flow statement than balance sheet and P&L, understanding business dynamics and choosing right KPIs while developing decision support systems.
I've realized that organizations ought to utilize latest technologies for quality decision making, align mindsets of employees and other stakeholders, and maintain good investor relations. Some of the most imperative aspects to achieve growth in any company are operating margins, free cash flow and its growth, time value of money, optimum utilization of capital, maintaining capital costs, transparency, good governance practices, and protecting core values. Moreover, the finance personnel must stay updated, plan in advance, and must be able to strike a balance between supporting business growth and implementing control and compliance.
What are your contributions as a CFO to Heritage Foods?
I've contributed my share in
strategic decision making for designing and innovating each element in the business model of Heritage Foods ranging from value proposition, segmentation of customers, maintaining customer relations, implementing diverse channels to reach customers, deciding on key activities to serve customers, setting up of manufacturing facilities, dealing with partners, revenue streams to cost structures. Also, I've been providing my services in the interest of all stakeholders namely farmers with accurate measurement and timely payment for milk procured, financiers with timely payment of debts, regulators with strict compliance of statutory obligations, mentoring my team, and communication with shareholders.

I am grateful to our management and Board of Directors of the Company for giving me the opportunity to serve this great institution. I am thankful to all my colleagues for their continuous support.

How do you stay abreast of industry's advancements and technologies?
I constantly update myself on dairy industry trends and also undertake training on various technologies that are becoming relevant from time to time. These trainings include Systems Analysis & Design, Advanced Computer Appreciation Course, Oracle, Oracle Financials, SAP FI/CO module, SAP BIW, and many others.

How do you find time for your personal life?
Firstly, I'm very grateful to my family for their extensive support so far. I believe that maintaining a balance between personal and professional is vital and hence, I ensure to leave office by 6pm so that I get to spend quality time with family.

A Prabhakara Naidu, CFO, Heritage Foods Limited
Prabhakara is a highly experienced and versed finance maven and business leader who has been successfully scaling Heritage Foods to newer heights since 1992.

Latest Awards:
• India's 50 Best CFOs Award 2017-18 by White Page International in association with UK Asian Business Council at The Asian Brand & Leadership Conclave, held in Singapore on March 09, 2018

• CA-CFO Award in Agriculture & Allied Services by the Institute of Chartered Accountants of India in its 11th ICAI Awards 2017, held in Mumbai on January 19, 2018

• Hyderabad CFO Leadership Award by an organization on World CSR Day & World Sustainability at Awards Ceremony held on November 17, 2017 at Taj Deccan, Hyderabad

• Most Influential CFOs of India Award by the London-based Chartered Institute of Management Accountants (CIMA) at the 2016 CIMA Annual Awards Ceremony held at Taj Lands, Mumbai on June 23, 2016.