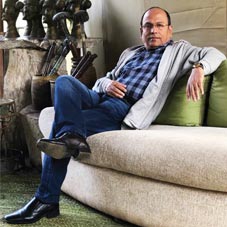 Change is the only constant in life and the evolution in roles of a CFO stands as the epitome of this statement. A CFO ought to hold a comprehensive view of everything in an organization right from knowing, understanding, managing, confirming and creating a synergetic environment for its people to thrive and drive the business. On the other hand, the journey of a CFO entails a swarm of challenges and learnings from time to time that eventually mould him into a better and efficient finance.
Awards & Recognition:
• Featured in 'Forbes India' magazine for 'New Age CFO' in September 2019 issue
• Conferred with 'Role of Honour for CFO 100' for exceptional calibre and contribution to the world of finance by CFO India consequently in March 2016, 2017 & 2018
• Bestowed with 'Most Influential CFOs of India' by Chartered Institute of Management Accountants (CIMA) in June 2016
• Awarded with 'Best CFO With Exemplary All Round Performance – 2016' in Asia CFO Excellence Award presented by CMO Asia on 5th August 2016 in Singapore and also as 'Best CFO With Exemplary All Round Performance – 2018' on 1st August 2018
• Awarded the 'Super Achievers Awards for CFO of The Year - 2016' by the Stars in the Industry Group on November 2016 and also October 2017
• Honoured with 'Indira Brand Slam CFO Leadership' Award on 26th September 2017 at Indira Group of Institutes, Pune
• Being mentioned by my Chairman, Dr. Habil Khorakiwala in his memoir – 'Odyssey of Courage' maven. Especially in a global organization, the level of these challenges and learnings stays high as one needs to tune in with the world-class frameworks.
Hailing from one such global pharmaceutical and biotechnology organization – Wockhardt is Manas Datta (CFO) who brings with him over three decades of profound experiences and achievements in the world of finance. Manas has
contributed a great deal in long-term strategic actions including M&A, Fundraising, Business Planning & Reporting, Risk Management, Governance Frameworks, Derisking in Financial & Corporate Structuring, and Tax & Compliance. His professional journey kickstarted with Aditya Birla Group, followed by Duncans Industries, BHW Birla Home Finance, Chambal Fertilisers and Chemicals, EIH to Wockhardt (currently) where he has spearheaded diverse finance and accounting functions. All throughout this journey, he remained as a firm believer of the principle of sustainable actions rather than QoQ plans.
I always ensured to identify the best talents, empowered them with accountability, and let them thrive, to promote collective wisdom rather than individual brilliance
To learn more about Manas and his inspirational journey, peruse the following excerpts of an exclusive interaction between him and CEO Insights.
What different roles have you been undertaking at Wockhardt?
Most organizations define CFO's roles typically as 'Support', which I believe bringsin 'Control' and 'Reporting' mindset, thereby resulting in 'Critic of Choices'. This also led to 'Custodian' mindset rather than 'Thought Leadership' and kept things in 'Comfort Zone' and not in 'Value Zone'. But, my journey revolves in the 'Value Zone' as a strategic partner, who identifies changes early and brings-in effective proactive nature, aligns to best practices in the digital landscape, identifies & de-risks risks, and creates effective leadership at various levels. I also endeavoured to introduce a different perspective of 'Strategic vs Expected CFO Roles' in view of organizational global growth aspirations, along with a new paradigm for CFOs as 'Economic Guardian' in 20189 and promoting it through seminars and speeches.
Brief us on how you overcame diverse challenges in your journey so far.
Challenges were many all throughout, but I ensured to continuously learn and unlearn in accordance with global industry trends. My significant lessons include communicating in effective
manner brings value proposition and advantage, attention to details in making unbiased and sustainable decisions, connecting to team, and gaining excellence in everything. I also stay updated by following the simple mantra – Observe, Watch, Read and Collaborate. Observe diverse things in environment to bring-in perseverance, acceptance and tolerance, Watch various interviews of worldclass leaders, visionaries, economists and others to know about their journey towards success, Read to make yourself rooted in right thoughts, and Collaborate to obtain collective wisdom rather than individual brilliance. Hence, I always ensured to identify the best talents, empowered them with accountability, and let them thrive!

How are your vast experiences helping you at Wockhardt?
I've worked in few key areas that broughtin paradigm shift in automated reporting of global businesses across six continents of Wockhardt for past five years. Besides, I've been raising funds globally at high RoI, leading from forefront in closing many M&A deals, managing working capital & cash flow, and bringing-in a structural framework of CFO technology roadmap, partnership, skillset roadmap and overall governance. Recently during Covid-19 crisis, I came-up with the conceptual framework of 3Rs – Respond, Resolve & Restore. I also hope that every business leader stays compassionate towards his people besides helping them financially.

How do you strike-out a perfect worklife balance?
I'm grateful to Wockhardt for providing me and all others in the organization with the best possible balance. On the personal front, I'm extremely happy to have met my friend, philosopher and guide – my wife Suparna in college days, with whom I go out for evening tea and spend time on weekend trips. I'm also proud of my daughter Reedhita for establishing her career in Sydney and settling with her life partner – Subhadeep, her engineering classmate.

Manas Datta, CFO, Wockhardt
A Science Graduate and Cost Accountant & Alumnus of IIM(A), Manas stands at the forefront of upscaling Wockhardt as well as the global finance industry.

Favourites:
• Hobbies: Reading & Listening to Indian Classical & Semi-Classical music
• Travel Destinations: Shimla, Goa & London; mostly any place that my wife loves to travel to!