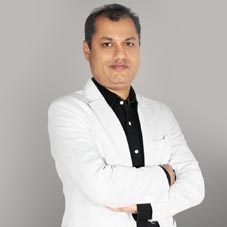 In his successful ride of 21 years in the financial realm, Manish has garnered abundant global experience in spearheading strategic finance functions in Middle East, Africa, Europe, North America, Russia and West Asia. Raising the bar higher for himself with every project he takes on, he has successfully developed and executed numerous critical initiatives that facilitated Dabur to achieve a meteoric rise. In an exclusive interaction with CEO insights, Manish gives a glimpse into his inspiring professional journey.
Kindly walk us through your ascent to the heights of corporate ladder.
Having earned three years of experience in the accountancy domain, I kick started my professional journey at Dabur India as Senior Accounts Officer in 1995. At a time when Dabur was experiencing exponential growth, I spearheaded the commissioning of a major manufacturing expansion to position the business in the best possible way to achieve cost and margin leadership. The project's success in one shot catapulted me to the coveted position of CFO of Dabur Egypt in 2000, which was the group's first major organic growth initiative outside the Middle East.
Naturally, I repeated the feat by achieving a tenfold business growth in seven years through various initiatives including acquisitions, brand extension, zero-based
budgeting, cost reduction programs, shared service programs, development of robust internal controls and digitalization among others. To demonstrate, I developed and effectively implemented a multi-pronged strategy after a detailed competition benchmarking to counter local currency devaluation of 80 percent in five years, which significantly improved the product margins.
Throw some light on the various mitigation strategies you undertook in the nascent stage of COVID that facilitated Dabur to ward off a major crisis.
In the early stages of the pandemic, I spearheaded several cross-functional teams to conduct stress tests for our subsidiaries in eight countries, identified risks & opportunities and implemented country-specific strategies to protect & enhance profitability, conserve & grow cash and hedge against credit and currency risks. This helped us to successfully grow the free cash flow manifold amidst the global crisis. Furthermore, I recommended a business opportunity in February 2020 and launched sanitizers at a time when demand was far higher than the supply, which led to substantial revenue growth. In fact, the supply chain strategy I developed for the new product line ensured a faster cash conversion cycle than rest of the business.
Central to my effectiveness as a change leader has been my faith in core values of integrity, professionalism, authenticity, ethics and the habit of standing by my decisions
Please brief us on the various responsibilities you have been shouldering at Dabur International.
I take pride in my contributions towards boosting Dabur's business performance by creating a young, mobile and progressive multi-cultural team globally, building robust framework and capabilities around risk management, driving organization-wide digitalization and building business partnerships. I have created tax-efficient upstreaming and down streaming fund strategies for various subsidiaries for optimizing return on treasury, depending on the evolution of businesses in various markets. I have also been passionate about improving the corporate governance mechanism by driving various processes including the
appointment of independent directors, whistle blower policy, UPSI policy and so forth.

Tell us about the milestones that bestowed you with utmost satisfaction.
Africa has been a strong growth story and in fact continues to be one so far. I have led & actively participated in several acquisitions and integrations including that in North America, a leading African-American Haircare company in U.S., where I orchestrated all the key acquisition stages such as identification, due diligence, valuation, negotiation, deal structuring and integration. As the products had a logical fit in Sub Sahara Africa, developed the strategy of localizing the supplies into three supply chain locations to leverage the weak currency at manufacturing location and free-trade agreement benefit to save on duties and taxes. This mitigation from highcost dollar-based economy to lowcost environment empowered us to drive efficiencies and improve customer service levels. Yet another accomplishment that fills me with delight is my efforts towards establishing Dabur's presence in various countries, some of which are high potential markets with tough regulatory environments that only a select few companies have been able to competently pull off.

What are the unique values that set you apart as a successful leader?
Operating in a rapidly-evolving field, I remain current on the latest advancements in the world of finance and digitalization and share my knowledge with wider set of colleagues from diverse organizations via lectures and panel discussions. Recently, I trained non-finance colleagues across the company in key concepts and its application in a business like ours. Central to my effectiveness as a change leader has also been my faith in core values of integrity, professionalism, authenticity, ethics and the habit of standing by my decisions which were in the long-term interest of the organization.

Manish Mathur, CFO - International Business Division, Dabur Group
His 21 years of experience in the financial realm packed up with a number of degrees and certifications he has earned from various prestigious institutions from all over the world including Stanford (U.S) and ISB (Hyderabad) has bestowed Manish with a deeper understanding of business strategy and leadership in a complex, rapidly changing environment.

Favourite Pastimes: Yoga and meditation, Badminton, Watching Films with Family and Meeting Friends