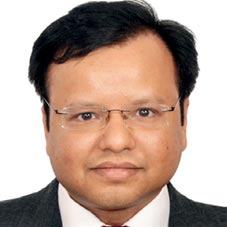 The job of a CFO has never been a cakewalk. Complete oversight on the financial operations of an organization could never be achieved without immense prior experience. As Paul McDonald, senior executive director of Robert Half, says, a CFO's role aligns with wide-range of responsibility and accountability. More than their ability to run tight financial operations, it is their efficiency to turn years of experience to lucrative outcomes that matter. The profession demands a simple application of commitment and hard work. In the case of Neeraj Jain, his career journey is a true definition of who a CFO is. A chartered accountant with two decades of experience, he is striving to bring meaningful results through critical interventions in areas of finance and accounting.
Neeraj currently serves as the CFO at Cosmo Films, a global leader in specialty films for packaging, lamination, labeling and synthetic paper applications. He believes that one needs to have an attitude of a learner. According to him, the quest for new knowledge and exchange of views in various forums and digital sources is the key to stay up to date. Neeraj believes that it is critical to recognize and work towards becoming a consistent learner. In an exclusive conversation with CEO Insights, Neeraj Jain shares his experience in the field of finance and management accounting. He further talks about how his role has transformed and evolved over the years.
Flexing the role of a chartered accountant for about two decades must have been an incredible journey for you. How do you observe your position in critical decision making?
In all these years of my professional career, I have gained experience with finance, business planning, corporate strategy, and risk management. It has been a result of my various acquaintances with several organizations that I have worked with. Before joining Cosmo Films, I have worked with companies like Aditya Birla Group, Havells and Bajaj Allianz in various responsible positions.
I have been instrumental in finance cost rationalization and managing one of the best working capital in the country. Besides that, my role in driving strategic corporate restructuring and cost rationalization initiatives have been critical in the company's turnaround. I was thereby facilitating enhanced shareholders' value and market capitalization. My education and relevant experience in the field have always helped in achieving professional and organization goals.
As a CFO, one is always expected to be a good manager and decisionmaker. In my seven years of association with Cosmo Films, my role has evolved over a period
The CFO of a company undertakes various roles such as a visionary, decision-maker, board developer and others. As a CFO, what is your take on donning multiple roles in a company?
In my opinion, the most critical thing is to own one's role entirely. The person should be answerable to hold duties and responsibilities. As a CFO, one is always expected to be a good manager and decisionmaker. In my seven years of association with Cosmo Films, my role has evolved over a period. It includes providing leadership to the finance team, partner with business, contribution to vital strategic matters, and setting organizational priorities.
In the dynamic business world, what have you perceived as the most challenging aspects?
How have you navigated Cosmo
Films from such hurdles? Working capital miss-management can cost a lot for a company. To take out cash flow from the working capital and utilize it for the company's growth has been a significant struggle. Thinner working capital would turn out positive for business besides cost rationalization. At Cosmo Films, we are focused on working capital rationalization in all possible ways. It is done through non-recourse factoring, reducing inventory days, and higher payables. Consequently, it facilitated a thinner working capital and higher funds for the company's growth.

We cannot ignore the fact that managing risks and developing alternatives are critical for any business. It also does not mean losing a business opportunity, rather taking calculated risks and administering risks to acceptable levels.

A person in a stewardship role needs to find a space for his personal life. How do you manage to balance your personal and professional life?
It is not difficult to find a balance if you have the right attitude towards life. It depends on the perception of the things around one. If one has a positive attitude towards any circumstance, then it should not be a problem.

Neeraj Jain, CFO, Cosmo Films
Neeraj Jain has over two decades of experience in finance, business planning and strategy, taxation and risk management with large manufacturing and service industries like Aditya Birla Group, Havells and Bajaj Allianz. He is a Bachelor of Commerce from Delhi University and a qualified Chartered Accountant. Neeraj has been working as a CFO with the company since 2013. He played a key role in carrying out corporate restructuring and support to Company's growth in past.

Major Milestones:
• Business restructuring of the organization leading to its successful turnaround.
• Key role in fundraising of USD 100 million debt at much lower costs.
• Setting-up risk management practices for a company in the high growth of Insurance industry and integration of risk management with business processes.