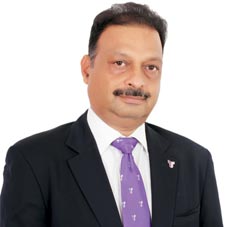 'Hard work pays off!' has proven to be true in the lives of multiple leaders, time and again. Be it in the form of appreciation, recognition, awards, money, title or promotion, hard work always pays off in the end. Sandeep Gupta (Global CFO, Tenon Group) outclasses as the perfect manifestation of this phrase. From humble beginnings, Sandeep has evolved into an acclaimed Chartered Accountant and certified Treasury Manager professional with 27+ years of diverse experiences through sheer hard work and perseverance. He boasts rich skill sets and knowledge in Strategic Planning & Execution, Budgeting & Forecasting, Cash Flow Optimization, Risk Management & Controls, and Compliance Management.
Today, he outshines not just as a recognized leader in the world of finance but also a thorough professional with high caliber, work orientation and ability to handle multiple functions and activities even in a high pressure environment. He currently oversees the end-to-end financial operations at Tenon Group, the most trusted source for a wide range of security and facilities management services as well as the world-class provider of genuine solutions in this field.
To learn more about Sandeep and his inspirational journey, peruse into the following excerpts of an exclusive interaction between him and CEO Insights.
How has your educational and professional experiences helped you in your journey so far?
I graduated in Commerce from Kanpur university at the young age of 17. Despite being average student throughout my academic career, I started article ship with the objective to become a good accountant. However, an incident propelled me to complete CA and fortunately cleared it in the first
attempt with flying colours. This was the biggest milestone that gave me enormous confidence and since then I never turned back.
Coming to my professional background, I have worked as an executive entrepreneur who never got stuck with policies and processes that hindered the progress of the organization but change them into a better way for others to follow. I took decisions rather than deferring, never avoided taking risks, and followed my instincts based on my previous thoughts and calculations. Prior to joining Tenon Group, I have worked with various companies including SU-Kam Power Systems, Hythro Power Corporation, ACME Cleantech Solutions, Omax Autos Ltd, and Transport Corporation of India.
I took decisions rather than deferring, never avoided taking risks, and followed my instincts based on my previous thoughts and calculations
Walk us through some of your biggest milestones of your career so far.
The major turning point of my career that bestowed me utmost confidence was when I got the chance to lead the treasury of the listed company. I also had a chance to oversee the operations for one year and technology venture for another year while being a part of the rotation within the group fetched me insights on the other side. In a nutshell, qualifying CA in the first attempt, handling successful IPOs at a very young age, being the youngest leader to head the treasury function, and turning around a loss making business into a profitable one by leveraging business key leavers, technology and team motivation were some of the biggest milestones in my life.
What inspired you to plunge into a niche segment like facility management?
I believe the facility management space in India holds great potential to grow faster akin to the logistics segment which has transpired from most fragmented to organized segment today. My strategies have always been to understand basic nuances of business and key
challenges in the industry, garner help and support from colleagues, and gain confidence in management in order to align with the future requirements.

Brief us on the diverse roles & responsibilities that you have hold as a CFO.
Over the last decade, the roles & responsibilities of a CFO have been changing more on strategic aspects and leveraging business key leavers to help improve top line and bottom line. He/she ought to understand and extrapolate the impact going forward and contribute in strategic decision making for the business. However, the recent COVID-19 pandemic has changed the role further based on the evolving global dynamics, grave economic crises across the world and other elements. Yet, there lies a sea of opportunities for a CFO to become more efficient through technology, process change, behavioural change.

How do you stay abreast of the latest trends and advancements in the finance industry?
I stay connected with angle investor groups and CFO groups who shed light on what's going on across the world in terms of technology, economy and industry trends.

What is your take on maintaining work-life balance?
I always separate time for personal and professional life. When I'm at office, I forget personal life and when I'm at home, I forget professional life. I ensure to efficiently communicate through emails and answer back within hours while avoiding mobile communication both ways in and out. My wife has been a great source of support and strength in my journey so far!

Sandeep Gupta, Global CFO, Tenon Group
Sandeep boasts a sound track record of execution of core strategic planning to achieve operational efficiency while delivering optimal results and business value in high-growth environments.

Favourites:
• Hobbies: Travelling to places with natural beauty and offbeat destinations in India, and playing lawn tennis and badminton.
• Cuisines: Indian & I cook if time permits
• Apps: Task management & WhatsApp for communication