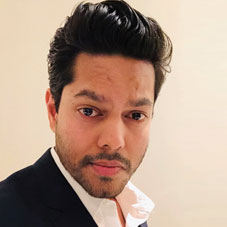 Ash & Maple Management is a pioneering technology-driven, leadership solutions firm focused on organization, executive search, and board consulting practices. The quality of their services as well as the transparency of their operations have helped the company to not just build a positive reputation in the industry, but also to create a niche in the market. Aakash Keluskar is a Managing Partner at Ash & Maple Management. Under his guidance, the company has been able to break new business frontiers and reach greater heights in the corporate realm.
Aakash has more than a decade of industry experience and has worked with brands like I Place (an offshore consulting company specialized in Executive Search and Recruitment), Carter Fleming Search (a UAE-based company which exposed him to 360-degree Executive Search Consulting), MRI Worldwide United Arab Emirates (one of the world's largest Executive Search companies, where Aakash managed the Executive Search Desk that gave him the opportunity to develop a practice in the Middle East Region, particularly in UAE and Saudi Arabia), and KAO & Associates (a leading business organization from where Aakash honed his leadership skills). He then joined Ash & Maple and played a vital role in building up the company. With all the acquired experiences and skills, he led the ranks to make Ash & Maple Management gain high hopes of becoming a market leader in this industry vertical.
In an exclusive interview with CEO Insights, Aakash talks more about his professional journey and the unique business operations of Ash & Maple Management.
1. What inspired you to become a management consultant and what motivates you to perform at the highest level consistently?
It's a rare scenario, especially in India, to aspire to become a Management Consultant. I had a reasonably successful journey with my previous companies that enabled me to slowly, but steadily move up the ladder. Every company that I have worked for had been a learning experience, which helped me gain holistic knowledge of the
industry. Over the years, I have started loving my career, developing a great sense of passion and was pretty successful at what I do. I was also able to go through the difficulties with ease, owing to the years of experience that I had in the industry.
When it comes to what motivates me, I have to say there are two important things. First and foremost, I enjoy the process of entrepreneurship, I love building things, and I enjoy the dynamics of entrepreneurship and how you go through that whole process. In the Management Consultant industry, especially when you are a partner, it is very much like entrepreneurship because you are building a team, building the right infrastructure, and doing business development. The second factor is the satisfaction that I get when our clients as well as partners get positive results from the advice that I gave them.
We don't work like machines; we have a passion in delivering extremely customized solutions
2. Can you talk more about the major challenges that you faced in your journey and your success mantra?
The first major challenge, which I also view as an opportunity, is to be able to adapt to a given situation. Every country I have worked in has offered different opportunities that I have embraced and challenges that I have overcome. I was able to adapt to every situation that was presented to me.
Second is to work with a diverse set of people and make sure that we all work together with a common objective. Finally, the third major challenge for me is getting the clients to understand the subtle nuances of their problems and making them see things from a different angle. There were a lot of instances where clients view their problems from a very different perspective. As consultants, we have to show them the reality. Another challenge is working with clients and aligning to the magnitude of their problems.
When it comes to my success mantra, a few things down the line have always worked for me, number one is work ethic. In my opinion, work ethic is irreplaceable. Also, being able to work with the right people, whether they may be co-workers, other partners or clients, working with the right people was crucial for my success in the industry. You can bring-in a great deal of work ethic. However, success is not guaranteed if you are not working with the right people.
3. Can you talk about Ash & Maple Management and its uniqueness?
As an organization, we are extremely agile when it comes to solution development. We don't work like machines; we adapt to deliver extremely customized solutions, owing to the fact that we don't believe in a `one size fits all' approach. We operate like an organism that is very adaptable to any given situation. We understand the process and the value of time, thus we ensure the delivery of the best quality work for our clients at the best possible time, and this helps us stand out from the rest of our competitors.

We've got teams placed in various geographies, but they are not affected by time zones or work pressure. We have a culture of performance, we are people-oriented, and we always uphold our commitment. We follow a flat organization that uses partnership model, and this has been a great boost to our rapid growth in the market. We are also an innovative firm that has an internal growth department who develops business development strategies for us. And more importantly, we strive to add value to our clients, our partners and to our society.

4. What are your views on the changing market behaviors and how have you devised your future road map?
We see immense potential and new business opportunities going forward. Also, there is increasing acceptance for innovation and doing things differently, which is a positive sign for us. Also, UAE as a whole and most of the countries in the region have done a fabulous job of tackling the adverse economic impact caused by the pandemic. This has been a huge boost not just for us, but also for almost all the businesses operating in this region.

As far as future plans are concerned, our long-term plan is we aim to work with investment organizations that are heavily into growth sectors. When it comes to short and mid-term plans, we are working extensively within industries that are high growth in nature. At the same time, we are also looking at the high growth startup segment as well. And with all this, we want to cement our position as a global leader in the industry.

Aakash Keluskar, Management Partner, Ash & Maple Management
Aakash is an innovative business leader who is widely regarded as one of the most brilliant and competent strategy consultants in this domain. Armed with the ability to devise innovative and effective solutions even to the most complex business problems, he aims to be the industry's standard-bearer.