Chinka Gupta: Introducing The Concept Of Metaverse Interoperability As The New Norm Of Gaming Industry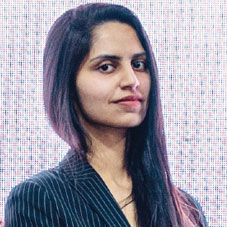 In a world where there is no limit to imagination or creativity, metaverse can grant its user the ability to acquire power, and assets, and knowledge just like its done in the real world. With a notion to make the truly interconnected virtual universe a reality, Chinka Gupta (Founder & CEO, Arcade Network) has come up with a kind of cross metaverse interoperability via her brainchild Arcade Network. Belonging to an educated and business-oriented household, Chinka describes herself as a 'Tehno Functional Mind' by passion and profession. After completing her BTech, she got the opportunity to work as a developer and technologicalconsultant with some reputed conglomerates of the industry such as Accenture, KPMG, PwC, and many more. There were times when she experimented on her domains and apart from the core technical development segment, she found herself working in the consultancy domain handling purely strategic roles as well as in the marketing field. Chinka's exposure to various industry verticals widened her expertise and she leveraged her previous experiences to lay the foundation of ArcadeNetwork. Providing an open protocol that enables the users from different worlds to trade with one another, irrespective of the universe they are in, ArcadeNetwork is a decentralized platform that provides access to cross metaverse asset interoperability and an inter connected ecosystem of gaming communities where players can trade in game items freely without being constrained by any centralized service or authority.
Chinka engages in an exclusive interaction with CEO Insights.
What excited you to venture into the gaming realm? What are the key leadership traits of yourself that enable you to keep going in this challenging domain?
Since I do not come from a gaming back ground and I'm not a gamer myself, I used to see it as a leisure activity, which you do when you have time to spare and it consumes your time without returning you anything. With the recent technological advancements such as blockchain technological
advancements such as blockchain technology coming up, the gaming industry is focusing on ROI that can provide the players with the opportunities to earn something. Instead of just a leisure activity, the gaming segment has been upgraded to own a ROA link for the gamers and this substantial shift excited me to venture into the realm of gaming.
Being transparent and honest, I like to create opportunities in whatever I do, not just for me but for others as well in some way or another. Through persistence and confidence, I believe in finding the solutions for the existing problems, rather than complaining about them. So, these are some of the leadership traits that I think I'm quite proud of.
The gaming segment has been upgraded itself to has a ROA link for the gamers, and this substantial shift excited me to venture into the realm of gaming
Define ArcadeNetwork as an organization and what makes it unique from others in the industry?
ArcadeNetwork is an ecosystem, which comes up with different modules and features of the metaverse. It can support assets, both digital and physical, from different worlds within the blockchain universe. One of the features and the USP of Arcade Network is Arc Relayer Bridge, which provides Metaverse interoperability and enables the gamers to take one asset from one metaverse to another. So, it directly creates business for the gamers in the gaming metaverses, simultaneously solving the cost issue for them as well. Apart from solving the problem of gaming interoperability, we're providing true ownership to the gamers through this. Not only gamers or metaverse users, Meta verses who use our solutions are directly increasing their business and revenue using this.
I believe that Arc Relayer Bridge is a unique product and it has no other competitors right now. So, the timing that we have come up with this product is certainly one thing that makes it unique. Easily gelled up in the upcoming industry, Arc Relayer Bridge is certainly a product of the future, which will grow more and will hold more utility as time passes by.
Reflect on the experiences you have gained till now. How are you implementing them across your current roles?
Coming from a technical back
ground, what ever I'm creating at present, I understand the technical feasibility of it. And having worked as a consultant as well in my previous tenures, it's something in my blood that makes me do research and conduct a proper analysis before taking up a project. Having complete clarity about the product strategy as well as the marketing strategy, I strategize in different areas and that's how I know that I can make any product usable and value able, and once it has value for its users, the product is already successful.

Share about your company culture. How do you meet the requirements of your team while catering to your customers'demands?
In the company, I do not believe in hierarchy, and rather I believe in working with my people. Helping them to come out of their shells and work together as team to push their boundaries in a positive way of course, is where the internal culture of our company lies.

Externally, I have faith in long term relationships, and while we partner up with our investors or strategic partners, we ensure that there is always some value proposition for them. Believing in providing as much as we can to our customers and partners, we keep on creating opportunities for anybody related or linked to us so that, they have a direct reason and a natural inclination to be associated with us.

What is the destiny you have envisioned for ArcadeNetwork and how are you gearing up for it?
We are optimistic about the future. The metaverse projects are gaining momentum right now, and Facebook has recently been showing a lot of interest in the world turning Meta. We have brought in this concept of Metaverse interoperability at the perfect time, I believe we, along with our ecosystem partners, shall surely be reaping the early Movers Benefits of this using our product. I see it as a product unleashing varies opportunities in future and becoming some thing super huge.

Chinka Gupta, Founder & CEO, Arcade Network
An experienced blockchain architect with over 7 years of experience, Chinka is predominantly engaged in delivering advanced blockchain, gaming, and financial solutions to her clients. She also has a deep understanding of Blockchain technology and its applications in various domains, like Supply Chain, Government, and Insurance.

Hobbies:Fitness, Sports, Meditation, Music & Yoga
Favourite Cuisine: Indian Food
Favourite Book:Think and Grow Rich
Favourite Travel Destination: Switzerland