Adel Mohamed Ali Ameeri: An Industry Pioneer That Fosters Customer Satisfaction Through The Provision Of High-Quality Products & Services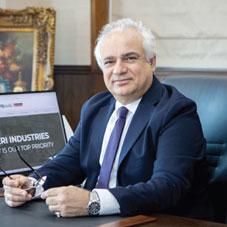 Numerous developments and improvements are taking place in the rapidly growing electricity sector and road and safety division. Consequently, the need for suppliers of electronic components and road safety equipment is increasing. In order to mitigate the situation, the Ameeri Group, led by Adel Ameeri, has introduced several cutting edge, high quality products to ensure the fulfillment of the increasingly diversified and sophisticated needs of its clients. To satisfy the region's mechanical needs, Adel Ameeri founded Ameeri Industries Ametech, a manufacturer of electrical panels, distribution panels, and lighting fittings and Amgard, which focus on manufacturing Road Guard Rails, and street light poles.
Ameeri Industries Ametech has become the official partner of ABB and Himel in the Kingdom of Bahrain due to the strength of its brand. The unrivaled quality of the Ametech brand's products has earned them widespread recognition in the Kingdom of Bahrain, from ministries, private companies, and public institutions.
Following the success of expanding the business, Ameeri Industries Amgard eventually made an Inhouse Hot Dip Galvanizing Plant in the year 2008, the largest within the Kingdom of Bahrain. It has enhanced the business focus towards manufacturing Street Light Poles and become the sole and the leading manufacturer to produce Road Guard Rails and Street Light Poles in the country.
Below is an excerpt of Adels exclusive interaction with CEO Insights magazine.
What was the ideology behind the establishment of the Ameeri Group? How has the company's journey been so far?
Since 1952, our company has been operating on the island of Bahrain and has been a business veteran for many decades. My father started this business in 1952, and we quickly became a leading supplier of electrical accessories for electrical
installations and projects. A few years later, in 1992, I established Ameeri Industries as our manufacturing facility. It was during this period that we began to produce and assemble electrical panels as part of our operations. So now we're divided into two separate industries, one focused on electrical production and one focused on mechanical production. The mechanical facility is located on the other side of the island, where we produce street lighting, road safety barriers, and cushions. We also have a separate business that specializes in electric panel manufacturing, so those two product groups cover two separate markets. This is how the Ameeri Group began, and after 30 years we have become one of the most prominent whole salers on the island.
I Believe That Development And Improvement Are Never Ending Activities Never Rest On One's Laurels
Tell us about your leadership approach, and the guidelines or methodologies you follow to lead your team.
While I am not directly involved in day-to-day operations, I ensure that I am aware of everything to avoid mis management. I have established a solid foundation within the firm, and together we have established many of the key guidelines and procedures followed by managers in all departments. They've followed these rules and regulations, and they're asking for my approval for any important decisions they make.
Could you reflect on some of the toughest challenges you have encountered in your journey so far?
The manufacturing industry is plagued by many perils, where problems never end and where good management of legislation and regulations is essential. We have to get the right people, and we have to make our workers feel appreciated. We have over 60 native Bahraini and 300 international specialists working with us at Ameeri Group. In this context, it is clear that there are obstacles to maintaining high quality and to the pleasure of all concerned parties and their respective customers. We also have to comply with the regulations and obtain formal sanctions from the government. As we strive for excellence, these concerns are always present.
Also, if you stop at a point where you say "I've met my goal" I think
that's in accurate. In my opinion, development and improvement are endless activities we must not rest on our laurels. Because even if we achieve today what we set ourselves yesterday, we still have a long way to go to prepare for the challenges ahead. Don't procrastinate on what you can do now to prepare for the challenges you face tomorrow. When it comes to keeping everything coherent and consistent, that is my advice.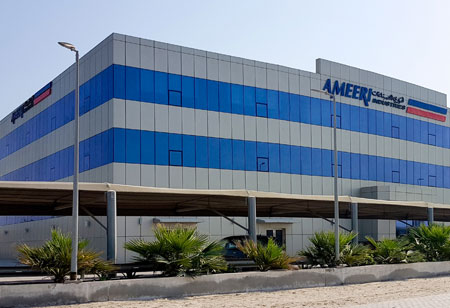 Moreover, an unstable operation requires the constant deployment of all essential improvement remedies and the introduction of new machinery for automation. This is another area of intense concentration for us, which has enabled us to greatly improve the accuracy and scale of our production. Lastly, we want the client to be satisfied with the service they are getting. After all, customer satisfaction is one of our core values.
What's your success mantra?
We continuously reinvest in the company and seek to grow through the introduction of new products as we believe continuous development is essential to our success. The Ameeri Group also carries out periodic product testing at a third party laboratory and certification offices, where improvements are made to the production process and the quality of the final product. Our main objective is to provide our customers with the highest quality product possible, and we have obtained certifications that are accepted throughout Gulf Countries as well as Europe. Consequently for me, it is a daily mantra and I am constantly looking for new possibilities where we can improve and enhance the efficiency of the business, as well as continue to satisfy our end users.
Adel Mohamed Ali Ameeri, Chairman and Chief Executive Officer Ameeri Group.
Adel graduated from Technical School in Bahrain in 1979 and 1982 moved to the United State of America to complete his engineering degree in Austin, Texas. He subsequently joined his father's company in 1989 and lead the manufacturing facility under the name Ameeri Industries in the year 1992. He is the current Chairman and Chief Executive Officer of the Ameeri Group.