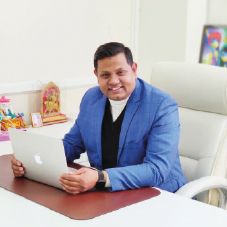 Due to the immense push, both in terms of capital and reforms from the central government the logistics sector is currently witnessing its golden period and is expected to climb to $215 billion by 2020. On the other hand, the warehousing segment is poised to receive Rs. 50,000 crore investment between 2018-2020. This opportunity directly results in the increase in scope in various aspects such as transportation, warehousing, shipping services, express cargo delivery and container services. But despite such impressive growth, the sector still faces hurdles, one of which is the traditional steep logistics costs. On the other hand, the different rules imposed by national, regional and local authorities result in a botched network. Henceseamless integration of cutting-edge technology is the need of the hour to automate processes for faster turnaround and ease of smooth functioning.
Adorish India Private Limited(AIPL), a New Delhi based logistics solutions startup, is making a positive impact on the logistics industry by combining the hard and soft infrastructure along with elements like effective training, timely coordination and policy making. Incepted in 2017 by three like minded professionals who hold strong experience in their respective fields, the company today is a powerhouse of solutions that eases every bottle neck of the logistics sector. Shatrughan Singh, Co-Founder & Director, AIPL, interacts exclusively with CEO Insights to delve deep to discuss the expertise and solutions that they offer.
In a short span of just two years, AIPL has become one of the most eminent names to reckon with in the industry. What is the secret sauce to this success?
We drive market leadership through our motivated people force, dedicated air & ground capacity, cutting-edge technology, wide range of innovative vertical specific products and value added services to deliver unmatched standards of
service quality to our customers. Our magic is our ability to 'customize', that we have developed over time after analyzing varied business needs of customers across industry types and different operation sizes. Hence, we are always able to come up with solutions that suit clients' needs.
Our magic is our ability to 'customize', that we have developed over time after analyzing varied business needs of customers across industry types and different operation sizes
Can you throw some light on the various services you offer and how that adds value to the clients?
We firmly believe in our service tagline ­ Source & Sell Leave The Rest To Us'. Following this, we provide full truck load (FTL)services, surface & air transport, warehousing solutions and transportations. Our end-to-end bouquet of services comprise of Goods Receipt in the Warehouse Repackaging & Rework(if required)Stocking & Storing, Transportation across the country, Inventory Tracking and MIS. We further extend our offerings to Consultancy Services in Load Management, Warehousing Capacity Rationalisation Turnkey Transportation and various other functions. But our customization capability in all these indeed provides our customers the peace of mind they need.
What are the innovations currently underway at AIPL?
We are working on providing few technologies such as automation technique by using data driven software to improve and streamline operational efficiency. These techniques will be used in labelling, packaging and sorting, along with all other logistics functioning. Digital market place technology is another one which will address the potential mismatch and resolve all the issues between supply and demand. Our on demand technology will leverage our bulk supply at a much faster rate and improve the last mile delivery market. We are also planning to introduce the crowd shipping process which will involve delivery of individual parcels during an ongoing journey, which will increase the supply rate in the market.
We are also upgrading ourselves to launch some of the industry's first
innovations like standardized shipment sizes international level labelling, tech driven last mile coordination and systems by not just managing our own logistics but turning that expertise into a profitable business model. Such innovation and grit has also enabled us to compete for a dominant market position by achieving scale through consolidation and innovation through the acquisition of smaller entrepreneurial startups.

Truly, you have achieved an edge over other players in a short span of time. Doing this requires a strong head over shoulder. Could you tell us about AIPL's masterminds who are turning the table?
I come with over two decades of cross functional experience across Supply Chain Management, Logistics, Inventory & Vendor Management, Warehousing, Distribution, Import & Export Coordination and other commercial operations. I have worked with several top MNCs and created strong connect and relationship with my fellows.

Our Executive Director, Munish Lomesh oversees all new business development activities and is also responsible for providing strategic direction to the organization and comes with 20 years of experience. Our another aficionado, Ashok Kumar is the backbone of the business. He leverages his 15+ years of experience to manage the Operational aspects like Fleet Management, Onwards Connections, Lane Running, Vendor Coordination and more.

What future roadmap have you scripted for AIPL?
Due to the range of services and customization we offer our services have already crossed the borders of metros & cities and reached the remote areas. We now plan to touch every corner of India and become a preferred delivery partner in our areas of operation. To achieve this we are all geared up to constantly update ourselves.

Shatrughan Singh, Co-Founder & Director
Known for his positive attitude towards accomplishment of any task given Shatrughan holds over two decades of experience working across various MNCs and has created strong network and relationship with his fellows.

•Establishment: 2017
•Office: New Delhi
•Offerings: Warehousing, Transportation, Trading & Freight Forwarding