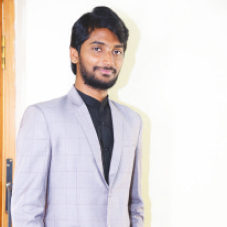 The Indian transportation & logistics sector, which is growing at a superb CAGR of 10.5 percent, is predicted to reach $215 billion by fiscal year 2021. Growth of this industry that employs over 22 million Indians is driven by factors like increasing demands, changing government policies & GST and emergence of local e-Commerce retailers. Moreover, propelled by India's improvement in ease of doing business index, even more foreign corporates are entering the Indian market, particularly in FMCG sector.
An emerging proficient & practiced player in this trucking & transportation field is Tejas Open Haul Freight Logistics Private Limited(TOHFL), which was established in 2018 by Teja Sai Palaparthi under the guidance of his father Palaparthi Raju Garu. An industry veteran with over 30 years of domain experience, Palaparthi Raju is revered as the backbone of the firm by its management and workers alike. With roads accounting for carrying a majority(65 percent) of freight traffic, the company's key focus is rooted in full truck loads(open trucks) transportation. Specializing in fast delivery of perishable goods it also moves FMCG, paper, fish feed shrimp feed, fish & shrimp supplements, medicines, tiles, oil, cashew nuts, soaps, plants, glass, and turmeric roots.
The following are excerpts from an exclusive coverage by CEO Insights magazine in which Teja Sai acquaints us with his company & logistics industry.
Firstly, take us to a tryst with your Transportation & Logistics Company. Also enlighten us on your specializations & services.
TOHFL is a leading world class freight logistics & dray age service provider. We are well-known for rendering tailored services at
clear transparent pricing, with increased efficiencies and enhanced flexibilities in accordance with the rapidly changing market conditions. With one of the largest networks of fleet owners, we have over 500 tons of freight moving every day across our trucks.
We are well-known for rendering tailored services at clear transparent pricing, with increased efficiencies and enhanced flexibilities in accordance with the rapidly changing market conditions
We offer a comprehensive service portfolio encompassing road, rail, and air cargo, drayage, transit insurance services and transshipment. We consider ourselves champion in trucking and have proved to be so by shipping over 42,000 metric tons of perishables(Onions: 95 percent, Mangoes eight percent, and Lemons two percent) across Odisha, West Bengal, Assam, Bihar, Jharkhand, Madhya Pradesh, Meghalaya and Nagaland via road between April 2019 and January 2020.
Please enlighten us with your power houses, the workers. Also, tell us about their experience & expertise in this domain.
As concerns experience of workers, our loading & dispatch teams possess over 12 years of experience in this industry. Also, 90 percent of our truckers have ample experience in fast delivery of perishable goods. Coming to the management team, our Operations Director, Santosh Anabilli possesses over three years of experience in transportation and six years in finance & operations. I too have been experiencing the industry since the last four years.
Kindly enlighten us on the challenges & opportunities in the contemporary logistics sector. Are you coming up with any innovations to cope upwith these?
As revealed by the most recent economic survey, the market for transportation & logistic is sure to escalate without much hindrance.
Being specialists in road transportation (Full Truck Load), intracity logistics is one of the biggest opportunities we are looking into. As concerns challenges, driver crisis is the worst one the industry is facing today. If you look at the statistics our country needs 2,200,000 more drivers to sustain the shortage.

Speaking of innovations, we have developed but yet not marketed our own mobile application for Full Truck Load (FTL) services. Besides this, most recently, we underwent a definitive agreement with Happay (VA Tech Ventures) to overcome the problem of cash advances. Now, equipped with 'Fleet Express Cards', we can manage the whole expenses of the truckers. Also, the provision of multiple freight payment options has helped us create a client base of over 1,000 truckers and vendors.

Can you share with us the future road map set for your company? How do you look forward to achieve these objectives?
Moving ahead, we are eying on escalating our intracity transportation services besides planning for a PAN India expansion of our business by 2025. We provide full door-to-door visibility into order status, generate reports on schedule or on demand, analyze shipping patterns, and keep scorecards of service quality. Furthermore, our company is moving hand-in-hand with technology. Ergo, through continuous rendezvous with customer requirements and embracing every suitable technology to all stake holders, we look forward to fulfill our objectives.

Teja Sai Palaparthi, Founder & MD
Teja is a BBM (International Business) graduate from MAEER'S MIT School of Management, Pune with over four years of experience in transportation & logistics sector

Santosh Anabilli, Operations Director
Santosh is an MBA (Finance & Marketing) postgraduate from PYDAH PG Courses, Visakhapatnam and holds three years of experience in transportation & six years in finance & operations.

Headquarter: Tadepalligudem, Andhra Pradesh.

Services: Road Freight, Rail Freight, Drayage, Transit Insurance Services, Transshipment, and Air Cargo.