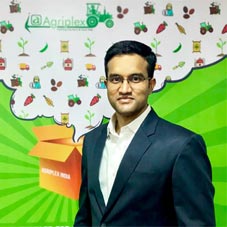 Under the leadership of Mr. Mahesh G Shetty being an Agri Entrepreneur for 25 years and Tejus Narayanaswamy as the CEO of Agriplex from past three years, the Company has been serving innovative solutions to empower Farming Community with easy access to Farming Solutions.
Tejus engages in a brief conversation with CEO Insights to give a concise picture of the startup's journey and the services offered.
Agri-input marketplace sector has gained popularity in the agri-business, benefitting numerous farmers. Tell us how Agriplex carve a niche in this sector with its operations?
In Agriplex, we feel proud to be a startup company for an industry that is contributing to the survival of our population and towards uplifting the Indian economy. Here, we all share the same goal to ensure that farmers get Agri services at the convenience of their home. Through
our website, farmers are available to compare branded products and their prices before the purchase. In one of our online journey called "Buy Pesticides", farmers can select a curated product based on the crop selected and its associated Pest or Disease images. Sometimes, there could be data or network issues or even farmers without a smartphone. To address such particular issues, we have set up a help point centre where a team of agricultural graduates addresses farmers' queries and requirements via call. Moreover, we also offer video calling facilities to engage with farmers in real-time.
Narrate the story of Agriplex. How was the journey so far, and what challenges it met in its endeavor?
Agriplex was incorporated in October 2016. We considered sufficient time before flexing our operations by conducting surveys at villages across Karnataka by dividing into parameters such as climate regions, topographic areas, smartphone users, and small/ medium/ large or progressive farmers. Based on this survey, we were able to implement our vision into a reality on our first order in August 2017. Since then, we have never stopped to improvise and offer value-added services to farmers.
Equipped with qualified and skilled agricultural graduates, the company's eCommerce website and mobile application let farmers purchase branded seeds, fertilizers, and pesticides online
During the initial stages of establishment of the company, there was no best practice framework for agriculture eCommerce like assured door-to-door delivery services to rural areas. "Such best practices cannot be trained, but can only be experienced". I certainly believe that the right way to approach a business problem is by understanding the origin of a problem, its severity, and the business impact. The process owners and the impact team will
help to analyze the risk, brainstorm ideas, implement it, and document the solution. It has been our methodology and framework while addressing a problem.

How effectively are you adding success stories to your business portfolio? Also, what further plans do you have for the future?
One of our customers, Sharath, is a farmer with ten acres of a banana plantation. We helped him by handling right from testing the soil, to the sapling age of bananas, and attended towards the entire cultivation of the crop. Eventually, his yield increased to 14 kgs per plant. Today, he is earning around 50 lakhs in total. It is almost 1:3 of his returns getting from his farm.

At Agriplex, we have started to evaluate the integration of Artificial Intelligence solutions. Over time, we have gathered thousands of photos of crops and pests. We have been exploring options with our thirdparty IT vendors to integrate AI and ML to provide the self-service capability for farmers to diagnose by placing the phone camera on the crop. After completing three years of operational experience, fulfilling 25,000 orders, and delivering agri-input of fifty-five top quality brands across Karnataka, we feel encouraged to extend our services to farmers across India. We further seek the government's regulatory support to promote more agri-tech companies that offer eCommerce solutions and services. It is the need of the hour to respect and provide more delivery services to our farmers. We look for the collaboration of more eCommerce companies to cater to more farmers. "Today's evolution is tomorrow's success". Farming has to meet consumer expectations, and that is why I urge all to promote the agriculture industry together.

Tejus Narayanaswamy, CEO, Agriplex Private Limited
Tejus has over 13 years of diversified experience across Information Technology, Business Transformation, and Executive Management functions. He has experience working in the USA, UK, India, and Middle East markets.

Agriplex Specialties: Agriculture eCommerce Platform, Realtime Farm Advisory Services, Farm Management Support, Agri Tech, and Delivery of Agri Inputs